Mobile data services -- getting connected
Mobile data computing continues to grow as more service providers offer services and at increasing speeds. Different ways to connect to the mobile data network are discussed in this tip by Paul DeBeasi.
Mobile data computing continues to grow as more service providers offer services and at increasing speeds. Different...
Continue Reading This Article
Enjoy this article as well as all of our content, including E-Guides, news, tips and more.
ways to connect to the mobile data network are discussed in this tip by Paul DeBeasi.
---
Introduction
Many of us have seen the newspaper and TV ads that promise "blazingly fast" download speeds using mobile data services from service providers such as Verizon Wireless (EV-DO) and AT&T (HSDPA). Often, these ads show a mobile data card that is inserted into your laptop in order to connect to these services. But, did you know that there are actually three ways to connect your laptop to the mobile network?
Laptop with mobile data card
The most common way to connect to a mobile data service is to use a PC card or an ExpressCard (see Figure 1). For example, Verizon Wireless offers broadband access devices for interfaces such as Standard Type II card slot, ExpressCard/34, and Universal Serial Bus (USB). These cards range in price from $50 to $150 with a two-year contract.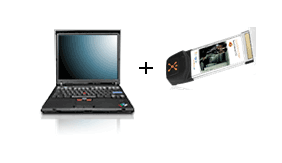 Figure 1: Laptop with mobile data card
This access method gives users moderate flexibility. The data card provides mobile network access without locking the laptop to a particular network subscription. In addition, the data card can usually be upgraded to a newer version (e.g., EV-DO Rev 0 to EV-DO Rev A) without impacting the laptop (data card upgrades often reset your contract to a new two year term). Finally, the data cards can be shared among employees and can be stored in inventory until they are needed.
Laptop with tethered mobile phone
Another method for connecting to a mobile data network is to buy a mobile phone that supports mobile data services over tethered wireless connections (see Figure 2). Some people refer to a tethered connection as using the phone as a "modem." The phone establishes a connection to the mobile data network and connects to the laptop using either Bluetooth or a universal serial bus (USB) connection. This option enables users to connect almost any laptop to a broadband mobile network. Many phones support the tethered functionality, but unfortunately, many do not yet support broadband speeds.

Figure 2: Laptop with tethered mobile phone
This method gives users the most flexibility. They can use their phone to access the web when a laptop is not convenient (e.g., while walking through an airport), and in situations where they prefer to use a laptop, they can tether the phone. In addition, phones can be upgraded without affecting laptops (and vice versa). Finally, users can change from one service provider to another independent of their laptop.
Laptop with embedded mobile technology
Finally, some laptop manufacturers are embedding mobile data technology directly into laptops. For example, Dell, Lenovo, Sony and Hewlett-Packard have all announced support for mobile cellular wireless technology in their laptops. The apparent advantage to this approach is that the laptop is shipped from the factory with embedded mobile data support, so a user does not need to purchase any additional hardware to access the mobile data network. This approach is similar to embedding Wi-Fi support in a laptop and may appear to be a good idea.
The problem with this approach is that cdma2000-based technology such as EV-DO locks the mobile device -- in this case, a laptop -- to a network subscription. This puts the laptop owner at a significant disadvantage because the network subscription cannot be transferred from one employee to another without also transferring the laptop. Conversely, GSM-based technology, such as HSDPA, makes use of a subscriber identity module (SIM) card. The SIM card contains the network and subscriber information and can usually be swapped from one employee to another (be sure to check with the service provider to ensure that the SIM card can be unlocked from the laptop). Finally, unlike the previous two methods, this method locks the laptop to a single mobile cellular technology.
Conclusion
There are three methods for connecting your laptop to a mobile cellular network. The most popular method is to use a PC Card or ExpressCard. The most flexible method is to tether a mobile phone to the laptop over a Bluetooth or USB connection. And finally, using laptops with embedded mobile technology may appear to be convenient, but may lock the network subscription directly to the laptop.
About the author:
Paul DeBeasi is a Senior Analyst at the Burton Group and has over 25 years experience in the networking industry. Before joining the Burton Group, Paul founded ClearChoice Advisors, a wireless consulting firm, and was the VP Product Marketing at Legra Systems, a wireless-switch innovator. Prior to Legra, Paul was the VP Product Marketing at startups IPHighway and ONEX Communications and was also the Frame Relay product line manager for Cascade Communications. Paul began his career developing networking systems as a senior engineer at Bell Laboratories, Prime Computer, and Chipcom Corporation. Paul holds a BS degree in Systems Engineering from Boston University and a Master of Engineering degree in Electrical Engineering from Cornell University.
Paul is a well-known conference speaker and has spoken at many events including Interop, Next Generation Networks, WiFi Planet, Internet Telephony and more.
Dig Deeper on Enterprise mobility strategy and policy