WiMAX services
WiMAX, a new business opportunity for service providers, is being offered in various stages by both new and established service providers.
Introduction
Mobile WiMAX is a new business opportunity for established mobile operators, Internet companies and wireline operators to provide high-speed mobile broadband data services. But where and when will WiMAX service be available?
This article is the second in a five-part WiMAX tutorial series. The first part introduced WiMAX technology, applications and terminology. Follow-on articles will discuss WiMAX performance, security and devices.
Where in the world is WiMAX?
WiMAX services are in the early stages of deployment throughout the world. In South Korea, a subset of WiMAX called WiBRO has been deployed throughout roughly 25% of the country. But as of the end of 2007, only 100,000 subscribers, out of a population of roughly 50 million people, had signed up for service. The mobile Taiwan project, referred to as M-Taiwan, is an ambitious plan to deploy WiMAX throughout all of Taiwan. The Taiwanese government awarded WiMAX frequency spectrum licenses in July 2007, but service is not yet available.
Sprint Xohm
Sprint intends to launch its mobile WiMAX service, called Xohm, in 2008 (the company recently announced that the launch would be delayed until later in the year). The service promises to offer download speeds of 2 Mbps to 4 Mbps and upload speeds of 1 Mbps to 3 Mbps. But the service is not just about fast Internet access on the go. Sprint intends to make it very easy to sign up for the service. Subscribers will be able to sign up by the day or by the month, without binding contracts or cancellation fees. Sprint will also allow you to buy any WiMAX-enabled product -- unlike most mobile operators, which limit your selection of mobile devices and lock the mobile device to the operator's network. Sprint also hints at future services such as online storage, location-based services and Google Mail.
All of this sounds great, but can they do it? In February, Sprint reported that it lost $29.5 billion and 683,000 customers. These are shocking numbers, especially since Sprint's main competitors are adding 2 million to 3 million new subscribers every quarter and are profitable. Deploying a nationwide Xohm service will take many billions of dollars over many years. The fundamental question is: Can Sprint reverse its financial performance in the short term so that it can invest in Xohm in the long term?
Clearwire
Clearwire launched its portable wireless Internet service in August 2004, originally designed using pre-standard WiMAX technology. The service is now available in 16 states across the United States as well as in Europe, using standard WiMAX technology. The company offers a nomadic WiMAX service (see part 1 for a definition of "nomadic") that competes with cable and DSL Internet service and requires the use of a WiMAX modem. The modem is similar to a cable modem except that the WiMAX modem can be moved to any location that receives a Clearwire WiMAX signal and has access to power. The subscriber pays a monthly fee for Internet access and optionally for phone service.
In July 2007, Clearwire and Sprint announced that they would jointly construct their WiMAX networks and eventually sell the services under one brand. By November, though, the deal had been canceled. Unfortunately, Clearwire is also having financial difficulties. Although they grew revenue and their subscriber base in 2007, their losses also grew from $63 million to $83 million. Just like Sprint, they must reverse their financial performance in order to make expensive WiMAX network investments over the long term.
Market forces
Most forecasts for mobile WiMAX show rapid growth. For example, Senza Fili Consulting predicts that mobile WiMAX will grow to approximately 25 million subscribers by 2012 (see Figure 1). Although these growth numbers are quite good for a new technology, they have a long way to go to catch up to the 3 billion subscribers currently using mobile cellular service.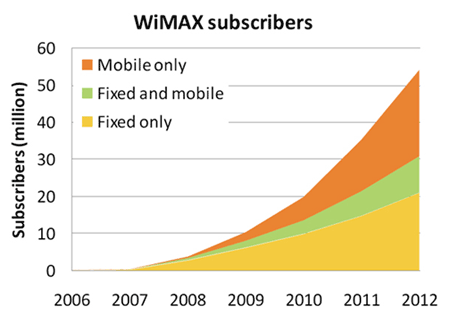 Figure 1: WiMAX Subscribers Forecast (Source: Senza Fili Consulting, 2007)
The current mobile cellular operators are in a dominant position to capture most of the demand for mobile broadband and will compete strongly with WiMAX operators. Unlike fixed broadband service, which can be cost-effectively deployed in a limited geographic area, mobile broadband service will require a costly investment over a wide area in order to provide sufficient coverage for roaming mobile users. Mobile broadband also requires that the operator own wireless spectrum throughout the coverage area. Lastly, it requires extensive operational experience with wireless technology in order to deploy, maintain and evolve a sprawling mobile network. Aside from the mobile cellular operators, few companies can satisfy the requirements of mobile broadband for capital, spectrum and wireless experience. And in the U.S., Sprint and Clearwire are hardly in a strong financial position.
Conclusion
WiMAX service is available in a few select locations and will provide high-speed broadband Internet access. Don't believe all of the WiMAX hype, however. It will take many years and many billions of dollars to deploy a nationwide WiMAX network. Data service plans from traditional mobile operators will offer the best combination of high-speed data access and broad coverage.
Next month, we look at WiMAX performance. We will discuss which performance factors are important, what performance you should expect, and how WiMAX compares with 3G and future 4G services.