peshkova - Fotolia
Why a mobile business continuity policy needs the cloud
Mobile data access is crucial for ensuring business continuity these days, and the prevalence of cloud computing in the enterprise makes it all possible.
The rise of enterprise mobility and cloud computing has contributed to a dramatic improvement in operational integrity and business continuity.
Because much of operational IT today is distributed across mobile devices, they are a key component of a successful business continuity policy. Barring the loss or failure of a given device, users typically have the applications they need with them at all times. Users often have multiple devices, and the loss of any single device, while inconvenient, needn't be the end of the world. Even physical damage to a workplace shouldn't be a problem, because anywhere there's wireless connectivity can become a temporary office.
Mobile data access is key
A bigger issue is the development of a business continuity policy that ensures access to shared data and applications.
Information security is a perpetual challenge, but there's a corresponding and equally important element of IT that gets significantly less attention: integrity. Integrity is the ability of an IT component or function to remain available as required when faults occur and even if physically damaged. Suppose that a data center burns down. Without redundant facilities, whoever owned that data center is likely out of business. No organization can accept such a risk, no matter its mission or scale.
A bigger issue, however, is the development of a business continuity policy that ensures access to shared data and applications -- the backbone of mobile operations today. There's usually not enough space on a given device to hold all of the data required by any given user. And collaborative work is the norm, so a strategy to maintain mobile data access is always required.
To this end, move as much as possible to cloud-based services. Cloud providers understand the importance of eliminating single points of failure. But because fires and disasters can occur anywhere, make sure that a provider operates a reliable and resilient infrastructure by adding reliability and resilience requirements to any requests for proposal.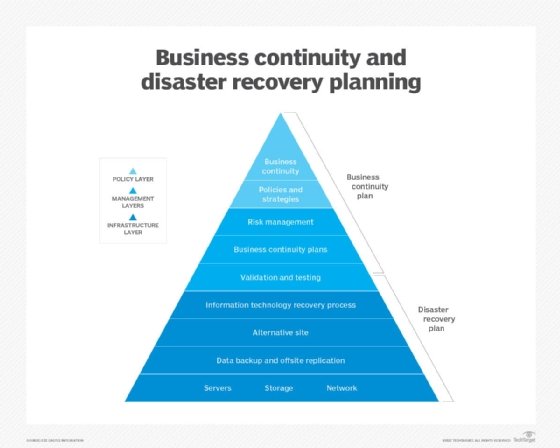 Beyond a business continuity policy
Cloud services are so reliable that management services, including enterprise mobility management, can reside in the cloud, thus providing anytime, anywhere mobile data access for any authorized device. Putting the apps and data that mobile users require in the cloud also makes scalability much less of a concern.
Given the growth of enterprise mobility, only very minimal IT infrastructure (such as some network access points, Ethernet switches, routers and security equipment) will remain on premises. Everything else will live in the cloud or on endpoint devices. The on-premises gear that remains will be highly fault-tolerant to support the organization's business continuity policy.
This shift would not be possible without IT being as mobile-centric as it has become.
Dig Deeper on Mobile data, back-end services and infrastructure