Using 3G phones for laptop Internet access
Most workers who choose 3G wireless will either buy a new laptop with embedded 3G or add a new 3G card to an existing laptop. But don't overlook a third option that just might prove less expensive: using a 3G phone for laptop Internet access. Learn benefits and drawbacks, as well as how to configure tethering between your 3G and laptop, in this tip.
Previously, we discussed how to select a wireless Internet access method for corporate laptops. Most workers who...
Continue Reading This Article
Enjoy this article as well as all of our content, including E-Guides, news, tips and more.
choose 3G wireless will either buy a new laptop with embedded 3G or add a new 3G card to an existing laptop. But don't overlook a third option that just might prove less expensive: using a 3G phone for laptop Internet access.
Using 3G phones for laptop Internet access: Benefits
Embedded and after-market 3G adapters provide Internet access by connecting a host (i.e., laptop, desktop, PDA) to a carrier's EV-DO or HSDPA data network. Embedded 3G is the most convenient option for those who require very frequent on-the-go Internet access. An after-market PC or Express card is slightly less convenient, and these small devices may be mislaid, stolen or broken. Both have a costly down-side: 3G adapters require their own service subscription, usually with a long-term contract. Going 3G this way commits you to spending $40-80/month for the next one to two years, depending on your carrier and data limit.
More on using your 3G phone for laptop Internet access
Wi-Fi hotspot or 3G wireless data: Which plan should you choose?

Beware of the dangers of using 3G devices for tethering

PDAnet offers smartphone tethering for laptops

ITKnowledge Exchange: How do I use my cell phone as a modem?

Ask the Expert: Can I use a smartphone for laptop EV-DO access?
Alternatively, a mobile worker who has already purchased a 3G phone, or who expects to do so in the near future, should consider tethering that phone to his or her laptop. Depending on your phone and laptop, those two devices may be linked using Bluetooth, Infrared (IrDA), USB cable or serial cable. The tethered host treats the linked 3G phone as a modem, using dial-up networking or a carrier-supplied wireless connection manager to initiate calls to the carrier's network.
The main advantage of cell phone tethering is the ability to get more mileage out of a single 3G subscription. Travelers who already pay for unlimited wireless data on a RAZR, BlackBerry, Blackjack or similar handset may find it less expensive to tether that phone instead of buying a separate wireless adapter and service plan. For example, a Verizon BroadbandAccess Data subscriber will pay an extra $15 per month to add the BroadbandAccess Connect feature (tethering) to an existing smartphone account, without incurring a card activation fee or requiring another service contract.
Using 3G phones for laptop Internet access: Limitations
Tethering is a good way to trial 3G laptop connectivity without making a long-term commitment. It can also help 3G subscribers satisfy both smartphone and laptop wireless Internet access needs at a lower total monthly cost. But there are drawbacks:
Those who don't already have a compatible phone, or don't already have a data plan for that handset, could end up spending more for both than the price of a dedicated 3G wireless adapter. Those with limited MB-per-month plans may need to upgrade to an unlimited data plan to accommodate the combined bandwidth consumption.


Tethering has a significant impact on ease of use. Connecting a Bluetooth-enabled laptop to a Bluetooth-enabled smartphone is reasonably convenient but will eat into the phone's battery life. USB tethering may not consume as much handset power but requires carrying a cable and connecting it whenever Internet access is desired.


Mobile workers who need to talk on the phone while connected to the Internet cannot use one tethered handset to meet both needs simultaneously. When a laptop places a data call using a tethered modem, that phone cannot make or receive voice calls until the data session is terminated. Running a VoIP softphone on the laptop is a possible work-around but is less convenient than just using the handset directly for voice calls.
How 3G phone-laptop tethering works
Tethering a 3G cell phone to a laptop for Internet access requires three ingredients:
A cell phone that can be used as a data modem
Compatible drivers (and perhaps cables) for laptop connection
A wireless data account that permits tethering
Start by checking with your preferred wireless carrier for plans and devices that support tethering. AT&T Wireless customers can check AT&T's laptop connect devices page for supported LG, Motorola, BlackBerry and Samsung handsets. Sprint PCS customers can follow the links in Sprint's device list to download drivers for supported devices. Verizon Wireless customers can view tethering options for LG, Motorola, Nokia, Samsung, Palm and Blackberry phones and PDAs in Verizon's BroadbandAccess Connect page. USB tethering for Windows XP and 2000 laptops is common. If you need Bluetooth, Vista or MacOS support, your options will be considerably more limited.
Configuring tethered 3G phone-laptop Internet connections
Once you have a suitable plan, handset, software and perhaps cable, configuring a tethered connection is simple. Details depend on handset, link and carrier. For example, Verizon's Motorola Q can be tethered to a Windows XP laptop using either USB cable or Bluetooth wireless, as follows.
To create a Bluetooth dial-up networking connection (illustrated below), just enable Bluetooth on both the laptop and phone, then tell the laptop to discover nearby devices. Search the discovered phone for supported services, one of which will be dial-up networking. Configure that service with the carrier-specified dial-up parameters (username, password, phone number) and a new Bluetooth connection will appear on the Network Connections panel.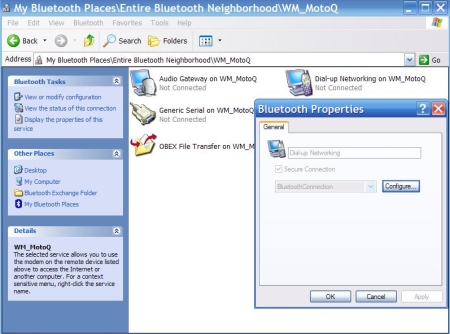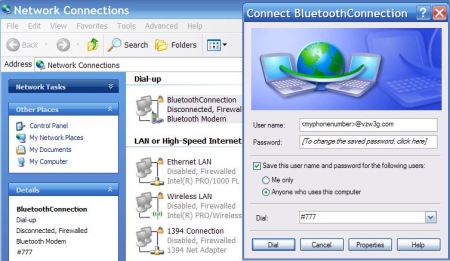 USB tethering is slightly more involved. Driver files must be copied onto the laptop before connecting the phone to the laptop's USB port. The phone itself must be set to activate the modem link on the USB port. Upon first connect, Windows XP launches the new hardware wizard to install drivers for the phone. Once that hardware has been successfully installed, a dial-up networking connection can be manually configured with the same parameters described for Bluetooth above.
As an alternative to manual dial-up network connections, you may wish to use a carrier-supplied wireless connection manager. The following figure illustrates Verizon's VZAccess Manager being used to control a tethered Motorola Q connection. Connection managers are ideal for laptops with multiple network connections -- for example, automatically using corporate Wi-Fi networks whenever they are near, then switching over to 3G or 2.5G services where no Wi-Fi signal is detected.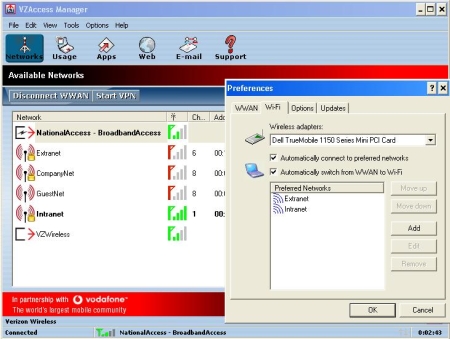 Savings from using 3G phones for laptop Internet access trump trouble
Many workers do not even realize that tethering a laptop to a 3G phone is an option. While tethering may not be as seamless as a dedicated 3G wireless adapter, potential savings can more than make up for the inconvenience. Tethering is certainly not the best option for every mobile professional. But, given simple set-up and low entry cost, 3G phone tethering should certainly be considered as one possible alternative for laptop Internet access.
About the author:
Lisa A. Phifer is vice president of Core Competence Inc. She has been involved in the design, implementation and evaluation of data communications, internetworking, security and network management products for more than 20 years and has advised companies large and small regarding security needs, product assessment and the use of emerging technologies and best practices.
Dig Deeper on Microsoft Windows phones and tablets