Problem solve
Get help with specific problems with your technologies, process and projects.
Three simple steps to make the mobile enterprise a reality
Vendors and products -- use these steps to piece together a workable solution to meet your needs.
Over the past three years, our industry has had a lot of time to think about what went wrong in the late nineties. Several years of flat, or reduced IT spending have changed the information and communications industry significantly. Gone are the days where technology is the solution to each and every business objective. And yet many of the things that I read and hear in the marketplace keep coming back to discussions about technologies: Will Wi-Fi hotspots challenge 3-G wireless networks? Is your wireless LAN secure? While these topics are important, they frequently fail to articulate the range of challenges that enterprise IT organizations face on a daily basis. Technology debates tend to serve the needs of the vendor community, and the marketplace needs a greater dialogue about the issues of interest to the enterprise buyers of mobility.
1. Pay attention to the enterprise perspective
For example, there is a farmers' market near my house, and there are several types of vendors in the market: deli vendors who sell sliced meat and cheese, farm stands that sell produce, bakeries, people who sell hard pretzels and potato chips, and there's even a pickle vendor. If I want to make a sandwich, I have to go to at least three different vendors, depending on whether or not I want a pickle or potato chips. And if I want mustard, that's probably a trip to the grocery store. This is the way the world looks to enterprises -- the vendors are selling products, and enterprise IT managers are trying to piece it all together into some sort of workable solution to meet their needs -- and they need more information and help.

Ours is a marketplace of buyers and sellers -- vendors who sell technologies and services, and enterprises who buy these items for a range of business purposes. Even though vendors and enterprises come together in the same marketplace, they obviously have very different perspectives. Vendors sell widgets, and they only see the market for their widgets, but enterprises are often buying more than just one type of widget.
2. Prove the ROI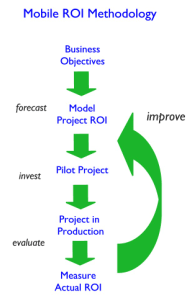 However, ROI is a two-way street. Vendors can provide baseline models for ROI, but they do not have access to the volumes of usage data that enterprises collect on a daily basis. Vendors can tell an enterprise the kinds of productivity gains and/or cost savings to expect, but only the enterprise can measure the actual ROI performance for a given situation. For the enterprise, ROI needs to be more than a sales objection, and strong feedback loop, incorporating continuous measurement and improvement, is the only way that Mobile ROI will be successful in the marketplace.

Some vendors are still thinking about ROI as only a sales objection, but a growing number are taking the ROI model seriously. For example, MEA Vendor Member, Intel Corporation has widely promoted information about its internal deployment of wireless local area networks and laptop computers. The company has issued a number of excellent white papers about the topic, and has sent members of their IT department to industry events to speak on Intel's internal deployment.

Intel is also demonstrating a successful Mobile ROI Methodology by publishing the results of internal studies about how workers are using the technologies and the gains they have experienced -- both qualitatively and quantitatively. Talk about eating your own dog food, not only did Intel eat it, but is now telling everyone how good it is. This is the kind of thought leadership that is a necessity for enterprise mobility to succeed in the marketplace. Intel is showing other enterprises how to think about the overall solution and how to measure project success.

Enterprises have tightened the reigns on IT spending, and now they are opening up the purchasing coffers. This time around, however, they are digging in their heels. They are asking for proven models for ROI on capital investments in information technologies. This is how the enterprise buyers exert their collective voice – a voice that is getting clearer and louder. Every IT manager is telling the vendor community that he will not stake his career on a technology purchase without a clear understanding of the business objectives for the investment.
3. Design for the enterprise
The next generation of enterprise class mobile devices must include features for deployment, management and security. And next-generation wireless network services need to provide a baseline Service Level Agreement (SLA) so common in the rest of the telecommunications marketplace. If enterprises are to invest in custom application development for wireless networks, then they need to insure that investment with the appropriate SLAs.
Like ROI, the development of enterprise-class devices and services is going to require for enterprise IT departments to clearly voice their requirements to the vendor community.
In the end, this is a collaborative process involving both buyers and sellers. Vendors are not bad, and enterprises are not the victims. If the voice of the vendor community gets too loud, then enterprises must respond with their own requirements.
With ROI, the enterprise has spoken, but the task of developing sustainable ROI models is a joint effort between the vendor and enterprise communities. And the next step to successful enterprise mobility is the development of enterprise class devices and services capable of supporting collaborative mobile business environments.


---
About the author:
Daniel Taylor is the co-founder and managing director of the Mobile Enterprise Alliance (MEA). He is responsible for global Alliance development and outreach activities, and oversees a membership of more than 500 in 32 countries worldwide. Dan works closely with the MEA Advisory Board to involve vendor members, enterprise IT managers and industry analysts in an ongoing dialogue with the mission of creating an active voice for the enterprise in the mobility marketplace.

About the MEA
The Mobile Enterprise Alliance (MEA) is a global advocacy group promoting the business benefits of workforce mobility to enterprise end users and decision makers. The MEA provides a vendor-neutral and technology-independent clearinghouse for information about the mobile enterprise including news, case studies, research, business analysis tools, and more. This information is available - free of charge - to enterprise managers, solutions providers and industry professionals. This helps enterprise decision makers to make informed decisions about technical architectures within the context of enterprise business objectives. As a not-for-profit organization, the MEA is funded through dues from participating vendors, service providers and systems integrators. The MEA currently represents more than 550 member organizations worldwide. More information can be obtained at www.mobileenterprise.org.


A growing number of mobile and wireless devices and services appear to be designed for consumer markets. Unlike the traditional market for telephony, wireless carriers are leading with the consumer, not the business. This has led to a wide range of devices with built-in digital cameras, color screens and downloadable games. Further, wireless service plans are based upon "best-effort" delivery. This combination of the wrong device and the wrong service plan can prove to be the one-two punch that will knock wireless data services out of the running for many enterprise solutions.
Dig Deeper on Enterprise mobility strategy and policy