Problem solve
Get help with specific problems with your technologies, process and projects.
Study guide: Windows Mobile evolution -- Successful mobility
This section of the Windows Mobile evolution study guides explains how Windows Mobile integrates value-added business apps for maximum productivity.
This article discusses how Windows Mobile enables on-the-go business applications. It is third in a series that explores the development of the Windows Mobile platform, the devices it enables, and the business applications it makes possible.
>>Read part 1: Recapping Windows Mobile development
>>Read part 2: Mobilizing business operations with Windows Mobile
Handheld PCs (H/PCs), Pocket PCs, smartphones and Windows Mobile phones are all means to an end: executing the applications that on-the-go workers need to do their jobs. Apps are where the rubber meets the road -- the battleground that successful mobility initiatives must master.
Recently, smartphone news has been dominated by apps. But IT departments know that most of those apps help consumers carry out personal tasks, stay entertained and connect with family and friends. Like other operating systems, Windows Mobile 6.5 contains several popular consumer apps (e.g., Media Player, Messenger, AIM/Yahoo!/Windows Live Instant Messaging) and can download new apps from the modest-but-growing Windows Marketplace Mobile (below). Value-added consumer apps that benefit from high-speed mobile broadband are often bundled with smartphones sold by carriers -- for example, the Samsung Intrepid from Sprint arrives with Sprint Navigation, Sprint TV, Sprint NFL Mobile Live and Sprint NASCAR apps.

However, consumer apps -- even business-to-consumer apps from companies like Comcast and Pizza Hut -- do not alone deliver workforce mobility. For most enterprises, achieving mobility will require a combination of native, third-party and perhaps custom business apps. Windows Mobile is well positioned to support this thanks to its mature SDK, Microsoft Developers Network (MSDN) and integration with dominant enterprise office applications, communication services and management infrastructure.
For example, every Windows Mobile smartphone includes a Microsoft Office Outlook Mobile client that can synchronize email, appointments, tasks and contacts with any resident or hosted Microsoft Exchange Server. Although other contemporary operating systems do this to some extent using ActiveSync, Windows Mobile is uniquely positioned to fully exploit current and future Exchange capabilities, including Active Directory-based enrollment/provisioning, unified/visual inbox, direct push messaging and lost device lock/wipe.
Furthermore, every Windows Mobile includes Microsoft Office Mobile productivity apps (Word, Excel, PowerPoint, OneNote) used to view and/or edit documents. Windows Mobile users can deal with email attachments in their native format, without installing "readers." Better yet, devices that connect securely to business networks using the embedded Windows Mobile VPN can directly access documents "inside the firewall" -- including those on resident or hosted Office SharePoint sites.

These and other "out of the box" Office apps can be augmented by horizontal and vertical business apps, purchased from Microsoft or its partners. For example, enterprises that deploy unified communication using Microsoft Communications Server can install Communicator Mobile on employee smartphones. Enterprises that deploy Microsoft Dynamics CRM can access that data on-the-go using CRM Mobile Express. Business apps now available from Windows Mobile partners run the gamut from field service automation and ERP to financial services and construction. Many of these business apps were originally implemented on earlier incarnations of Windows Mobile to leverage its broad hardware support, multitasking capabilities and familiar Windows heritage.
Finally, every enterprise deployment requires the ability to manage, track and secure those on-the-go devices and the valuable data they carry. Windows Mobile was not the first to excel at this but has made strides recently -- especially for enterprises that use Windows network and security infrastructure. For example, starting with Windows Mobile 6.1, users can self-activate smartphones enrolled in Active Directory and provisioned through Group Policy Objects, all under the direction of Microsoft System Center MDM. Individuals and small businesses without infrastructure can easily back up and remotely lock/wipe lost Windows Mobiles using the free Microsoft My Phone service (below).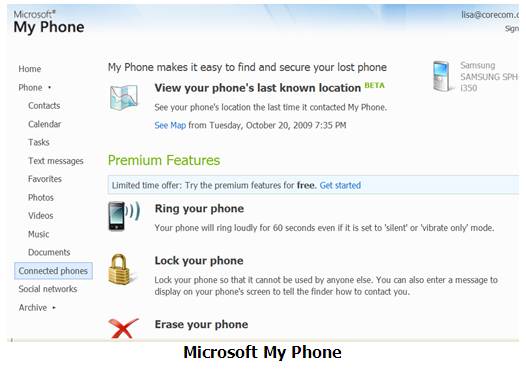 Windows Mobile may not have the "sizzle" of new consumer smartphones or the breadth of personal apps they are so well known for supporting. But Windows Mobile builds upon a lengthy history of enabling workforce mobility with business apps and the infrastructure needed to support them. Windows Mobile 6.5 enhancements and hardware advances like gesture support will help this mature mobile computing platform appeal to both IT departments.
Dig Deeper on Enterprise mobility strategy and policy