kreizihorse - Fotolia
Get started
Bring yourself up to speed with our introductory content.
Mobile application management tools balance service and cost
Finding the right mobile application management tool can be challenging. Discover whether it's best to choose a stand-alone MAM tool over an integrated EMM suite.
It can be overwhelming to navigate mobile application management tools -- but with some testing, IT can find the right one that balances budget and requirements.
Mobile application management (MAM) is one of the three elements of enterprise mobility management (EMM), along with mobile device management (MDM) and mobile content management. IT can purchase all three combined in an EMM suite with a single management console, integrated services across the three elements and favorable costs.
Even though EMM suites often sound like the best option, there is a market for stand-alone mobile application management tools.
Reasons to choose mobile application management tools
MAM suites typically include an enterprise app store, app whitelisting and blacklisting, access and license management, app upgrades, beta and maintenance release distribution, and management alerts and reporting.
Consider these reasons to pick a stand-alone MAM suite.
Mix and match. The main advantage of selecting stand-alone mobile application management tools is to get the best option possible without paying for unnecessary features. For example, IT might need another license to use MAM capabilities in an EMM suite.
Some EMM suites provide a broader service that might lack functionality or violate local policy. EMM suites and MDM tools also take over the whole device, which requires more time to update and patch security issues.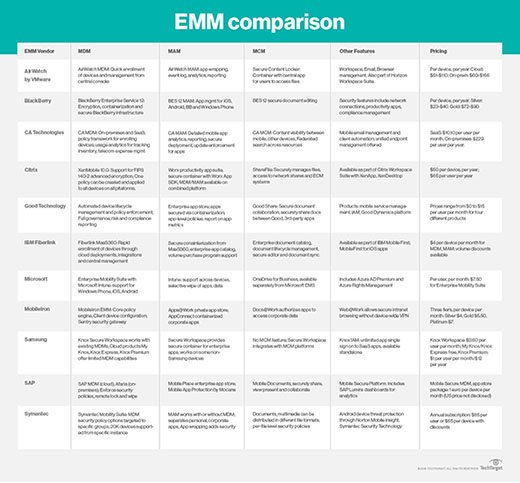 Stand-alone MAM options, however, enable IT to manage applications without controlling a whole device, which is helpful for organizations with contract employees or BYOD policies. Many stand-alone MAM tools enable IT to release and update apps more effectively. For example, Appaloosa Technology SAS' cloud-based MAM tool has a software development kit to manage forced upgrades.
Specialized functionality. Both functionality and style vary across MAM implementations, making it possible to find a suite that meets your specific needs. IT should make a complete list of requirements to vet before purchasing any operational management tools. Often, a specific stand-alone MAM product can offer customization that an EMM suite cannot.
For example, Apperian and Appaloosa enable IT to create custom branded enterprise app stores. IT should consider other factors when making a decision to choose between stand-alone MAM or an EMM suite, such as whether the product will integrate with other management systems and comply with local procedures.
Mobile apps provide enterprise advantages
Lower cost. The mix and match strategy of MAM tools can be cheaper because the pricing of integrated EMM suites can increase in scenarios that occur over time. EMM suites that charge a la carte can become expensive as IT adds more features. EMM suites that give a fixed price per month that grows logarithmically over time for a certain number of users creates stable costs.
MAM suites offer lower costs per user, but this increases linearly based on the number of users. Companies need to estimate long-term costs, including maintenance, to pick their suite.
Cons of stand-alone mobile application management tools
Flexibility always has a price. Here are some disadvantages of using a stand-alone MAM tool.
Another management console. A stand-alone mobile application management tool can cost less, but it also has administrative consoles, databases and operating costs. Operating expenses will increase as personnel costs and management tool sets grow.
Licensing concerns. Evaluate the licensing of a MAM tool and the apps it manages. Some MAM tools make license management easier, as they are specifically made to manage app licenses. MAM tools are often more cost-effective than EMM suites, which might need additional licensing to execute the same functions as stand-alone MAM tools.
Coordination with other services and tools. More integration is preferable, as there are fewer interface points where errors can occur. An additional tool may result in conflicts, databases that need synchronization or a change in operational procedures. It's important to evaluate the total impact before making a purchase.
Dig Deeper on EMM tools | Enterprise mobility management technology