designsoliman - Fotolia
Get started
Bring yourself up to speed with our introductory content.
How IT and end users can build mobile apps with RMAD tools
RMAD tools can make just about anyone a citizen developer, making building mobile apps easier for IT pros or end users. The tough part is finding the right platform.
Many organizations want to build mobile apps without having to hire developers or train employees to learn how to code. RMAD tools put IT departments -- or even end users -- in the driver's seat when it comes to building apps quickly and easily, which can save businesses time and money. The biggest challenge may be simply deciding which RMAD tool to try, depending on what types of apps an organization needs.

Download this free guide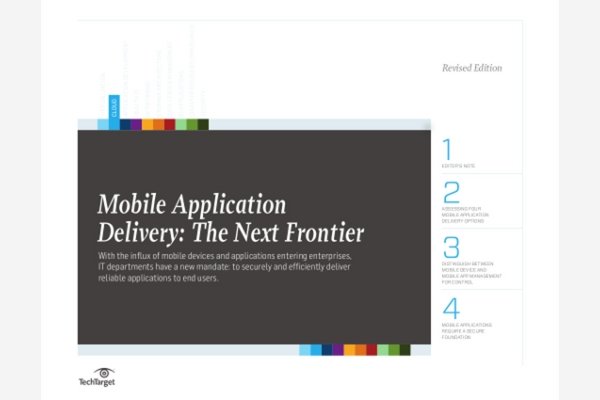 PDF: 17-Page Mobile Application Management Handbook
Experts provide best practices for mobile application delivery and management to help deal with the flood of mobile devices, new applications and data security demands.
Rapid mobile app development streamlines the process of building mobile apps, but the tools themselves can vary significantly from one vendor to the next. Some vendors offer RMAD tools as on-premises products, cloud-based services or a combination of both; they also support different types of mobile apps, such as native, web-based and hybrid. Some take a more generic approach, providing a single native or hybrid app.
Organizations reviewing RMAD products must take these factors into account, because they can affect how vendors approach mobile app development.
Development environment
RMAD platforms provide an integrated development environment for building apps. Vendors might offer their development tools as desktop applications, such as Altova's MobileTogether Designer, or as cloud-based services, such as AppSheet's Editor.
Although interfaces can vary in terms of usability and available features, most platforms support drag-and-drop operations and the ability to add controls, define events, set property values, insert data grids and implement other components.
For example, in WaveMaker Studio, users build their own apps by dragging widgets onto the canvas and setting the properties associated with each widget. Most RMAD development environments use widgets to support modular, drag-and-drop development, so users don't have to know how to write code.
Many RMAD platforms also offer prebuilt modules, themes, templates, plug-ins or services for the citizen developer building mobile apps. The Mendix application platform Dev Center provides themes for defining an application's look and feel, navigation layouts for implementing consistent navigation features throughout an app and templates for applying specific page layouts.
Customization and extensibility
RMAD platforms vary in how much they let users extend or customize an application. For example, in WaveMaker Studio, you can use JavaScript to call functions that let you customize individual widgets. In Alpha Anywhere Developer from Alpha Software, you can access and update the actual native code, including the JavaScript, CSS, XBasic and SQL.
In addition to letting you edit code, many development tools also include features such as syntax checkers and debuggers to help streamline the development process and avoid introducing errors into your applications.
RMAD platforms vary in how much they let users extend or customize an application.
Some RMAD platforms also let you create and edit property expressions so you can construct dynamic property values, such as being able to generate a file path on the fly. One example of this is Altova's MobileTogether Designer, which lets you edit the XPath expressions associated with various properties. The tool includes special dialog boxes for building and editing expressions.
Data connectivity
An essential component in any RMAD tool is its ability to connect to different types of data sources to populate tables, forms, charts and other UI elements. This is especially important for line-of-business apps that need access to internal corporate information.
As with many platform features, data source support varies substantially from one RMAD tool to the next. For example, AppSheet lets you build apps based on spreadsheets stored with an approved cloud service, such as Dropbox, Google Drive, OneDrive, Box or Office 365. You can also build apps that connect to Smartsheet service projects or SQL Server databases.
MobileTogether Designer lets you connect to a wider range of data sources, including extensible markup language documents, HTML files, web services, JavaScript Object Notation data sources (files or services) and relational database systems, such as MySQL, DB2, SQL Server, PostgreSQL, Oracle and more.
Previewing and testing
RMAD platforms provide a way to preview and test applications, often in the form of a simulator that shows what the app will look like on a particular device. This ability is especially handy for native and hybrid apps; they can be difficult to preview unless you install them directly on test devices, which would involve sideloading.
A video on the competitive advantages of mobile apps
You might be able to use a vendor's generic native or hybrid app to get a sense of how your app will work on different devices, such as with the Alpha Launch app from Alpha Software. Some RMAD vendors even provide a generic test app, such as the Appery.io Tester app or the Mendix Developer app.
If you're developing a web-based app, you can usually view the app through a browser on a device connected to the local network. When you're ready to view a web app in WaveMaker Studio, you can run the app, retrieve the URL and then share it or scan the provided QR code to view the app directly from a mobile device.
Deploying apps
After you've developed your app, you're ready to deploy it. The deployment process, though, depends on the type of app and how the vendor has implemented its platform. Alpha Software supports both web and hybrid apps. You can host the application yourself, use a third-party service provider or go with a cloud service.
Also consider where the application's back-end services will run and where user data will be stored. You must also account for application updates and maintenance, depending on the chosen RMAD platform and type of apps. In addition, if you're deploying native apps or hybrid apps, you still have to jump through the required hoops to post those apps to the applicable store, whether Google Play or Apple's App Store.
For organizations developing and deploying mobile apps, an RMAD tool can be a great asset. But before you choose one, you should have a good sense of what exactly goes into building mobile apps. Understand the development environment, customization capabilities, data connectivity support and how to preview and test your apps before they go live. Only then can you choose the right RMAD tool for your organization.
Dig Deeper on Mobile enterprise application development