Four mobile app delivery options for IT to consider
A good mobile app delivery strategy helps users do their jobs better and eases IT's management burdens. App stores, Web and cloud apps and virtualization are some of IT's options.
As more employees bring mobile devices and apps into the workplace, IT has several mobile app delivery and management options to consider.
One of the biggest risks of the consumerization of IT is that mobile device users exchange and store sensitive enterprise data without the necessary oversight. IT can limit these risks by controlling mobile app delivery, management and security. There are four approaches worth considering: enterprise app stores, Web-based apps, cloud-based apps and desktop virtualization.

Download this free guide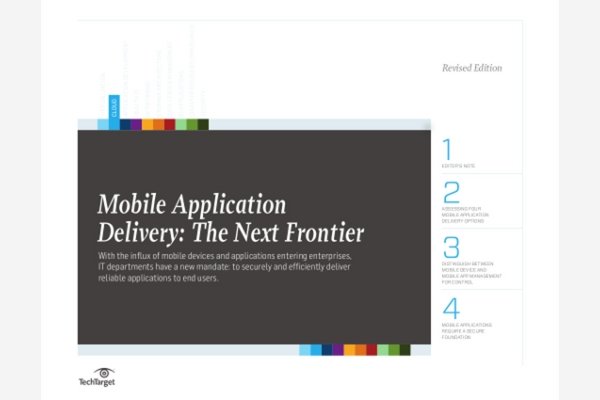 PDF: 17-Page Mobile Application Management Handbook
Experts provide best practices for mobile application delivery and management to help deal with the flood of mobile devices, new applications and data security demands.
Mobile app delivery with enterprise app stores
Enterprise app stores provide a mobile app delivery platform that allows users to browse and download IT-approved apps. Enterprise app stores give IT control over issues related to compliance, data governance, bulk purchasing and licensing, and they also provide a forum for user feedback and quality control, much like Apple's App Store or Google's Android Market.
Creating an app store is no small task, however. The store must be able to control and monitor the entire application life cycle, which includes mobile app delivery, usage tracking, removing outdated apps and controlling which versions workers use. Implementing and maintaining such a system requires a significant investment in resources.
Organizations can tie into some commercial app stores, such as Apple's, but there are limitations to these programs. For example, the App Store provides only mobile app delivery to iOS devices, and the App Store doesn't give IT the same degree of control that is available from a homegrown system.
Using Web apps for mobile app delivery
Until recently, Web-based apps for mobile devices were considered an unrealistic mobile application strategy for app delivery. Better processors, faster connectivity and the move toward HTML5, the newest revision to Hypertext Markup Language, are opening up the possibility for a greater number of devices.
Unlike native mobile apps, which require a mechanism for app distribution and regulation, Web apps simply run in browsers, making the apps more compatible across a variety of devices. IT can easily deliver, maintain and upgrade Web apps, without the need for multiple versions or a distribution system.
Web apps still pose many hurdles for IT. For instance, whenever application state data -- the data stored in memory during a session -- must be updated, a screen refresh is required. If the user's connection is less than optimal, this refresh can affect performance. Mobile device browsers are also limited when it comes to their functionality; for example, pop-ups and multiple windows are not available on mobile devices, which makes displaying alerts and error message more difficult. And unlike native mobile apps, Web apps can't take full advantage of device features, such as cameras, messaging and scanning. But with the push toward HTML5, the mobile Web app is in a period of transition and may prove to be an effective mobile app delivery strategy going forward.
Mobile app delivery via the cloud
If your workers are using a service such as Dropbox for cloud file sharing and collaboration, your organization is already relying on mobile cloud apps. These apps facilitate the exchange of data and are available anytime from any location on a variety of devices.
To implement cloud-based mobile apps at the enterprise level, organizations must develop their own offerings or pay for existing cloud storage services. Either option could require a significant investment. Existing services are easier in terms of getting them up and running, but relying on those services can mean losing control over how and where sensitive corporate data is stored. Developing an in-house service offers IT more control, but it also means that the enterprise will need to invest in the resources necessary to develop, implement, house and maintain that system across multiple mobile platforms.
Either way, cloud apps offer a great degree of flexibility and can help simplify mobile app delivery and maintenance because they provide a central access point from which to conduct and manage business.
Mobile desktop virtualization
Desktop virtualization delivers a traditional PC environment to any endpoint, from a desktop or laptop to a smartphone or tablet. With mobile desktop virtualization, users connect to secure in-house servers that run the operating systems and applications needed to conduct business, and a thin client on the mobile device connects to those network resources and renders the virtual desktop.
This approach stores all sensitive data within the organization's secure data center and never on the device itself. Desktop virtualization also makes it easier for IT to manage applications and control and monitor usage.
For desktop virtualization on mobile devices to work, the user must have consistent, reliable network connectivity. Some products support offline desktops, but consistent connectivity is the key to an effective user experience. In addition, apps that are delivered virtually don't always translate well to mobile devices. This is particularly true on smartphones because of their limited screen sizes. And any app that relies on intensive keyboard input and mouse actions can be a challenge for the mobile worker.
Pick and choose
More on mobile app delivery
It's not likely that native apps are going away anytime soon, which makes app stores useful alternatives for controlling mobile app delivery. Web- and cloud-based apps, along with virtual desktops, provide flexible alternatives that will only improve as those technologies mature.
Determining which mobile app delivery method to use is no easy choice, and the options are changing rapidly. New products and technologies come along frequently, and old ones are evolving quickly. Whatever you decide, flexibility and a willingness to shift strategies as new technologies emerge are key.