Problem solve
Get help with specific problems with your technologies, process and projects.
Clearwire's mobile WiMAX service
As a mobile manager, you may be excited by the prospect of Clearwire's 4G mobile WiMAX service. But you need to understand the limitations and proceed carefully before making long-term plans that include the use of Clearwire's mobile WiMAX service.
Clearwire hopes to leapfrog Verizon Wireless and AT&T by offering a 4G mobile service using Worldwide Interoperability for Microwave Access (WiMAX) technology. Clearwire claims that its 4G mobile WiMAX service is "unlike any other wireless service available today" and that it is "significantly faster than today's 3G services." That sounds good to me! But wait, what are they not telling us? In this tip, we explore the limitations of Clearwire's mobile WiMAX service.
Mobile versus fixed WiMAX
According to the WiMAX Forum, there are approximately 500 WiMAX deployments in more than 145 countries throughout the world. Chart 1 illustrates that there are more WiMAX deployments in underdeveloped regions than in the highly industrialized regions because underdeveloped regions often lack a wired infrastructure (DSL, cable service, fiber, etc.).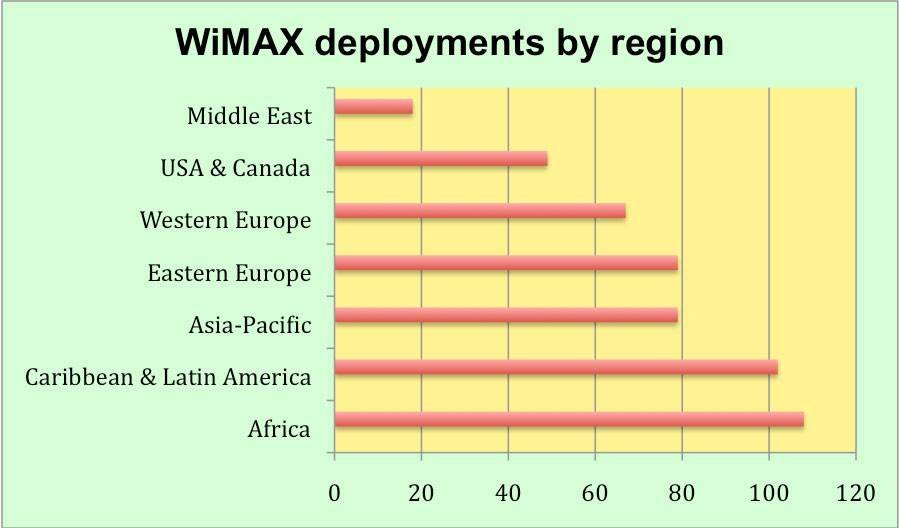 Chart 1: WiMAX deployments by region (source: WiMAX Forum, 8/2009)
Network operators in these regions are using WiMAX to provide a fixed wireless "last mile" service. A fixed wireless service is much faster and less expensive to deploy than building a wired infrastructure.
In contrast, Clearwire offers a mobile WiMAX service that provides high-speed communication while the user is in motion. Mobile WiMAX competes with 3G services such as EV-DO and HSPA and will eventually compete with 4G services such as LTE. Refer to this WiMAX tutorial for more detailed information.
Let's be clear about Clearwire's mobile WiMAX service
Clearwire is the leader in mobile WiMAX deployment in the U.S. and therefore provides a clear lens through which we can view the challenges of building a mobile WiMAX service. Sprint, Google, Intel, Comcast, Time Warner and Bright House Networks created Clearwire on November 28, 2008. They combined $3.2 billion, plus the assets of Sprint's WiMAX business (most notably its nationwide 2.5 GHz spectrum licenses), along with the assets of the "old" Clearwire (a fixed wireless business using pre-802.16e technology). Since that time, the new Clearwire has focused on expanding its WiMAX coverage and subscriber base. Let's look at how it's been doing.
Poor WiMAX coverage
For starters, the Clearwire service coverage area is very limited (see Figure 1). This is not surprising given the fact that it will take many years, and billions of dollars, to deploy a nationwide WiMAX network. This is a big obstacle for Clearwire because many potential customers will object to the lack of nationwide coverage.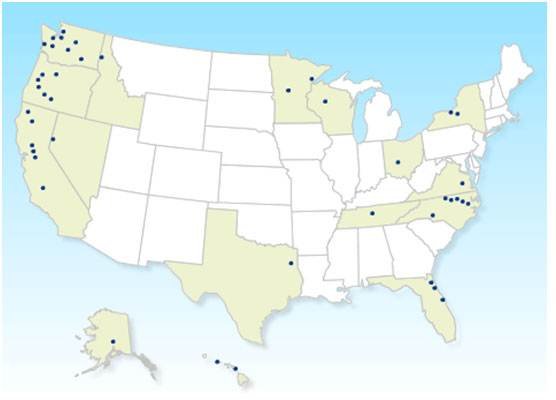 Figure 1:
Clearwire coverage map (source: www.clearwire.com, 10/2009)
Clearwire's mobile WiMAX subscriber growth challenge
According to its 10-Q form, Clearwire had only 511,000 customers as of June 30, 2009 (this number includes customers from the "old Clearwire" fixed wireless service). Even worse, the company added only 37,000 customers during the first six months of 2009. In contrast, Verizon has 89 million customers, and AT&T added 2 million new customers in the third quarter of 2009! Clearwire's small subscriber growth illustrates how difficult it is for an operator to ramp up a mobile service when it cannot support widespread mobility.
Capital-intensive WiMAX network build-out
Clearwire plans to extend its 4G mobile WiMAX network to cover 25 markets by the end of 2009 and up to 80 markets by 2010. In order to achieve these goals, the company states that its WiMAX network build-out will be driven largely by its market-by-market success and the availability of additional capital.
Why does Clearwire need to raise new capital in order to expand its network? Unlike Verizon and AT&T, Clearwire is losing money every quarter, so it can't rely on cash from operations to fund network expansion. In fact, Clearwire claims that it has sufficient liquidity for only about 12 months (as of June 2009). If it doesn't do a better job adding new customers and can't raise additional capital, Clearwire will run out of money. This illustrates another challenge of deploying a new mobile WiMAX network: It is very capital intensive!
No 4G phones
Bill Morrow, the CEO of Clearwire, claims that the iPhone is on the wrong network. At the recent 4G World conference, he showed a video that demonstrated two iPhones mounted side-by-side accessing Google Earth while in a moving car. One of the iPhones accessed the AT&T 3G network; the other accessed the Clearwire 4G network via a Wi-Fi connection to a WiMAX router. The video playback over the AT&T network was choppy, whereas the video accessed over the Clearwire network was smooth and clear. The demonstration was very clever. But it hides a big issue for Clearwire: It doesn't yet support a single 4G phone on its network. It is difficult for Clearwire to line up vendors to build phones for its service when network coverage is still very limited.
Clearwire's 4G mobile WiMAX service is certainly unlike any other wireless service available today -- but for all the wrong reasons. The company has very limited coverage, slow customer growth, insufficient capital to complete a nationwide deployment, and no compatible 4G phones. Enterprises should proceed carefully before making long-term plans that include the use of Clearwire's mobile WiMAX service.
About the author: Paul DeBeasi is a senior analyst at the Burton Group and has more than 25 years of experience in the networking industry. Before joining the Burton Group, Paul founded ClearChoice Advisors, a wireless consulting firm, and was the VP of product marketing at Legra Systems, a wireless-switch innovator. Prior to Legra, he was the VP of product marketing at startups IPHighway and ONEX Communications and was also the frame relay product line manager for Cascade Communications. Paul began his career developing networking systems as a senior engineer at Bell Laboratories, Prime Computer and Chipcom Corp. He holds a BS in systems engineering from Boston University and a master of engineering degree in electrical engineering from Cornell University. Paul is a well-known conference speaker and has spoken at many events, among them Interop, Next Generation Networks, Wi-Fi Planet and Internet Telephony.