Linux
Linux is a Unix-like, open source and community-developed operating system for computers, servers, mainframes, mobile devices and embedded devices.. See complete definition.

Download this free guide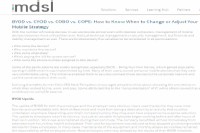 BYOD vs. CYOD vs. COBO vs. COPE
As the volume of mobile devices worldwide continues to grow explosively, mobile management strategies are becoming a top priority for enterprises. Uncover the key differences between mobile management techniques including BYOD, CYOD, COBO, and COPE – and learn which one can yield the most effective results for your organization.