Why you don't need public cloud for mobile file-sharing
If you want to let users do mobile file-sharing, you don't have to turn to the cloud. Plenty of providers offer on-prem options.
A few months ago, I presented a session at the Modern Infrastructure Decisions conference in New York. One of the questions from the audience was something that I've heard a lot recently.

Download this free guide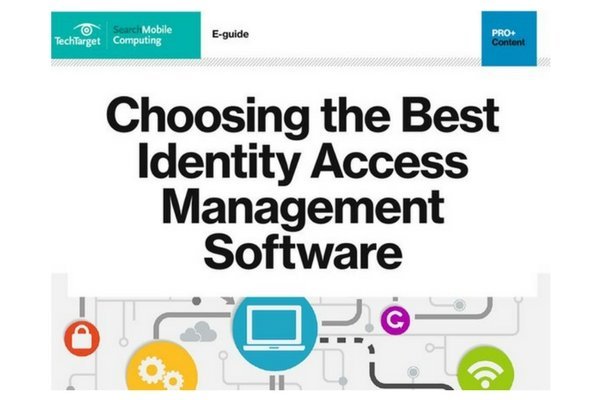 PDF: How to Choose the Best Identity Access Management Software
Since mobility is a vital element in almost every modern IT shop, today's comprehensive IAM platforms should feature capabilities enabled by a mobile environment. Save this PDF to help prioritize which capabilities your business needs in IAM software.
By submitting your personal information, you agree that TechTarget and its partners may contact you regarding relevant content, products and special offers.
You also agree that your personal information may be transferred and processed in the United States, and that you have read and agree to the Terms of Use and the Privacy Policy.
I said that, in today's world, IT departments must provide some kind of modern mobile file-sharing solution. If you don't like or trust Dropbox, fine; there are dozens more to choose from, such as Box, SugarSync, SkyDrive and Google Drive. I don't care which option companies choose. I just care that they choose one of these rather than the old-school network share that requires a user to be connected to access files, a desktop OS and a virtual private network.
"But what you don't understand," an attendee said, "is that we can never go to these types of solutions, because our company will never allow all those corporate files to be out there in the public cloud." But here's what I argue: You can implement modern mobile file-sharing options without using the public cloud. You can run them 100% on premises, giving your users all the features they need and bringing your environment into this decade, all while being on-site, private and secure.
How? It's simple. The actual software that enables mobile file-sharing -- the client apps for iOS, Android, Mac, Windows and the Web; the syncing engine to move files back and forth; and the Internet-connected services to power them all -- has nothing to do with whether you store your repository in your company or in some public cloud location. It's just like email. Email is fundamentally a "cloud" or "Internet" service, but you can choose to have email pushed to all devices anywhere while still maintaining your email servers and repositories in your own data center.
The same is true for these mobile file-syncing services. Sure, some of them don't allow on-premises setups. You can't go to Dropbox or Box and say, "Can you sell me your software so I can build my own environment?" But that just means you're looking at the wrong vendors, because many vendors make Dropbox-like products that absolutely can be installed 100% on premises. Many of these products are from familiar vendors, such as Citrix ShareFile or VMware Horizon Data.
Other on-premises mobile file-sharing tools come from WatchDox, RES Software, Nomadesk, GroupLogic and dozens more. (Heck, even Novell has one!) And of course, these corporate-focused services offer many enterprise features such as encryption, digital rights management, data loss protection and remote file wiping.
So next time you hear someone say that you need to provide a new Internet-connected service to your users like some consumer cloud company, remember that providing a similar service at the corporate level doesn't necessarily mean that you have to store anything in the cloud.