Fotolia
New Apple iPad Pro combines the best of PCs and tablets
Apple's new iPad Pro can function as a laptop for workers at their desks and as a tablet for employees on the go, without making sacrifices in either scenario.
The new Apple iPad Pro has a chance to make a big splash in the enterprise, and it marks the beginning of the end of the PC as we know it.
As businesses look to trim PC costs, more are switching to virtual models. An iPad Pro allows workers to access all their current applications in a virtual environment and use powerful new mobile apps to enhance their productivity. The modern workplace demands that employees be able to work from anywhere, but they still need access to powerful tools at their desks.
The new Apple iPad Pro can meet both of these requirements, thanks to its specs and features.
The possibilities of the Apple Pencil are intriguing.
Why is this iPad more of a difference maker than previous editions? For one, its 12.9-inch screen makes it easier to access and navigate Windows applications than on smaller mobile device displays. Native mobile productivity apps such as Microsoft Office for iPad are also much better on a large screen. Plus, the speed of the iPad Pro's third-generation 64-bit A9X processor with M9 motion coprocessor puts the device's specs on par with the vast majority of enterprise laptops out there.
The Split View feature is amazing for business users. Think of all the possible use cases, such as showing a sales presentation on one side of the screen while filling out the order on the other side, or creating the right graphics for your presentation on one side of the screen, while applying those graphics to your presentation on the other side.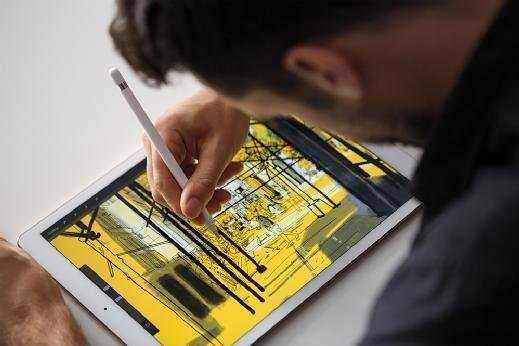 The Smart Keyboard was long overdue, and really, it copied one of the Microsoft Surface Pro's best features, but it is still a welcome feature (minus the $169 price tag). And the possibilities of the Apple Pencil are intriguing. One downside is, where to store it? I've often found that even if I have a tablet for a meeting, there are still times when I carry a pen, and there aren't many tablet cases that have a great spot for a pen.
We have been waiting for a large iPad for a couple of years. Many features are evolutionary, not revolutionary, but when taken altogether, the size, processor, keyboard, pencil and operating system makes the iPad Pro the best mobile productivity tool out there today.