Mobile in 2018 will be driven by cloud, EoT and UEM
As more organizations embrace EMM, trends such as cloud, EoT and UEM will become more significant in 2018. Learn how to use these technologies to your company's advantage.
IT pros should pay close attention to the trends of enterprise mobile in 2018 -- particularly around cloud, the...
Continue Reading This Article
Enjoy this article as well as all of our content, including E-Guides, news, tips and more.
enterprise of things and unified endpoint management.
As the presence of mobile devices proliferates, enterprise mobility management (EMM) has become a core component in many organizations. I estimate that business users do as much as 50% to 65% of their work on mobile devices in enterprises where mobile is treated as a business tool, and not just as additional technology to tolerate.
The ability to provision, manage and secure devices through an EMM suite can increase user productivity in organizations that embrace mobile in 2018.
In the following year, I expect to see some changes in the EMM industry that will affect many organizations. These trends are worth exploring and incorporating into any company's mobile strategy. Below are three key areas where companies can modify their use of mobile in 2018.
A cloudy forecast
Currently, the cloud hosts only about 50% of EMM, while early investors in EMM continue to host some on premises. The vast majority -- about 85% -- of new installations are now in the cloud, but attitudes remain of It works -- why change it?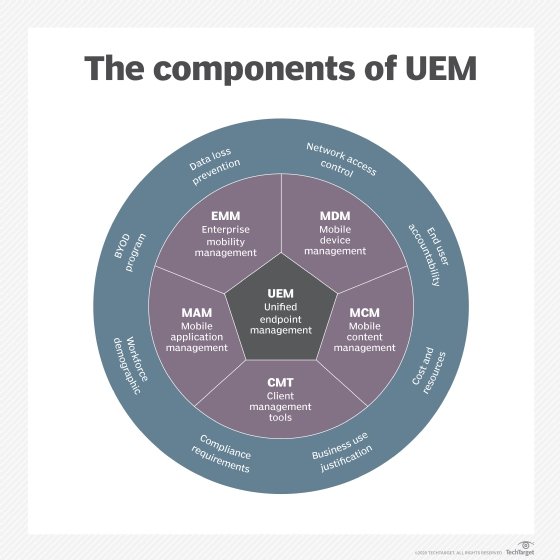 In 2018, I expect a major shift to the cloud as companies adopt a simpler, more cost-effective cloud strategy. The cloud offers IT pros continuous upgrades to take advantage of the most recent versions of their platforms, as well as the ability to easily switch functions on and off.
Everything unifies
​​​​​I estimate that only about 15% to 20% of organizations currently use the unified endpoint management (UEM) features in most EMM suites. In 2018, UEM adoption will increase, especially as end users increasingly use laptops remotely.
UEM installations will grow significantly even while competing with many free tools -- such as Microsoft's Intune -- although I do expect the UEM capabilities of Microsoft to also play a major role.
I still see many organizations that lack a UEM strategy, which is a detriment that those IT departments should correct in the short term.
EoT in the spotlight
It's still early days for EoT, but I expect to see a growing need to include these components as part of an EMM or UEM strategy.
In 2018, there will be more significant deployments of the enterprise of things (EoT), which deals with the emerging use of company and user-deployed things, or connected devices. Companies will need to explore ways to manage and secure those components.
It's still early days for EoT, but I expect to see a growing need to include these components as part of an EMM or UEM strategy. Major EMM vendors are now responding to those needs with extensions to support a wider variety of devices. I expect this trend to continue for the next three to four years at least, and it should be an important part of any strategy for enterprise mobile in 2018.
Dig Deeper on Enterprise mobility strategy and policy