imageteam - Fotolia
IT reveals keys to Box user adoption
Organizations considering Box or deploying it to employees know that communication is paramount to user buy-in. Learn other tips for moving to Box.
SAN FRANCISCO -- Whether it's NASA or an investment banking firm, the organizations that implement Box must focus...
Continue Reading This Article
Enjoy this article as well as all of our content, including E-Guides, news, tips and more.
on communicating with users and addressing business goals to ensure strong user adoption.
Users and business leaders may not warm up to the file-sharing tool unless IT can show them it will increase productivity and efficiency. It's also critical to understand the different employees who will access Box and then communicate with each Box user about the new service they'll be accessing.
IT professionals and experts here at BoxWorks shared their most important considerations for transitioning to Box and increasing user adoption.
Focus on productivity, not financials
IT professionals must justify any new application they give to users. Many Box shops start by explaining to users how it can make their jobs easier.
"If you drop a file in this folder on your desktop, now when you're off at the client meeting you've got that same file on your iPhone, iPad, your laptop," said Nathan McMillan, server storage manager at Piper Jaffray. "Letting them know the ease of use really is kind of the first thing for us."
The International Rescue Committee (IRC), a global nonprofit that responds to humanitarian crises, turned to Box to replace its SharePoint-based intranet. Improving productivity by delivering offline resources to users in areas with limited internet access, the 200-person pilot will reach more than 4,000 users by next month.
Increasing the productivity of IT administrators can also help Box user adoption for organizations.
"Acknowledging that the amount of IT support is going to be substantially less, that's sort of a business case right there," said Noah Flessel, partnerships advisor at the Namibia Institute for Democracy. "One platform that can integrate all the different documents and systems you have brings a lot of value."
One platform that can integrate all the different documents and systems you have brings a lot of value.

Noah Flesselpartnerships advisor, Namibia Institute for Democracy
The IRC, for instance, saved 10,807 full-time IT employee days' worth of time because Box eliminated so many help desk calls and reduced file maintenance needs, said Rachael Stewart, director of business relationship management, in a session.
The IRC also saved $599,000 by reducing file shares, image and email storage, external sharing repositories and more, Stewart added.
But IT should not approach Box with an emphasis on how much money the company will save.
"It came across as, 'Once again IT is pushing a technology to save $30,'" said Donald Brumfield, vice president of global IT infrastructure and operations at Heidrick & Struggles, of the company's business case for Box.
Take a viral approach to Box user buy-in
Once an organization has adopted Box, one way to get users to buy in is to choose "champions" who will use the service first and then share its benefits with others, said Gildas Bouteiller, CIO at Lagardère Sports, in a session. The best users are those who are not averse to change, already use a similar product such as Dropbox and are willing to communicate honestly with IT about what's working and what's not.
It's not just champions who can help spread the word. One hesitant user at NASA was so happy his documents were preserved in Box after his computer fried that he passed the story on to others who began to see the value, said Chris Blakeley, an application software developer at NASA, in a session."[Choose] people that are willing to work with you and ...really dial in the use case of how they're going to improve their group with it," McMillan said.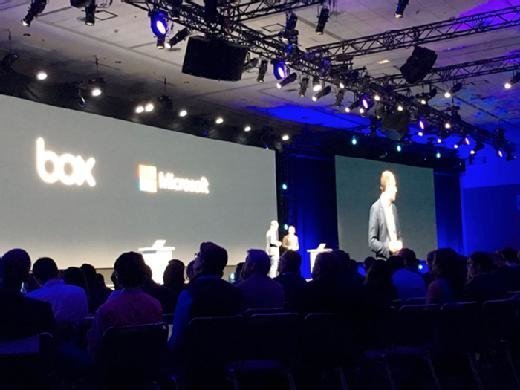 A key to Box user adoption at the IRC was showing different departments what the technology could do for them without forcing it on them. One option to nudge users toward Box is to set up a notification whenever they use a similar product that includes a link to the enterprise-approved option.
The demographics of the user base are also important when considering Box, especially for organizations that work with users in a third-world country, Flessel said.
"The penetration of the market [in the United States] is big enough where we can get enough people buying in, but in some of the more emerging markets, you don't really want to be moving on a platform like this," he said.
Dig Deeper on Mobile data, back-end services and infrastructure