Gabi Moisa - Fotolia
Box Skills, machine learning technology pique IT interest
New artificial intelligence and machine learning features are coming to Box. Users can take advantage of smart search options and a feed that shows customized content.
SAN FRANCISCO -- Box shops will be able to help users gain more intelligent insight into their content with new machine learning technology in the content management tool.
Box Skills, introduced here at the company's annual BoxWorks conference, makes it easier to search for visual and audio content and view information about it. Box Feed uses machine learning to curate content for specific users. Plus, new features in Box Relay aim to improve employee workflows. These capabilities caught the interest of attendees at the show.
"It was kind of nice to see Box incorporating [AI] to start relaying things to certain people at the right time in the right place," said Ryan Foltz, business systems engineer at Barnhardt Manufacturing Company in Charlotte, N.C.
How Box Skills works
Box Skills is a framework that serves as a layer of abstraction between the content organizations upload to Box and the machine learning. It focuses on three areas: Image Intelligence, Audio Intelligence and Video Intelligence.
With the Image Intelligence component, based on Google Cloud Platform technology, Box automatically tags aspects of an image such as the subject, colors and logos, as well as uploads any text from it. Users can click the tags to access other images with similar contents.
The whole workflow looks really nice.

Will Sheppardtechnical support specialist, The Enthusiast Network
Video Intelligence uses Microsoft Cognitive Services to provide facial recognition to identify people in a video. It also can show users where repeated phrases come up, and extracts a transcript of the video that users can apply as closed captioning. Audio Intelligence functions similarly, without the visual aspect, and is based on IBM Watson technology.
Using the new Box Skills Kit for developers, organizations can also customize what information within a file the machine learning technology tracks. The tool can track tone of voice in a phone conversation, for example, or pull out specific words a company is interested in and show within the Box content when those words were said. Developers can also customize information in documents such as invoices or contracts, and have Box extract information such as dates, signatures, payment amounts and vendor names. That not only extracts the data, but allows users to fill that information in automatically moving forward.
Image Intelligence is currently in beta, and Video Intelligence and Audio Intelligence will come to beta in 2018, Box said.
Box Feed puts relevant information in front of users
Box Feed, powered by Box Graph machine learning technology, was also previewed at the conference and will be available next year. This feature can help users find the content most relevant to them. It shows users active content -- files they have been working on or are mentioned in -- as well as other relevant content, which appears in a feed based on who is working on the file and what the content is. If a user generally collaborates with another user who is working on a document, for example, it will likely show up in the relevant section. It also shows trending files, or ones that many users throughout the organization are accessing.
As interesting as these new features are, some companies might need some time to apply them. Barnhardt Manufacturing Company, for instance, is an old organization, but its leaders are getting more and more interested in business data intelligence, said Pete Chantry, application systems manager at the company.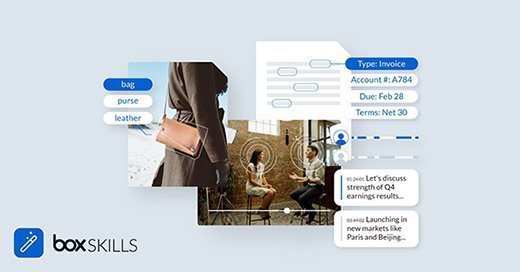 "We've got to allow a little bit of time for them to get accustomed to the basic [enterprise content management] features of Box," Chantry said.
Updates to Box Relay
Box Relay for workflow automation, announced last year and generally available next month, will get some enhancements as well.
First, the add-on will allow workflows to launch automatically, so if a user uploads a resume of a prospective employee for example, the workflow associated with that kind of document will start automatically. Box also plans to release APIs so IT can integrate Relay with existing third-party applications and automated processes. In addition, users will be able to e-sign documents directly in Box. Finally, a new dashboard will let users manage multiple workflows at the same time by showing every active workflow and what step it is on.
"I like the way that all ties together," said Will Sheppard, technical support specialist at The Enthusiast Network based in Los Angeles. "The whole workflow looks really nice."
Test your knowledge of machine learning and AI technology
Machine learning can help businesses gain powerful analytics value from their data -- but only if it's done right. How much do you know about machine learning and related forms of AI? Take this quiz and find out.
Other new features in Box Relay include the ability to invite other users to edit a document and assign them tasks with due dates within the document. There is also a new annotation tool that allows users to write a comment on a specific aspect of a document and tag other users to look at that exact area.
In addition, users no longer have to download previous versions of a document; they can preview them with a single click. Plus, when a user accesses a document, Box will highlight any changes that other users have made since the last time he was in it, and show which user made the edits. Finally, users can thread comments and mark them as resolved.
Like Box Skills, Relay presents some enticing features for IT, but those at Barnhardt Manufacturing Company are unsure of how to apply Relay immediately.
"I don't know how often we'd use it, but if we had it, it'd certainly be a nice feature for us," Foltz said.
Dig Deeper on Mobile data, back-end services and infrastructure