Cross-platform app support settles on web development
It can be difficult and expensive to build and support full-fledged cross-platform apps, so many organizations land on web apps as a happy middle ground.
SAN DIEGO -- Cross-platform apps are the future of enterprise software, but it's not that easy for many organizations to adopt them.
To create an application that works across different operating systems and form factors, developers must focus on making its internal architecture compatible with multiple platforms, not necessarily focus on its front-end interface. But the options for deploying these types of apps can be expensive, so a compelling alternative for many organizations is to develop web apps.
"Web technologies are more than capable of delivering really high-end user experiences," said Kirk Knoernschild, research vice president at Gartner. "Web has maximum portability to different form factors."
Knoernschild and IT professionals discussed the challenges of cross-platform app development and deployment here at this week's Gartner Catalyst Conference.
Cross-platform apps a hard sell
Whether an organization builds a cross-platform app in-house, hires third-party developers or purchases the app from a software provider, it can be a costly proposition. And it's difficult to convince the business to spend money on technology that does not directly provide a financial return on investment.
"The savings are hard to quantify," said Chris Haaker, director of end user computing innovation at Relx Group, a business information and analytics provider in Miamisburg, Ohio. "If this made you 20% more productive, can you show that?"
The last thing you want to do is deliver a compromised user experience.

Kirk Knoernschildresearch vice president, Gartner
Haaker's branch of the global company has no in-house or third-party developers and instead buys any software it needs directly from vendors. Eighty percent of employees there use smartphones for work, mostly for corporate email access, but the office can't afford to hire mobile developers, Haaker said. So a few tech-savvy interns are building web apps that can work across different operating systems instead.
"If we could have an app for all endpoints, that's a place I would love to get to," Haaker said. "That's wonderful."
But for now, unified app development is too new of a concept for the company to invest in, he said.
"There's got to be somebody at the top that's going to buy into that," he added.
Low-code cross-platform app dev
One way organizations can develop cross-platform apps with less cost and effort is through low-code development tools. Rollins Inc., a global pest control services company based in Atlanta, used OutSystems to create a web app that helps employees track service information and communicate with customers.
The responsive web app adjusts the interface to suit the endpoint, whether it's a desktop in Rollins' offices or on salespeople's iPads out in the field. OutSystems, which allows companies to build web, mobile or cloud apps, lets Rollins build dashboards that show customer site maps, the pests prevalent at those sites and other information.
"You can see, does this customer's contract cover bees?" said David Christian, manager and senior architect at Rollins. "If it does, we can send out a technician to deal with that."
The web approach is common today because it means developers can use a single code base to write an app that works across multiple endpoints. When organizations don't have to write multiple versions of the same app, it often results in cost savings.
"It's something we're seeing more and more of in development teams, but it has to be for the right use case," Knoernschild said. "The last thing you want to do is deliver a compromised user experience."
Native mobile apps often provide more device-specific capabilities, however, so responsive web apps aren't always the best choice.
"You've got more things available when you code for native mobile," Christian said. "[A web app] won't be quite as responsive. The phone format is not the best format for some of the larger dashboard views."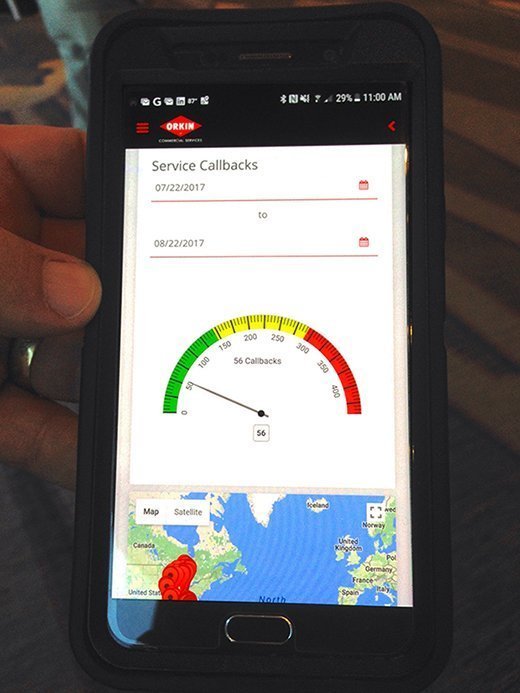 Cross-platform app support
To make it easier to deploy cross-platform apps and ensure their security, IT must limit users' device and operating system choices, said Andrew Garver, research director at Gartner, in a Catalyst session.
"This is not giving users what they want all the time," he said. "It's an art to maximize productivity through the benefits of end user choice while balancing your risk requirements."
To prepare for a future where apps are independent of operating systems and devices, organizations must also ensure that they don't rely on a single OS or OS version, plug-in, browser or browser version, Garver said. They should also plan for emerging device types, such as wearables, he said.
For successful cross-platform app support, IT departments should follow these steps, Garver said:
Identify gaps in IT skills and start to fill them.
Make it clear to business leaders that cross-platform computing is not a single project, but rather a long-term approach that will evolve.
Merge disparate IT teams that need to work together, such as desktop and mobile groups.
"It's just a matter of getting all of us moving in the same direction," Haaker said.
Dig Deeper on Mobile enterprise application development