Nmedia - Fotolia
How RMAD tools affect IT and mobile developer jobs
Professionals who use rapid mobile app development tools don't need to know how to code, but these products don't take job opportunities away from mobile app developers.
RMAD can help organizations build apps faster and easier without coding experience, but it puts new requirements on IT roles, and developers aren't losing out on jobs due to these tools.
Rapid mobile application development (RMAD) tools let IT departments, and even end users, build mobile apps using templates, requiring little or no code. But RMAD tools aren't taking jobs away from enterprise mobile app developers, because RMAD customers are typically smaller organizations that don't have the resources to hire highly skilled developers in the first place. As for IT administrators, they must become more like overseers who make access, support and security policies around RMAD tools and apps.
"IT in the company needs to set some policies in place when it's appropriate and when it's not appropriate to use RMAD tools," said Jack Gold, principal and founder of J. Gold Associates LLC, a mobile analyst firm in Northborough, Mass.
Where RMAD leaves IT
RMAD tools can save organizations time and money by allowing people with less programming knowledge to build apps -- including IT professionals, end users, executives and younger, more inexperienced developers. Semiprofessional, or even professional, developers may use RMAD tools to quickly build apps that the IT department or business side of an organization doesn't otherwise have the resources to support as long-running projects, according to a recent Forrester Research report.
Keep in mind that when it comes to RMAD, IT is not completely out of the app development process, but plays more of a supervisor role, Gold said. IT admins need this kind of input because they have to integrate apps with back-end infrastructure and services; users or other people who don't have an understanding of the IT systems can't do that, he said.
IT admins also need to set policies to make sure the right employees have access to the right data through the apps and ensure that sensitive data is still secure. Plus, IT still plays a role in the help desk when issues may arise with any apps developed using RMAD tools.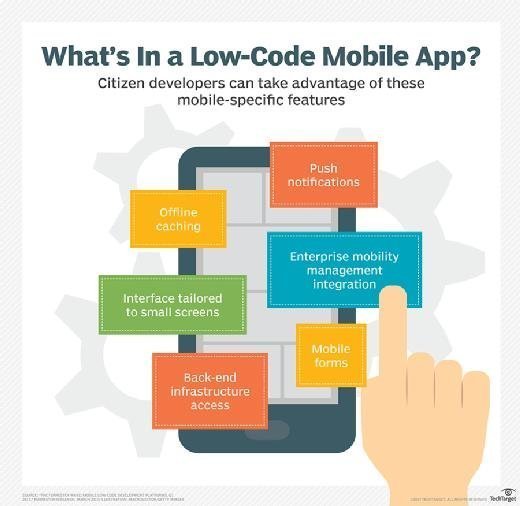 RMAD helps businesses do it themselves
As of December 2016, there were around 50,000 mobile app developer job openings on the market, according to Paysa, a professional services provider. Enterprise app developers with mobile skills are in such high demand because more organizations have begun seeing the need for more modernized smartphone and tablet apps, said Jason Wong, research director at Gartner.
"The challenge is about a shortage of developers and the cost of developers for a majority of companies," Wong said. "There is more demand than supply."
But it's expensive to hire mobile developers, especially ones with specific native operating system expertise. Organizations that can't afford that cost turn to RMAD tools to build simple, single-purpose mobile apps.
There were a couple days of training, and then we were able to build apps.

Sarah Hemmerlingbusiness IT program manager at KVC Health Systems
One such company is Ruggs Benedict, a retail store in Avon, Colo., that uses FileMaker, a no-code platform. Owner Roger Benedict makes the apps on his own, and it takes about two weeks to build each one. With the iPhone and iPad apps Benedict has built, employees track inventory, check prices, log customer information, access calendar and email, and more.
Benedict started using FileMaker for mobile apps in 2012, because the company of about 35 year-round employees didn't have the resources to hire a developer. Now, the apps are critical productivity tools, Benedict said.
"We'd be up the creek without a paddle without them," he said.
RMAD tools also helped the IT department at KVC Health Systems Inc., a child welfare and behavioral healthcare organization in Olathe, Kan. The company used Capriza to build multiple mobile apps, including one for approving and submitting reports. Using the low-code system helped save time for IT staff.
"This app is critical to us," said Sarah Hemmerling, business IT program manager at KVC Health Systems. "There were a couple days of training, and then we were able to build apps."
Had the company not had Capriza, it likely would not have hired a developer, Hemmerling said. The organization's IT department would have built custom apps on its own, which would have required a lot more effort and taken a lot longer to get apps into employees' hands, she added.
Dig Deeper on Mobile enterprise application development