Fotolia
News
Stay informed about the latest enterprise technology news and product updates.
Sears deploys GoToAssist app for field service mobile workers
Field service workers are low-hanging fruit for mobile projects. Sears Home Services used GoToAssist Seeit to reduce repair times and more.
Anyone who's pulled off the back panel of their refrigerator and peered at the inner workings knows it's a complicated piece of machinery. Sears Home Services' technicians spend their days repairing these kinds of appliances in customers' homes -- and they needed a better way to do so.
About two years ago, Sears Home Services set out to improve communications capabilities for its 6,000 field service technicians. When field workers encounter a particular problem or machine they haven't worked with before, they had to make phone calls to master technicians in a call center who have specialized training and more familiarity with niche products.
"How do you have this very technical conversation between two people who are separated by distance?" said Tim Adkisson, director of the product engineering group at Sears Home Services. "It just absolutely made sense to go into a visual medium."
Enter GoToAssist Seeit software, which was originally a Citrix product, but is now part of LogMeIn following a 2016 merger. The software lets field workers and master technicians video chat, send text messages, share images and draw illustrations. Master technicians can view what's happening on site and provide step-by-step information on how to do repairs or where to find replacement parts. GoToAssist Seeit is installed on physical PCs in the call center, and the on-site technicians access a corresponding mobile app on their company-provided Apple iPhones.
Field service has always been a popular use case for mobility, and the drivers of adoption have evolved in recent years, said Jason Wong, research director at Gartner.
"It's not just about reducing paper," he said. "It's really about knowledge retention and elevating skill sets through using mobility, because the mobile device is getting a lot more powerful."
For instance, smartphones and tablets can now take advantage of things like machine learning, predictive analytics, advanced sensors and augmented reality -- making field service mobile apps an even more worthwhile proposition.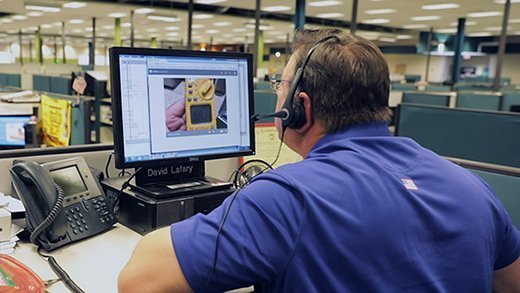 From pilot to production
Sears started with a nine-month pilot program with a small number of technicians. At the same time, the IT department purchased and formulated a plan to deploy iPhone 6 devices to all the field technicians so the full device and app rollout would occur simultaneously.
Sears also worked with Citrix to customize Seeit. For instance, Citrix improved the bandwidth usage to allow the software to quickly stabilize images so they didn't come out blurry.
"That's super valuable," Adkisson said. "If you're a technician working on a $4,000 Samsung refrigerator, for example, and having a little trouble isolating something, we can put that on our screen in full color ... and just point to it."
The ROI of mobile in field service is highly demonstrable.

Jason Wongresearch director, Gartner
Doing a lengthy pilot meant there weren't many production challenges with the field service mobile apps. The goal was to make the user experience flawless, Adkisson said.
"We didn't want to have technicians sitting there tweaking settings and stuff," he said. "It had to be a seamless interaction."
One issue that occurred rarely was technicians had trouble accessing the GoToAssist app from areas of low or no connectivity, such as high-rise buildings or underground areas, Adkisson said. Citrix worked with Sears to improve the Seeit functionality over those connections.
Sears stores all images that technicians share in Seeit in its data center, not on the iPhone itself, to improve security. That approach brings other benefits, as well, because employees can access this stored data to learn from previous site visits.
ROI speaks for itself
Part of the reason field service is such a common use case for mobile apps is because it's easy to determine the added value that comes from customer interactions, Wong said.
"The ROI of mobile in field service is highly demonstrable," he said. "It's easy to calculate because you're dealing with error reduction, time savings and very specific units of measure. In field service, it's always been about squeezing out productivity, and mobility is making that possible."
The reaction from Sears Home Services' technicians has been very positive, Adkisson said. Seeit has helped reduce the length of site visits by about 40 minutes and improved technicians' ability to fix appliances without having to completely replace them.
"We're looking at, 'Did we get the technician a solution quicker than he would have otherwise?'" Adkisson said. "And the answer is yes."