Share this item with your network:
Modern Mobility Innovation Awards: Four mobile projects triumph

Fotolia
At Southwest, iPads take flight with Stratix managed mobility services
Southwest Airlines' implementation of Stratix managed mobility services helped digitize in-flight manuals on iPads -- and win a Modern Mobility Innovation Award.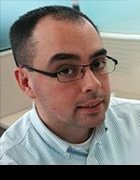 By
Flight attendants in the United States are required to carry manuals that outline emergency procedures, provide the latest security warnings and contain other crucial information. That material changes constantly, making it a challenge to revise and update paper-based manuals.
"About every other week, you're changing paper," said Ron Freer, senior manager of strategic inflight planning at Southwest Airlines. "It was cumbersome and clunky."
The Federal Aviation Administration (FAA) must approve all changes to flight attendant manuals, and the information must be consistent across all airlines. With so many moving parts -- and the complexity involved in printing, adding and removing paper pages -- the process can take anywhere from one to three weeks per revision, Freer said.
But at Southwest, the process now takes hours because of the digitized manuals the airline deployed on Apple iPad mini tablets with help from managed mobility services provider Stratix Corp. Once changes to the manual receive FAA approval, Southwest pushes those revisions out to the iPads through an app. All the flight attendants have to do is tap a button in that app to sync the latest version of the manuals to their devices when they check in for flights.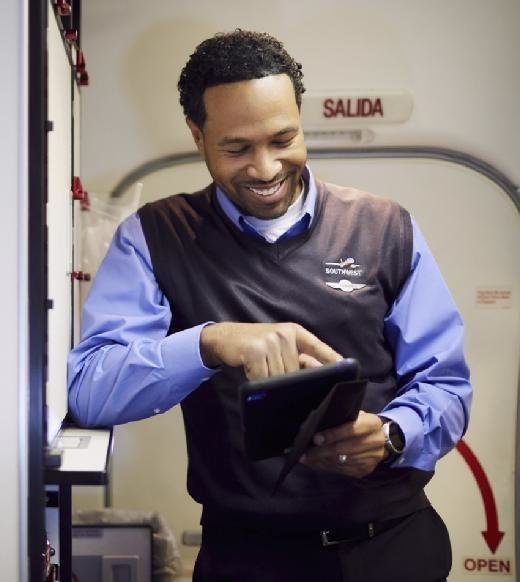 "It's a really simple and quick process," Freer said.
In September, when the FAA issued a warning about Samsung Galaxy Note 7 smartphones potentially catching on fire in flight, Southwest immediately added that to the manual, for example. In addition, flight attendants can now search the manual for specific information they need, instead of flipping through paper pages.
'Door of opportunity'
Southwest began exploring digitized flight attendant manuals in late 2013, after completing a project that replaced pilots' 35- to 40-pound bags of in-flight information with iPads. That one was an easy sell, but there wasn't a clear return on investment for replacing the flight attendants' three- or four-pound manuals. So Freer and his team pitched it as the beginning of a larger transformation; in the future, flight attendants will be able to use their iPad minis as in-flight point-of-sale systems, crew-to-crew and crew-to-ground communication devices and more.
We couldn't physically go down to the Apple Store, buy 15,000 devices and send them out.

Ron Freersenior manager of strategic inflight planning, Southwest Airlines
"It's such a great device that we can add additional features and functionality going forward," Freer said. "It opens up a whole door of opportunity. We're looking at a long-term, five-year vision for how mobility can change our work environment in flight."
After many months of planning, the project took off in mid-2015. Southwest involved 200 flight attendants in a test group, where they shared their needs, helped develop strategy and devised a plan to train their colleagues. Stratix, based in Norcross, Ga., had worked with Southwest on the pilots' iPad deployment and got involved early on with this project as well.
"This was going to be a much, much larger-scale project, and they wanted to roll it out quickly," said Tabitha Moss, director of customer success at Stratix. "We spent so much time upfront in the planning stages. When it came time to execute, it was one of the smoothest projects that I've been a part of."
That execution involved purchasing the iPads and installing the required software: myMobile365, an app from software vendor Comply365 that hosts the manuals in PDF form, and VMware AirWatch for mobile device management. The bigger challenge Southwest faced was delivering the iPads to flight attendants, who are based out of 10 locations across the country. They were never all at their bases at the same time because of their schedules, and even if they were, the bases didn't have room to store and secure 1,500 iPads each, Freer said.
Modern Mobility Innovation Award winner: Southwest Airlines' implementation of Stratix
The problem: Southwest flight attendants' paper-based in-flight manuals required regular updating, and that process could take weeks.
The solution: With managed mobility services from Stratix, Southwest deployed iPads with digitized manuals that take just hours to revise.
The innovation: The use of managed services allowed Southwest to deliver 15,000 preconfigured iPads to flight attendants in less than two months -- a scale and speed the airline could not have achieved on its own.
Southwest's Ron Freer says going mobile has made work so much easier for flight attendants -- and the best is yet to come:
Enter Stratix's itrac360 portal. Starting in March 2016, flight attendants were able to log on through the web and select specific dates to have the devices delivered to their homes.
"They wanted this to be … an easy experience for their flight attendants," Moss said. "We had to have that flexibility."
Managed mobility services ready for takeoff
The managed mobility services approach allowed Southwest to roll out more than 15,000 preconfigured devices to its distributed workforce in just 45 days -- a task the airline never could have completed on its own.
"We couldn't physically go down to the Apple Store, buy 15,000 devices and send them out," Freer said.
Stratix negotiated the price with Apple, performed the necessary configuration work and charges Southwest a monthly fee per device.
"They can have a predictable spend while getting a high level of services they can rely on," said Gina Gallo, CEO of Stratix.
Stratix also pushes out updates to the myMobile365 app through AirWatch and lets flight attendants request device repairs or upgrades through itrac360.
Demand for managed mobility services is expected to skyrocket as more organizations -- even large enterprises such as Southwest -- realize they can't deal with the complexity of mobility on their own. The global managed mobility services market will grow from $4.56 billion in 2016 to $19.4 billion in 2021, according to research firm MarketsandMarkets.
Future focus on UX
At Southwest, the iPads and digitized manuals -- particularly their ease of use and the updated information they provide -- got a positive reception.
"Overwhelmingly, the flight attendants are very happy," Freer said. "The process that they went through to update their manuals … was very time-consuming, very frustrating."
There's still room for improvement, however. The manuals must be in PDF form because the FAA requires electronic versions to be exactly the same as paper versions. In the future, Freer hopes for a fully app-based manual with a more dynamic interface.
"We are so focused on that end-user experience," he said.
This article originally appeared in the January 2017 issue of the Modern Mobility e-zine.
Dig Deeper on Enterprise mobile app strategy