everythingpossible - Fotolia
How mobile health technology aided Ebola response
As part of the international response to the recent Ebola outbreak, one organization implemented mobile apps to allow its community health workers to collect better data from survey subjects.
When the Ebola epidemic spread across West Africa in early 2014, organizations around the world sent thousands of health workers to combat the outbreak alongside local medical personnel and volunteers. Over the past two years, many of these teams have seen the benefits of using mobile health technology for disaster response.
Some of the most important tasks in responding to a healthcare disaster are collecting, analyzing, sharing and acting upon data gleaned from patients. That was one job of Partners in Health (PIH), a nonprofit based in Boston, which worked in the affected countries to train medical staff, provide patient care, and survey patients and their families.
PIH in June 2015 launched an Ebola screening app for its employees, partners and local residents who served as community health workers in Sierra Leone's Kono district. These workers used the data entry and collection app on PIH-issued smartphones to survey patients about symptoms and share care information.
A number of factors make it especially difficult to create and implement mobile health technology in impoverished communities and disaster situations, said Ermyas Birru, geographic information systems and mobile health specialist at PIH, during a recent panel discussion at the Mobile Monday Boston event. The terrain, weather and lack of power sources affected community health workers' ability to reach patients and use their mobile devices, Birru said. And, inherently, the Ebola epidemic required a rapid response.
"You don't have the chance to do multiple iterations [of an app]," said Jonathan Jackson, CEO of Dimagi Inc., a Cambridge, Mass., software provider. PIH built its Ebola screening app on Dimagi's development platform, CommCare.
PIH held a one-day training for workers who'd be using the mobile app, then took them out into the field to try it with patients.
This is emergency response, so you have to get people on board quickly.

Ermyas BirruGIS and mobile health specialist at Partners in Health
"Where we work, we have limited resources," Birru said. "This is emergency response, so you have to get people on board quickly."
Dimagi's software is open source and offers simple UI development options, making it easy for almost anyone to build, deploy and use apps on a fast turnaround, Birru said. Plus, CommCare apps can work offline, which is critical in low-connectivity scenarios, such as the West Africa Ebola response.
The app also made it easier for patients and community health workers, many of whom have low literacy skills, to communicate and collect accurate data, Birru said. Patients who may not have understood a question written on paper, for example, could rely on the app's large icons, images, audio and clear language to view and answer questions.
"One hundred percent of the data we needed was collected," Birru said.
PIH also needed to analyze and share the data collected from the app, so it relied on CommCare's integration with Tableau, a business intelligence and analytics software, which lets users create charts and otherwise combine data points to evaluate them more easily.
Aggregating information was critical, because the United Nations, World Health Organization and national governments all needed to share complete data on disease contraction and recovery rates with one another and with the media -- a delicate process that can have a huge effect on the way the world views and handles a healthcare crisis.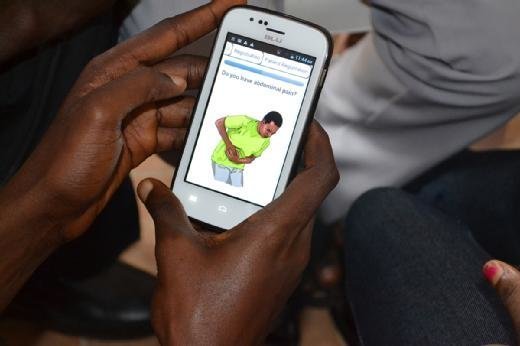 CommCare stores data in the cloud, so customers can export it from there to other organizations. Before the use of mobile health technology, only 17% of the paper forms used for patient screening were digitized for reporting to the Sierra Leone Ministry of Health, Birru said.
Security is also a major concern for organizations processing healthcare data, Jackson said. CommCare is HIPAA-compliant, uses two-factor authentication and encrypts all data at rest and in transit. There is an app-level login for the user to protect application data within the mobile device.
If mobile apps can balance security with usability, they can be real assets to healthcare disaster response situations. At the end of the day, it's the community members who benefit most from these mobile-enhanced interactions, Birru said. Mobile technology can make survey subjects more comfortable, because it feels less like health workers are interrogating or interviewing them with a pen and paper; and they're familiar with mobile phones because they are prevalent even in these areas.
Next Steps
What is mHealth, and what are the trends around it?
Learn what it takes to build a mobile health app.
Read how healthcare is benefiting from mobility.
Dig Deeper on Enterprise mobile app strategy