Share this item with your network:
Enterprise wearables have a long way to go

martin_matthews - Fotolia
Enterprise wearables suffer from a lack of apps
Despite plenty of potential use cases, enterprise wearables won't come to fruition unless vendors can produce the kind of business apps users want on these devices.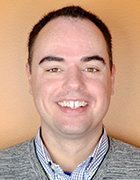 By
If enterprise wearables are going to take off, they need to develop clearly defined roles -- and that just hasn't happened yet.
The draw of wearables is that they're small, lightweight and convenient mobile devices that often allow users to perform tasks hands-free. Smartwatches in particular pack powerful sensors that collect and analyze data, then feed it back to a computer or other device wirelessly. These capabilities give wearables the potential to be great tools for work, but that has yet to come to fruition, said Mehran Basiratmand, CTO of Florida Atlantic University in Boca Raton, Fla.
"We are only scratching the surface of the technology," he said. "But I see [potential for] tremendous growth in a business setting."
Wearables today range from smartwatches and smartbands to virtual reality headsets, which are all gaining traction among consumers. The market, valued at $7.1 billion in 2015, will hit $12.6 billion in 2018, according to research firm Statista. Health and fitness bands such as the Fitbit have played a major role in its growth, but the Apple Watch has also seen success, with an estimated 61.3% share of the overall wearables market, according to IDC.
Use cases for enterprise wearables
Many organizations are already using some types of enterprise wearables, said Patrick Moorhead, president and principal analyst of Moor Insights and Strategy, an analyst firm in Austin, Texas. Employees often use key cards or fobs to enter their offices or access their computers, and they hook those onto their belts or carry them in their pockets. The logical next step for those cards is to become smartbands that users wear on their wrists, or apps they install on their smartwatches. IT could even use these bands to track when employees are in the office for timekeeping purposes.
As smartwatch vendors continue to innovate, sensors on these devices will become more advanced, the applications more robust and the battery life more proficient, said Michael Oh, CTO and founder of TSP LLC, an Apple reseller in Boston. Those improvements will lead to the technology becoming more useful in many different industries.
"In healthcare, wearables are going to take off for sure," said Stephen Monteros, vice president of business development and strategic initiatives at SIGMAnet, an IT consultancy in Ontario, Calif. "It's in the early days where customers ask us to write code [to better enable] some sensors. We are experimenting right now."
Smartwatches and other wearables appeal to the healthcare industry because they can track a wide range of health metrics, including steps, heart rate, sweat, movement, sleep patterns and more. Omron's Project Zero smart wristband, for example, is a medical device that tracks and constantly displays users' blood pressure on its screen for patients and their doctors to monitor. These kinds of wearable devices would be useful for physicians, physical therapists and trainers.
Wearable devices could benefit nearly any industry where workers need to have their hands free to complete tasks, said Blake Brannon, vice president of product marketing at enterprise mobility management (EMM) vendor AirWatch.
There is a place for wearables, but it isn't defined yet.

Stephen Monterosvice president, SIGMAnet
Construction or oil rig workers might need their hands free for safety reasons, such as to hold themselves up on a high-rise building or to work with flammable materials. But they also need access to instructions, measurements or blueprints to do their jobs, which they could access by giving a voice command to a smartwatch.
"Those are the areas where the technology will take off first," Brannon said.
Warehouses are another big use case for enterprise wearables, because higher-ups need to track employees' locations and send them real-time information about orders, product inventory and equipment issues. Wearable devices are valuable in tourism, where travel companies can feed tourists information on sites to see and meeting times. A well-known example is Walt Disney World's MagicBands, which let guests enter theme parks, pay for food and souvenirs, and unlock their hotel room doors.
Enterprise wearables need apps
But for enterprise adoption to truly go mainstream, wearables need more business apps, Monteros said.
"There is a place for wearables, but it isn't defined yet," he said.
The problem is not uncommon among mobile devices. Even Apple's wildly popular iPhone took a similar path. At first, IT pros did not view it as a tool for business, but that changed when developers built the right apps for it. Wearable devices -- particularly smartwatches -- need apps that make users more productive by solving problems they didn't even know they had, Oh said.
That may be more difficult to do for a smartwatch than it was for the iPhone, he said.
"It's a bit harder to imagine an app relevant to the enterprise that can change the world on any wearable," he added. "It's likely that the apps and development that takes place in business will be small and incremental."
The security issue
Wearables also present unique management and security challenges, especially because they have advanced connectivity features. Smartwatches, for example, can sync with users' smartphones and may transfer personal information to those other devices.
Unlike most operating systems on laptops and smartphones, smartwatch OSes do not have built-in security tools, so IT needs to be wary of the content traveling to and from these devices, said Sean Ginevan, senior director of strategy at EMM vendor MobileIron.
"We need to take care of security because these things will go off road to places that smartphones and tablets never really went," Narcotta said. "IT needs a game plan to handle it."
Ramin Edmond is news writer for TechTarget's End-User Computing Media Group. Follow him on Twitter: @TheRealRamin.
This article originally appeared in the February issue of the Modern Mobility e-zine.
Dig Deeper on Wearable devices and emerging technology