designsoliman - Fotolia
Tim Cook, Box share big plans for mobile enterprise adoption
Apple and Box have their sights set on businesses, with the expectation that enterprises have only just begun to take advantage of mobile features.
SAN FRANCISCO -- Box now integrates with a number of major enterprise applications. The company launched an iOS app for mobile workers as it looks to improve employee productivity.
It's a vision shared by Apple CEO Tim Cook, who explained during a fireside chat with Box co-founder and CEO Aaron Levie here at BoxWorks how large of an opportunity the mobile enterprise is for not only Apple, but for all of the IT industry.
Levie pointed out that Apple garnered over $175 billion in revenue last year, and is on pace to reach about $200 billion this year. To this, Cook responded, "we haven't started yet."
Following the opening weekend of the iPhone 6s, when Apple sold a record 13 million iPhones, Cook explained that Apple still has an immense opportunity in the mobile enterprise and does not believe it has come close to where it will be as there is still a wide-open market.
"When you look at penetration of mobile in the enterprise, it's shocking how low it is," Cook said. "If you look at what people are doing with it, it is shocking how many people haven't gone beyond email and browsing and those types of things."
By embracing mobility, and tapping into the full potential of the technology and software that supports it, businesses could be transformed, and productivity could skyrocket, Cook said.
Apple's enterprise related business over the last 12 months ending in June has reached $25 billion, Cook said -- not including BYOD devices.
"Consumer has actually outpaced enterprise in this area, but there's no reason for that," he said. "Businesses can hop onto this thing quickly and catch up. … And there's no doubt in my mind, the best companies will be the most mobile."
Box and Apple have had close ties for quite some time, as Levie noted that many Box customers opted to use the file sharing platform over its competitors because of its optimal integration with iOS devices.
Box Capture for iOS
Box released a new iOS-exclusive app, Box Capture, during the event, which allows users to capture content in the field with their iPhone camera, and automatically send it to their Box account. The feature allows for better collaboration when working on location with colleagues or companies a user is partnering with. The secure tool does not store photos natively on the device, and honors all compliances that are regularly delivered with Box.
There's no doubt in my mind, the best companies will be the most mobile.

Tim CookApple CEO
"The obvious truth that everyone already knows right now is that enterprise is catching up on mobility," said Prashant Urkudey, IT director at Targus Inc., an Anaheim, Calif. manufacturer of mobile accessories. "Very few companies are taking advantage of it. And it's not easy to take the mentality of your standard user and take them away from the standard desktop experience and think that they can move on [mobile device] seamlessly."
There is a business use for an app like Box Capture, said Urkudey, whose employees could use it during factory visits, but his concern is that more moving pieces to Box's software could make it more difficult to manage.
"Right now, the No. 1 biggest thing about Box is how easy it is to use," he said.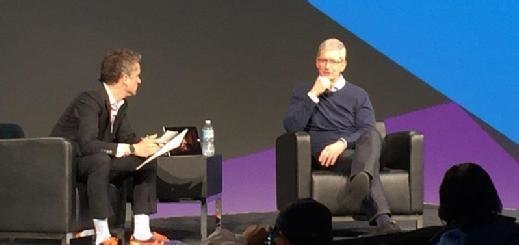 Box showed off its integration with a slew of major enterprise-focused applications, including Microsoft Office 365, Autodesk A360, DocuSign and Adobe Document Cloud. By integrating these platforms into Box, users can take a Microsoft Word document, for example, securely open the file and edit its contents, and collaborate on it with coworkers without ever downloading the file to their device.
"It feels like Box is finally starting to get the respect from the majors," said Dominic Namnath, CIO at Tri-Counties Regional Center, a nonprofit organization based in Santa Barbara, Calif.
Box's main competitor, Dropbox, also integrates with iOS and Office 365.
Additionally, Box launched three new features in the beta stages here at BoxWorks including dynamic 3D imaging, HD video support, and the Box DICOM viewer for HIPAA-compliant medical image collaboration, a feature it acquired through the MedXT acquisition last year. All these features allow users to work together seamlessly and securely without needing to download a file onto a device.
Ramin Edmond is a news writer for TechTarget's End User Computing Media Group. Contact him at [email protected].
Dig Deeper on Enterprise mobility strategy and policy