BlackBerry buys Good Technology to boost mobile security
BlackBerry will give BES a big boost with Good Technology's cross-platform capabilities as the EMM market consolidation continues.
BlackBerry is giving its EMM platform a major boost by acquiring one of its biggest competitors, creating a formidable alliance in mobile security.
BlackBerry will acquire Good Technology Inc. of Sunnyvale, Calif., one of the largest remaining vendors of enterprise mobility management (EMM) technology with around 6,200 worldwide customers, for $425 million in cash. BlackBerry hopes to close the deal by the end of its fiscal third quarter in November.
Good is best known for its mobile email container technology and security capabilities, and often battled against BlackBerry Enterprise Service (BES) for some of the same EMM turf in highly-regulated industries.
BlackBerry sees itself providing "one unified platform" for EMM once the acquisition closes, said BlackBerry CEO John Chen on an investor call regarding the deal. Good Technology customers should expect no changes in their products and support as a result of the acquisition news and the company plans to provide more information to customers as the deal gets closer to being finalized, said Good CEO Christy Wyatt in a statement.
The acquisition is a sign that BlackBerry is progressing in the EMM space, said Denny Bono, IT manager for American Crane & Equipment Corp. in Douglassville, Penn.
"Good was a very large competitor for BES, so I think it's a big win for both companies in the long run," said Bono, who uses BES 12.
[BlackBerry] hit their low, but strategically they are headed in the right direction.

Patrick MoorheadPresident and principal Analyst of Moor Insights & Strategy
BlackBerry needed to reinvigorate its EMM offerings and with its customer bases very much in line, the combined company can "really own the federal market," said Eric Klein, senior mobility analyst with VDC Research Group in Natick, Mass.
"This deal creates a de-facto standard for regulated industries and government," said Bob Egan, CEO and chief analyst of the Sepharim Group in Falmouth, Mass. "There are also some product features in the [Good] mobile enterprise app store that will fill a pretty big gap in BlackBerry's portfolio."
The sale price of $425 million is far lower than the $1.54 billion VMware paid for then-independent EMM vendor AirWatch in early 2014. The BlackBerry move leaves MobileIron Inc., which went public last year, as the largest remaining independent EMM vendor.
The current state of the EMM market could be to blame for the lower sale price, Klein said. MobileIron, for example, missed its revenue estimates earlier this year, a potential measuring stick for this deal, he added.
Why BlackBerry acquired Good Technology
BlackBerry finds BES and Good to be "extremely complimentary" platforms and was attracted to Good's mobile application management and app wrapping capabilities, its native Apple iOS container and its Good Dynamics platform mobile analytics features, Chen said. He added that 64% of Good's activations are on iOS devices.
"Good has one of the most comprehensive patent portfolios in the space as they've acquired a lot of companies along the way," Klein said. One of those acquisitions included BoxTone in 2014, where Good shored up its mobile service management offerings.
BlackBerry continues to fill gaps in BES through acquisitions. It bought WatchDox, an enterprise file sync-and-share vendor, in April to add mobile content management features it lacked.
The acquisition is further evidence of BlackBerry's attempts to transform from a hardware manufacturer to a software and services company, and possibly that the company's finances are turning around after several years of losses.
When Chen took over as CEO in 2013, he had a lot of work to do to reverse the company's fortunes and that included "trimming the fat" to pare down expenses, said Rick Jordan, director of strategic alliances at Tenet Computer Group Inc. in Toronto, a BlackBerry Platinum level partner for over 15 years.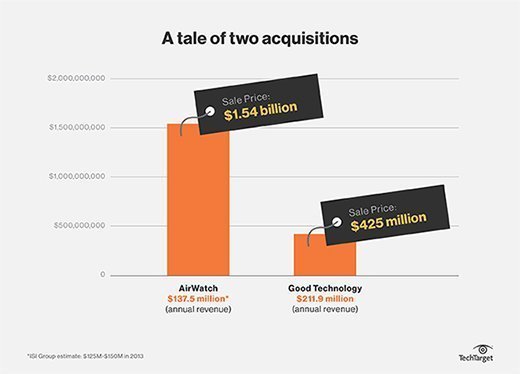 "Chen has taken the approach of, 'It's a big ship, and it will take a while to make the turn,'" Jordan said. "They really solidified themselves, especially in government, from what we're seeing."
BlackBerry is not out of the woods yet and there's a difference between how great a product is and how well the business performs financially, said Patrick Moorhead, president and principal Analyst of Moor Insights & Strategy, a tech analyst firm based in Austin, Texas.
"[BlackBerry] hit their low, but strategically they are headed in the right direction," he said. "Duking it out with the likes of Apple and Samsung is a losing proposition that hopefully they accepted. I think based on their position in the data center and Good's position with mobile devices; they have a shot at making this thing work."
Ramin Edmond is a news writer with TechTarget's end user computing media group. Contact him at [email protected]. Jake O'Donnell is site editor for TechTarget's SearchMobileComputing.com. Contact him at [email protected].
Dig Deeper on BlackBerry operating system and devices