VMware, Microsoft team up to deliver Windows 10 apps
IT pros will soon have another Windows 10 app delivery option through VMware AirWatch and App Volumes.
SAN FRANCISCO – VMware and Microsoft are together at last with a new project to boost Windows 10 apps in the enterprise, but IT pros will have to wait to see the results.
The two companies, longtime rivals in all things virtualization, have joined forces for a new end-user computing (EUC) initiative, Project A², for Windows 10 apps that could make management and deployment simpler across mobile and desktops when a tech preview is eventually released.
Windows security executive Jim Alkove joined VMware EUC GM Sanjay Poonen on stage here during the VMworld 2015 Day 2 keynote, which Poonen likened to a "Reagan meeting Gorbachev" moment. But the companies are cooperating on a new initiative to deliver Windows 10 apps to PCs using AirWatch's enterprise mobility management suite and VMware's App Volumes app delivery and layering technology.
Project A² (which stands for AirWatch and App Volumes) uses App Volumes' technology to deliver virtualized apps and applies it to Windows 10 PCs. Those apps can be managed and updated using AirWatch and managed the same way across PCs and mobile devices.
Pairing AirWatch and App Volumes, both acquired by VMware within the last two years, is an important step as the company rounds out its portfolio, said Mark Lockwood, research director for EUC at Gartner Inc. in Stamford, Conn.
"We're starting to see that [VMware] has a vision of using these products to deliver apps in unique ways," Lockwood said.
A VMware spokesperson didn't give a specific timeline on when the tech preview for Project A² will be available and said it is still in the development phase.
For some IT pros, Project A² represents an interesting opportunity to meld desktop and mobile management. One software development company based in Costa Rica has already begun upgrading to Windows 10 and will evaluate Project A² when it becomes a reality.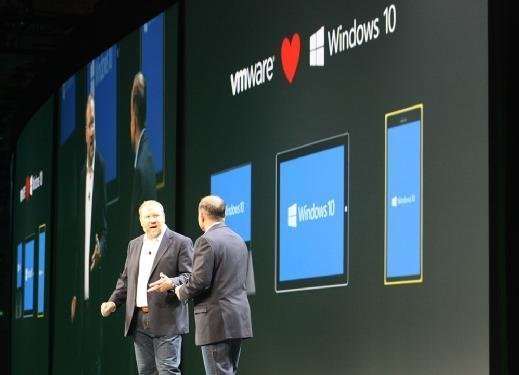 "Whether it's mobile or desktop, we want to manage everything from a single place," said an IT manager at the company. "I like the idea of having an app library where everything works on mobile and desktops."
Not everyone is as excited, however. One IT pro here who works with a major municipality in the Southern U.S. said there wasn't enough information on Project A² to form a real opinion on it yet.
"It remains to be seen if people are going to buy into App Volumes," said the IT pro, whose city still uses Windows 7. He noted it was interesting that during the keynote, after introducing Microsoft, VMware demonstrated apps being migrated off System Center Configuration Manager.
How much cooperation will be afforded in the partnership between VMware and Microsoft is not entirely clear. For example, it remains to be seen if AirWatch can manage native mobile Office apps. To date, the only way to manage them is through Microsoft Enterprise Mobility Suite.
"Microsoft has shown a propensity under [CEO] Satya Nadella to be more open," Lockwood said.
New Horizon release, Project Enzo beta coming
VMware also provided details on a few other upcoming EUC initiatives. VMware Identity Manager, introduced in June, will be available as a standalone product called VMware Identity Manager Advanced Edition. It was initially rolled out as part of AirWatch bundles. It will be available later in September and cost either $96 per user per year as a cloud offering or the same price as a perpetual license for on-premises deployments with additional costs for service and support.
VMware will also release Horizon 6.2 and Horizon 6.2 for Linux later this month, which adds support for Skype for Business and NVIDIA Corp.'s latest NVIDIA GRID vGPU release. Pricing for Horizon 6.2 starts at $250 and is available per named or per concurrent user.
Lastly, as had previously been hinted in a VMware blog post, a qualified public beta for Project Enzo will begin this quarter. With Project Enzo, IT can build, deliver and manage virtual workspaces in cloud-based Web portal.
There will be no news this week on one recent mobile initiative for VMware. In June, VMware said it would roll out new Apple iOS configuration templates over the course of 2015 for "single touch" enterprise deployment of mobile apps. A VMware spokesperson didn't provide a timeline for the release or any more details.
Jake O'Donnell is site editor for SearchMobileComputing.com. in TechTarget's end user computing media group. Contact him at [email protected].
Dig Deeper on Application modernization and mobile app delivery