Sergej Khackimullin - Fotolia
Enterprise mobility management features, pricing comparison
With all the EMM products out there, we took a look at major vendors and compared services and prices side by side.
There are a number of mobility management tools to help IT pros control and support employee mobile devices, and...
Continue Reading This Article
Enjoy this article as well as all of our content, including E-Guides, news, tips and more.
sorting through all the options can be a challenge.
Does it make sense for a company to go for a full-fledged enterprise mobility management (EMM) offering? Or should IT look for one specialized feature from EMM, be it mobile device management (MDM), mobile application management (MAM) or mobile content management (MCM)? What about other features, like mobile service, email, information or identity access management (IAM)? What if security is your top priority?
We took a look at the major EMM options and put all their features into the handy chart below. It answers many questions you may have about these vendors and their products, including pricing.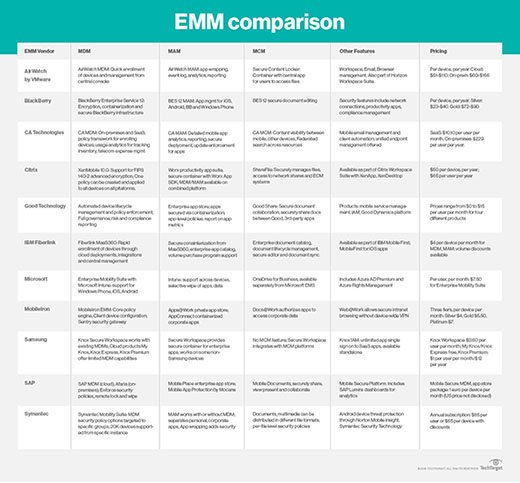 The market for EMM vendors has consolidated, leaving several significant vendors to fight for market supremacy. While some smaller companies might focus on one or two of the above features, there is a lot to consider among the vendors offering the full package and finding one to stick with long-term.
Many companies will be looking to add EMM-related initiatives for user mobility and in greater numbers than last year. In TechTarget's 2015 IT Priorities survey of 2,212 IT workers, 47% of global respondents plan to roll out MDM, compared to 32% of global respondents in the 2014 survey.
Dig Deeper on EMM tools | Enterprise mobility management technology