News
Stay informed about the latest enterprise technology news and product updates.
CloudPrime's QuickDrop offers Dropbox alternative
CloudPrime's QuickDrop is a mobile FTP file sharing app that doesn't rely on cloud storage. Will it find a home in enterprises?
Dropbox has become the go-to file-sharing app among mobile device users, but enterprise IT doesn't consider Dropbox cloud storage secure enough for sensitive corporate data. QuickDrop, a new alternative from CloudPrime Inc., attempts to solve that problem.

Download this free guide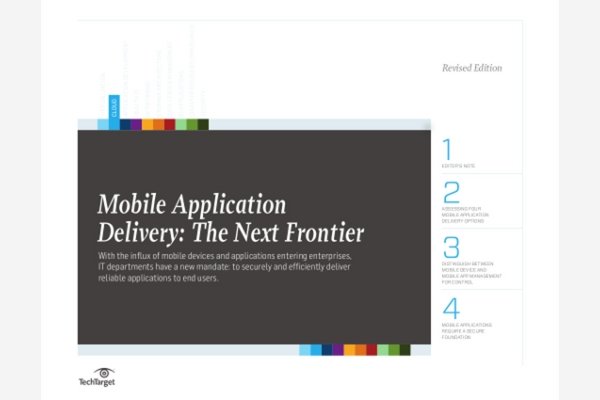 PDF: 17-Page Mobile Application Management Handbook
Experts provide best practices for mobile application delivery and management to help deal with the flood of mobile devices, new applications and data security demands.
More on the Cool Tool series
This article is part of our Cool Tool series, where we offer details and insights on a new technology and ask you, the reader, what you think of it. Please comment below.
In many ways, QuickDrop's approach is like sending a file via email attachment. Users can open any file within the application, where it is encrypted, broken up into chunks and sent to a recipient.
Unlike email, however, there are no file-size restrictions, and files are encrypted at rest and in transit. Also, users can hold files in an inbox and protect them with a separate PIN until they are sent.
There are some limitations, however. Both the sender and receiver need the application to transport files. Receiving parties that don't have the QuickDrop app will receive an email notification to download the app and sign up.
In addition, QuickDrop is iOS-only. A Mac app is in beta, and the company is working on a Windows version. Further down the line, the team plans to build out an enterprise version with LDAP baked in.
The app is available now as a free download, and for a limited time is free to use. Eventually, users will be charged on a per usage basis for just those sending files, Miller said. The company has yet to determine a usage charge.
We checked in with a few trusted IT pros and mobile experts to see whether CloudPrime's QuickDrop application could find an enterprise home.
Scott Schemmel, vice president of IT at PGi, a communication software vendor based in Atlanta: Interesting service, and this has some potential. It's very new on the market, so that is concerning. Only supporting iOS devices is an issue too, as most people would want to access and upload files from their PC or Mac, then reference them later from a tablet.
I'd want to know more about the encryption keys. Am I able to manage the keys? If not, that would be concerning to me and our customers because, while the service provider states they don't have access to the data, they actually would be the ones maintaining the encryption keys.
Benjamin Robbins, principal at Palador Inc., an enterprise mobile consulting firm based in Seattle, Wash.: Seems like a great point solution, but needs to really get its act together if it is going to work in the enterprise. It needs to work on more platforms and have a volume license. This whole notion of having to pay based on usage won't work. It's too much of a pain to constantly purchase credits.
Also, it needs to integrate into a corporate network and security apparatus if they expect business users and IT to integrate it with other systems. Basically, it is great for a single end user, but not robust enough for enterprise scenarios at the moment.
Andre Preoteasa, director of IT at Castle Brands Inc., an alcohol distribution company based in New York City: At this point, with mobile devices, I've basically allowed all apps to be installed and try to control them with assorted hardware and software. It's too cumbersome, time-consuming and frustrating to block or allow selective apps. I hope that changes soon.
Dan Antion, vice president of information services at American Nuclear Insurers, an insurance company based in Hartford, Conn.: This is very similar to the service we use, YouSendIt. Prior to YouSendIt, we were setting up Dropbox accounts on our Internet-facing SharePoint server, but that was a hassle, in that it involved IT and the creation or changing of passwords, as well as the communication of those credentials. Then we had to remember to delete the content. Also, we couldn't have it active for two people at the same time.
A solution like QuickDrop is much better. The people we have using YouSendIt really like it.
Have you used a new technology that should be featured as a Cool Tool? Email Bridget Botelho, News Director.
Dig Deeper on Enterprise mobile app strategy