News
Stay informed about the latest enterprise technology news and product updates.
For VMware Octopus, integration is key to enterprise file-sharing success
VMware Octopus could have a leg up on competitors in the enterprise file-sharing market if, as IT pros hope, it has strong ties to VMware's other data center infrastructure.
VMware Octopus is the latest entry in the crowded enterprise file-sharing market, but its potential to integrate with existing IT infrastructure could set it apart.

Download this free guide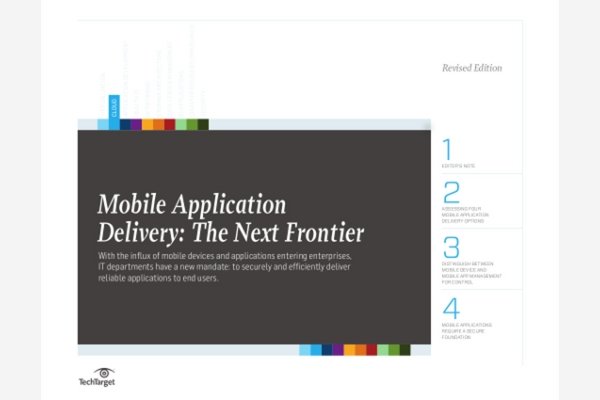 PDF: 17-Page Mobile Application Management Handbook
Experts provide best practices for mobile application delivery and management to help deal with the flood of mobile devices, new applications and data security demands.
Thanks to server virtualization ubiquity in enterprise data centers and VMware Inc.'s dominance in that market, Octopus has already drawn a lot of interest. Despite VMware's relative secrecy about Octopus, which is now in private beta, customers and partners said it could offer the management features, security and ease of use that IT needs in an enterprise file-sharing service.
"From an admin perspective, that's a lot of power," said Keith Norbie, vice president of sales at Nexus Information Systems, a VMware partner in Minnetonka, Minn.
How will VMware Octopus fit in?
VMware first disclosed Project Octopus, its enterprise file-sharing service, during VMworld 2011. The company has said that Octopus "plugs in to your existing infrastructure," runs on the vCloud platform and works with its other end-user computing products, including View, Horizon and Project AppBlast. In addition, a free VMware Octopus app became available in Apple's App Store on April 2.
But there aren't any details about integration with vSphere, VMware's flagship virtualization platform. That will be a key factor in determining Octopus' success among VMware customers.
VMware vSphere started out as strictly a server virtualization tool but now touches storage, security, networking and other traditionally segmented technologies. As a byproduct of this growth, there are fewer admins who work with only one technology and more IT generalists who do at least some work with virtualization.
This trend will help VMware as it introduces new products such as Octopus, said Shannon Snowden, senior solutions advisor at New Age Technologies, a VMware partner in Louisville, Ky.
"All of these guys are multi-faceted," he said. "They're getting out of the silos. A few years ago, Octopus would've been a slightly harder challenge … because you had Windows guys doing Windows stuff, and those are the file servers that Octopus is replacing, potentially."
What VMware Octopus means for IT
Octopus, like other enterprise file-sharing and collaboration services, is a response to the popularity of cloud file-syncing services that let individual users store data and access it from any device. But it could also benefit IT admins who struggle to maintain corporate file shares, said Bob Plankers, a virtualization architect at a Midwestern university.
"They're just these monolithic places where you drop data and it just sits there," he said. "They're great, but they're hard to support. There's a lot of infrastructure that needs to be maintained: VPNs, remote access, security, things like that."
If Octopus has strong integration with vSphere, it could take advantage of its storage, security and networking features to address these problems. Plankers said he would like to see Octopus use auto-tiering and advanced object storage features to improve scalability and access to data.
"There's a lot of potential for Octopus to save a lot of IT time, but it remains to be seen," he said.
Stiff competition for VMware Octopus
Other vendors competing in the cloud file-sharing and collaboration market include Citrix Systems, Inc. which acquired ShareFile last year, and Microsoft Corp., which offers the SkyDrive service. These traditional enterprise IT vendors must also compete against companies such as Dropbox, Box and YouSendIt, which all offer enterprise file-sharing services that are already popular with consumers.
IT and the CIO aren't the only technology decision-makers when it comes to these services. For any enterprise vendor to succeed, its service must be as user-friendly as the popular consumer services, if not more so.
"(Dropbox) shows up in the most non-technical way," Norbie said. "When you open up Windows Explorer, it shows up as a folder that you can click to view. … It's amazing how something so simple can be such an important feature."
VMware Octopus: Another step forward
Octopus is just the latest in VMware's many forays beyond virtualization. In recent years, the company has made three application acquisitions: email vendor Zimbra, the Socialcast collaboration platform and SlideRocket, a hosted app for creating and sharing presentations. VMware also purchased the Mozy online backup service and developed Horizon App Manager, a tool for delivering and managing enterprise applications across multiple endpoints.
"There's still (virtualization) innovations to be made, but it's slowing down," Plankers said. "VMware appears to be focusing on the application side of things, and that's where a lot of money is being spent now. … It's the next logical step in fixing a lot of the problems IT has created for themselves."
Octopus will also give VMware another notch in its belt as it battles Microsoft in the enterprise IT market, Snowden said.
"That's really what they're going for, to have a true alternative to Microsoft," he said. "They've got SlideRocket, Zimbra, a file server component. They're just going down the list."
For these offerings to succeed, VMware needs to show how they all work together to serve customers, because end-user computing isn't about individual features, Norbie said.
"It's about supporting desktops and services at scale," he said.
Let us know what you think about this story; email Colin Steele or follow @colinsteele on Twitter. Like SearchConsumerization.com on Facebook.
Dig Deeper on Mobile data, back-end services and infrastructure