Smartphone hypervisors -- what's the use?
Useful tool or parlor toy -- is there value in a smartphone with a hypervisor and a receiver that turns users' phones into virtual desktop access devices?
Virtualization vendors are putting client hypervisors into mobile phones, but there are questions about how useful...
Continue Reading This Article
Enjoy this article as well as all of our content, including E-Guides, news, tips and more.
a virtualized mobile device truly is.
More than a year ago, VMware disclosed that it was working on its Mobile Virtualization Platform (MVP), and the open source community has said it will put the Xen hypervisor into the ARM platform to virtualize phones. VMware has already provided its mobile hypervisor to partners that are building virtualization-enabled mobile devices, but the company said users won't see those devices until sometime next year.
More on virtualizing devices:
With acquisition, VMware brings virtualization to mobile phones
Citrix Systems and Open Kernel Labs this week released the "Nirvana Phone" reference architecture that goes a step further and essentially turns hypervisor-based smartphones into thin-client connection devices.
The Nirvana Phone, which won't ship for another year, will consist of a smartphone with video output hardware, drivers, a "microhypervisor" and a Citrix receiver. The phone will connect to a monitor, keyboard and mouse and deliver Citrix virtual desktops from anywhere with Wi-Fi or 3G connectivity.
Citrix said the connection is secure because the device doesn't receive actual data -- only encrypted video commands. In addition, the Citrix Receiver is encapsulated in the phone in a secure virtual machine running on the microhypervisor for added security, Citrix said.
Citrix won't be making the actual phones; they are working with vendors to come up with mobile devices with graphics good enough to enlarge a virtual desktop onto a monitor and a way to deliver the desktop - probably via Bluetooth or a docking station.
How a Nirvana Phone is turned into a thin client. (Click image for an enlarged view.)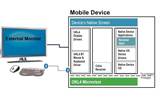 The bare-metal, microhypervisor in the Citrix Nirvana Phone does not actually deliver the virtual desktops. As with VMware's MVP, the value of putting a hypervisor on a phone is in securing applications by compartmentalizing them. A phone hypervisor also lets users run multiple operating systems and multiple environments on a single device.
"The ability to micro-segment your phone and separate business and personal apps may be of value at some point in the future, as a way of securing certain apps," said Simon Bramfitt, a desktop virtualization analyst at Burton Group. "I can't think of many use cases for it; being able to run two different OSes on one phone isn't a big deal."
One virtualization expert said the novelty of running more than one OS has no important use other than being "a cool parlor trick."
What's the use of a thin-client smartphone?
Some IT pros have questioned whether putting a hypervisor in an endpoint device is a good idea, which may be why Citrix upped the ante and added a virtual desktop receiver. But while turning a smartphone into a thin client is novel, IT pros aren't yet convinced of its value.
One drawback of using a smartphone as a thin client is that when you plug the smartphone into a monitor, keyboard and mouse to deliver a virtual desktop, the device becomes a thin client instead of a mobile phone.
Since the phones for Nirvana Phone don't actually exist, it is unclear whether or how users will be able to use their calling functions as normal. *According to Citrix, users will be able to use the Nirvana Phone whether or not it is hooked up to the display.
"If they made it to where the phone could still work if the user had, say, a Bluetooth headset, then I could definitely see it being a great tool for people that travel," said Jason McAninch, president of IT consultancy J-TEK.
Another expert said he questioned the technology's value because where there is a keyboard and monitor, there is a PC and Internet connection that lets him connect to a virtual private network and use Remote Desktop Protocol (RDP) to access his desktop. "Unless [using the Citrix Receiver] is just unbelievably faster than RDP, it seems more of a 'look at what we can do' product," Tony Wilburn, a desktop virtualization consultant at Arlington, Va.-based IT services company Betis Group Inc.
But Andre Preoteasa, the IT director at Castle Brands Inc., a New York-based beverage distributor, said the Nirvana Phone sounds useful because he has tried using his smartphone to access his workstation with poor results.
"Every now and then, I use LogMeIn from the BlackBerry browser to go to a server, and if I'm lucky, I can restart a service, but that's about it," Preoteasa said.
He added that even if the phone functionality is impacted during desktop delivery, there are other ways to connect with people, such as Skype or those relics known as landlines. "Who needs to make a phone call if you have a video camera and mic on everything?"
Another expert said he likes the idea of using virtualization to break hardware dependency and provide flexibility. However, like the other IT pros interviewed for this article, Shannon Snowden, a consulting partner at Louisville, Ky.-based New Age Technologies, said he'll need to see a proof of concept before passing judgment. For one thing, he said, he needs to see how it compares with the netphone.
"As with any first-generation products, [the Nirvana Phone] will most likely need a few iterations before it would be a realistic production option," he said.
Citrix said it doesn't expect the Nirvana Phone to replace laptops, but it will offer users another way to connect to their virtual desktops.
*Citrix offered this information following the original publication of the article.
Let us know what you think about the story; email Bridget Botelho, News Writer.
Dig Deeper on EMM tools | Enterprise mobility management technology