News
Stay informed about the latest enterprise technology news and product updates.
Mobile phone beats out smartphone as device of choice
Mobile phones edged out smartphones as the most commonly used devices in organizations, according to SearchMobileComputing.com's recent survey, which also found that many companies support any kind of devices brought in by users.
Traditional mobile phones are the most commonly used mobile devices among the respondents to SearchMobileComputing.com's...
Continue Reading This Article
Enjoy this article as well as all of our content, including E-Guides, news, tips and more.
recent mobile purchasing survey.
The 540 survey respondents included consultants, mid-level IT managers, network engineers, IT executives, non-IT business managers, non-IT business executives, telecommunications managers, mobile support staff, mid-level network managers, network architects, and mobile managers.
The survey, designed to determine how mobility plays within corporate environments, found that 84.36% of respondents use conventional mobile phones, followed closely by PDAs and smartphones. Dual-mode phones, walkie-talkie radio phones, rugged handheld devices and BlackBerrys rounded out the top of the category. Respondents were asked to select all types of devices that apply to their organization.
According to Jack Gold, principal and founder of mobile research and advisory firm J.Gold Associates, standard mobile phones are still widely used by companies that offer devices simply for voice access, not for access to corporate applications. That trend could soon shift, however, as the prices of PDAs and smartphones continue to drop. Still, companies that are using mobile phones may need additional time to upgrade to more powerful devices, Gold said, because they're still under contract with their current devices or are not yet in a refresh cycle.
"If you're locked in, you don't buy new phones," he said.
And while standard mobile phones still top the bill among devices used, only a small percentage of the workforce is actually using mobile devices to access corporate resources. According to the survey's findings, 118 respondents said a mere 10% to 25% of their workforce uses devices for corporate access, while 32 said none of their workforce accesses the network with mobile devices.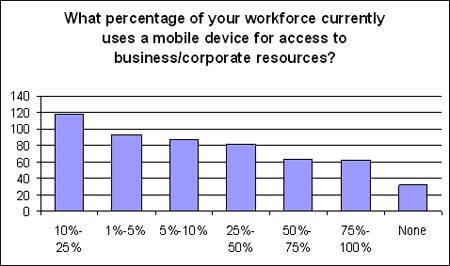 By the end of 2008, however, that number jumps dramatically, with 111 respondents predicting that by the end of next year 25% to 50% of the workforce will have mobile access, while the amount of the workforce with no device access dropped to 23 repondents.
Regardless of what types of devices employees use to access the corporate network, many companies said they support whatever devices end users bring in. More than 110 respondents said they support any devices users have, as long as they are supported by the carrier, while 73 said they support any device users have, regardless of the carrier. Over 220 respondents said they offer users a limited choice of supported devices and 131 said they have a single corporate standard device for everyone.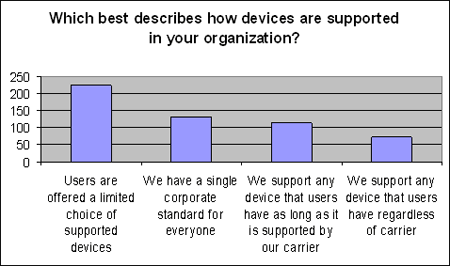 Tim McCleerey, a survey respondent and senior network administrator for PACCAR Inc., said his company offers a limited choice of supported devices, mainly for ease of management and cost considerations. PACCAR -- a Bellevue, Wash.-based company that designs, manufactures and offers customer support of light-, medium- and heavy-duty trucks under the Kenworth, Peterbilt and DAF nameplates, along with providing customized financial services, information technology and truck parts related to its principal businesses -- offers devices to employees mainly for support of business systems and for customer support, McCleerey added.
"Fewer devices being supported equals lower supporting costs," he said. "Managing security [and other features is] easier with fewer devices."
McCleerey said that the most-used type of device in his organization is the BlackBerry, but cell phones from different carriers and smartphones are also starting to come into play. The types of devices chosen, he said, are based on both the perception of manageability of the device and the perception of the device itself.
"iPhones would be a difficult sell because they are perceived as music players and wide-open Internet access [devices]," he said. "BlackBerrys are perceived as a business tool and are much easer to present a business case for."
Again, Gold said, companies determine which types of devices they'll support based on what the devices' core uses are.
"If you are a company that provides phones only to provide voice, then you don't really care what kind of device they bring in," he said. "There are still a lot of companies that don't support anything on devices other than voice."
When it comes to device purchases, 42.27% of respondents said the decision to buy devices is usually driven by a combination of executives, IT, lines of business, and application owners. Despite the popular perception that executives are the most powerful force when it comes to buying devices, only 22.91% of respondents said executives actually drive device purchases.
As for which suppliers companies purchase their devices from, it's a mixed bag. Just under 50% buy them from a telecom cellular carrier or service provider. The rest buy from resellers, distributors or VARs; directly from the manufacturer; or from device resellers or secondhand sellers. Fifty-two respondents, or 9.68%, said they don't know which device suppliers their companies use.
Gold said those respondents were largely in line with most companies' mobility strategies. The majority of companies, he said, turn to carriers for devices or to a reseller that is essentially just a middleman for the carrier.
And when buying mobile devices, most companies -- 403 respondents, or 77% -- said they buy them typically in small numbers or individually as the need for devices arises, while 117 respondents, or 23%, said they buy in bulk or multiple quantities. The rest buy in various amounts, either depending on systems and users, privately when devices are needed, or on contract.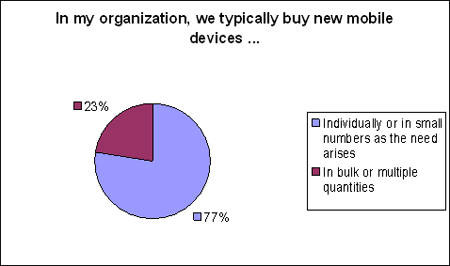 Buying devices individually or in small batches is typical, Gold said, mostly because companies buy new devices to accommodate new employees and users. Many companies don't recognize that there are cost savings involved when devices are bought in bulk or larger numbers, he said, especially within enterprise-sized companies.
"It's a bad approach if you've got 1,000 users out there – you pay through the nose," he said. "If you do a bulk buy, you get a discount. But companies don't see that; it's kind of a hidden, not super-visible cost."
PACCAR Inc.'s McCleerey noted that his company buys devices in small batches or individually but has worked out a deal where the devices are still purchased at bulk rates.
"Prices are negotiated up front, based on projected purchases; essentially we get the bulk discount," he said. "If we buy in bulk, we end up with inventory on hand that gets outdated."
Dig Deeper on Enterprise mobility strategy and policy