Share this item with your network:
In-app analytics take the pulse of mobile apps

yoshitaka272 - Fotolia
With app dev integration, AirWatch EMM spreads its wings
VMware acquired AirWatch for enterprise mobility management, but now the company is tying app development and more into the technology.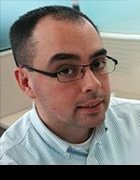 By
VMware's road to the enterprise mobility market was not an easy one. The virtualization stalwart struggled to bring products to market, and those that made it often failed to gain traction.
That all changed in January 2014, when VMware acquired AirWatch, the enterprise mobility management (EMM) market leader, for $1.54 billion. Now, the company is taking AirWatch beyond EMM, exploring tie-ins with app development platform vendors and its own networking and desktop management products.
Here, Sanjay Poonen, general manager of VMware's end-user computing group, discusses this evolution and more.
What does modern mobility mean to you?
Mobility means being on the move, and sometimes mobility can represent devices: laptops, tablets, phones, machines. When you combine those two, you get our vision for the world: working at the speed of life.
What does the future hold for integrating mobile front ends with traditional IT back ends?
We are not an applications provider. We are an applications enabler. Applications can be delivered in a variety of fashions. We've had strong partnerships with Xamarin, Kinvey and Kony, and we want to make sure they are running on our cloud infrastructure and also integrated with AirWatch, which they have done. We want AirWatch to become the de facto platform for all mobile app development platforms, all mobile backends as a service.
What has been the biggest challenge of integrating AirWatch into VMware?
The stats say 90 percent of acquisitions fail. One [of the reasons] is that the good people leave. You really want to make sure that you allow the mojo of this company that's doing well [to continue]. I wouldn't say it was a challenge, but we approached it with a tremendous amount of humility and caution. We knew the odds were that we would screw it up.
We've been fortunate to really empower [AirWatch co-founders Alan Dabbiere and John Marshall]. We've put a lot of focus on … the ways in which we can make their people feel like they've got bigger jobs inside VMware. Then, on the product side … we began to identify integration points: identity management, integration with NSX network security, creating a containerized desktop.
What's the best dish you can cook?
I can cook a reasonably good chicken curry. I don't think it's anywhere close to the quality and taste of what my mother can cook, or what some of my relatives from India can cook, or certainly any good Indian restaurant. But it would probably be palatable and reasonably delicious for an American who hasn't gone to a good Indian restaurant.
What's your favorite movie?
Ben-Hur would certainly be the one that's at the very top. It's a long movie, but it's got such an incredible story. With the Indian movies, since we're talking cultural, there's a movie called 3 Idiots. I'll give you my four: Ben-Hur, Chariots of Fire, 3 Idiots and The Shawshank Redemption.
Listen to the full interview on the Modern Mobility podcast.
This article originally appeared in the October issue of the Modern Mobility e-zine.
Dig Deeper on EMM tools | Enterprise mobility management technology