Fotolia
What's motivating enterprise tablet adoption?
In a survey of over 2,200 IT pros, respondents ranked eight driving factors behind enterprise tablet adoption. We turned the results into an easy-to-digest infographic.
End users today expect a certain level of mobility to perform their jobs, and organizations are realizing that tablets are one of the best ways to deliver it.
The No. 1 reason organizations plan to buy tablets is to increase mobility in the field, according to TechTarget's 2015 IT Priorities Survey. In fact, 76% of respondents listed that as the primary driver of enterprise tablet adoption. Tablets provide an efficient, portable way to get work done, especially for workers who perform tasks remotely, in the field or as contractors.
For many enterprises, that means it's time to invest in tablets as a primary device for business processes. Under IT's management, tablets can also provide increased control over corporate data on mobile endpoints: 30% of respondents said they would adopt tablets to add corporate control and liability.
So, why else are companies turning to tablet PCs for business?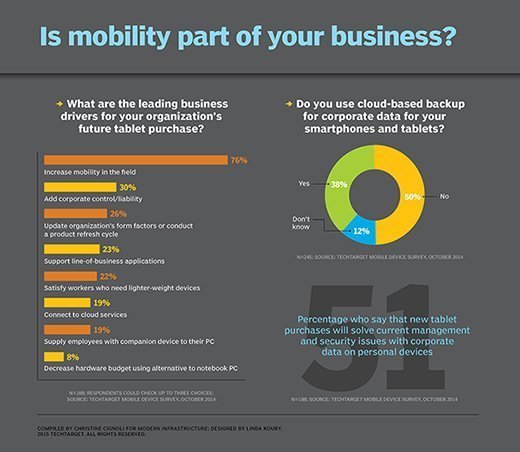 Security and portability aren't IT's only incentives, as five other motivators received a significant portion of the vote. More than a quarter of IT pros would use tablets to update organizational form factors, and 23% cited supporting line-of-business applications as a priority. End user needs also received a nod, as 22% of respondents thought tablets would satisfy workers who need lighter-weight devices.
Still, mobility management is not an easy task for a lot of organizations, especially when it comes to securing company data and apps on personal devices. Enterprise tablet adoption can help there, too: More than half of respondents said they believe adding new tablets would solve their existing mobile data management and security issues.
One way to protect corporate data on smartphones and tablets is to use cloud-based backups, where IT can access stored data if disaster strikes. However, the survey revealed that at least half of enterprises still don't use cloud services for data backup. Only 38% of respondents said they use cloud-based backup.
TechTarget's 2015 IT Priorities Survey was conducted in late 2014, with 2,212 IT workers responding from companies with an average size of 16,870 employees.
Next Steps
Learn how those same IT pros are planning their budget for 2015.
Compare this year's conclusions to the 2014 IT Priorities Survey.
Dig Deeper on EMM tools | Enterprise mobility management technology