The questions to ask when choosing mobile app dev platforms
Mobile app dev tools provide companies with ways to build and deploy mobile apps more easily. Learn the tool capabilities to examine to select the right software for your company.
Mobile app development platforms offer organizations the tools they need to streamline app building and deployment. Mobile app dev platforms can vary significantly when it comes to supported app types, OSes, development tools, lifecycle management capabilities and numerous other features.
With so many options, IT decision-makers can have a tough time choosing the best MADP for their organization, especially as the market continues to evolve and grow. To help with this process, here are seven important questions to ask about any prospective platform.
What types of mobile apps does the MADP support?
A good place to start is to figure out what sort of apps organizations plan to develop and which tools would support those apps, taking into account OS platforms, device types and app types. For example, most mobile app dev platforms let users build iOS and Android apps, with some including Windows apps, but a few also let users build BlackBerry apps, with fewer still supporting OSes, such as Symbian or MeeGo.
When it comes to device types, most platforms let users build apps for smartphones and tablets, but some also include devices such as smartwatches and personal assistants. As for app types, mobile app dev platforms allow for native, web or hybrid app building. Some platforms support only one type, while others support multiple types, allowing users to accommodate different scenarios and changing needs.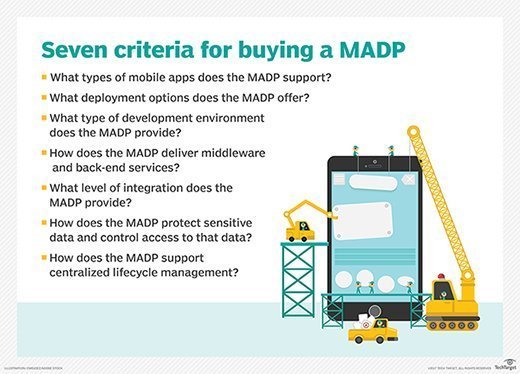 The main point here is to ensure that the MADP allows users to build the types of apps that they need to build. There is little sense signing up for a MADP that supports only hybrid apps on iOS and Android devices when a developer needs to build native and hybrid apps that run on iOS, Android and Windows.
What deployment options does the MADP offer?
Vendors offer various options for deploying mobile apps. Most provide a cloud service that provides the necessary environment, but some also let users deploy to private clouds or on-premises data centers.
Assessing mobile app dev platforms is a good way to learn about the tools' scalability, in terms of capacity and how easy they are to scale up and down. Buyers should also verify the level of control that is available over other components in the environment.
What type of development environment does the MADP provide?
Many mobile app dev platforms provide access to third-party script libraries or supply plug-ins that allow developers to use their own integrated development environments (IDE) to build apps.
Other vendors offer a proprietary IDE as the sole development tool -- in which case, users must ensure that it includes the features necessary to support effective development, such as templates, modules, code editors, compilers and previewers.
Buyers should assess the level of rapid mobile application development (RMAD) that the MADP supports. If it does offer RMAD, also determine the extent to which it allows users to edit the source code. Even if users are interested primarily in codeless or near-codeless development, they may still want to customize some apps.
How does the MADP deliver middleware and back-end services?
Just as important as the development tools are the middleware services and back-end services that keep everything running. Ideally, the MADP will include all the computation, storage and networking resources necessary to support the entire app lifecycle.
Users should gather all the specifics they can about these systems so they know exactly what services the software provides. They should also determine how extensible and configurable these services are and the extent of their support for various data services.
The goal is to ensure that the MADP provides all necessary services, which can include anything from managing code execution and securing back-end systems to facilitating data storage and issuing push notifications.
What level of integration does the MADP provide?
Integration with third-party services and data points can represent a significant part of the development effort. The more readily mobile app dev platforms can integrate with other systems, the more effective the platform and the more streamlined development efforts will be. The chosen platform should provide standards-based plug-ins, connectors, adapters or APIs to facilitate connectivity with third-party services, whether implemented on premises or in the cloud.
Users might want to integrate the MADP with an identity access management tool, or they might want their apps to be able to access corporate data stored in a centralized data center. Also, if they've implemented a mobile device management or mobile application management platform, they'll likely want to integrate with that system as well.
When researching possible mobile app dev platforms, buyers should fully evaluate the level of supported integration so as to not be surprised by such issues as lack of common standards or API granularity mismatches. If planning to integrate with legacy systems that use nonstandard technologies, they should be certain to understand the scope of the work involved to get the MADP to communicate with those systems.
How does the MADP protect sensitive data and control access to that data?
When evaluating a MADP, security considerations should be at the top of the list. Buyers should know how the MADP authenticates users and implements identity access management. They should also understand the level of control they have over security and how the MADP's security mechanisms can integrate with other systems.
Buyers should review every aspect of data protection, including policy settings, access control capabilities and any other features related to security, as well as determine whether they can encrypt app data at rest and in motion and, if so, where the system stores encryption keys.
A MADP should facilitate the ability to achieve regulatory compliance, providing the tools necessary to monitor and audit the systems and data.
How does the MADP support centralized lifecycle management?
To understand a MADP's capacity for managing the app lifecycle, take a step back, and evaluate the platform as a whole. From there, focus in on the individual components.
Buyers want to ensure that the MADP includes all the features necessary to design, develop, test, distribute, manage, update, support and analyze mobile apps. They also want to ensure that those capabilities are seamlessly integrated to provide a cohesive, end-to-end development and deployment experience.
For example, the platform should include such features as data syncing (with offline support), application testing facilities, collaborative workflows and approval processes, monitoring and analytics capabilities, and anything else necessary to support the entire app lifecycle. Plus, users should be able to manage each phase of the app lifecycle from a centralized portal that shows a clear and comprehensive workflow.
Make sure you get what you need in a MADP
Not all MADPs are created equal. They support different app types, offer different features and deliver different levels of service. Buyers should thoroughly test any MADP that they're considering and learn firsthand what it takes to get an app out the door.
You should also conduct a thorough cost analysis of each MADP under consideration to determine the true total cost of ownership. Much will depend on whether the platform is cloud-based or installed on premises. A cloud-based product is cheaper to implement, but long-term subscription fees add up. The type and number of apps users want to build will also play a role. In addition, buyers should account for any additional resources required to connect systems, implement the MADP, train employees and take any other necessary steps.
Selecting the ideal MADP is no small effort. Switching tools after initial implementation can be a costly and time-consuming undertaking, so buyers should strive to select the most suitable tool the first time around. The bottom line is to do the homework and ask these seven questions to choose the most suitable MADP product.
Editor's note
Using extensive research into MADP, TechTarget editors focused on vendors that develop native apps, provide a single integrated development environment and connect all major back-end data systems. Vendors should also provide full-featured apps and in-house development and be scalable with transparent pricing models. Our research included Gartner, Forrester and TechTarget surveys.
Dig Deeper on Mobile enterprise application development