Tablets in the enterprise: Are you ready?
Tablets have taken the computing world by storm, and now they're moving into the enterprise. Prepare for the inevitable with the tips and reviews in this guide.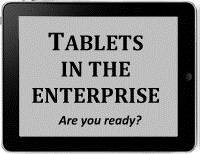 The tablet -- with its easy-to-use interface, lightweight body and a size that's neither too big nor too small -- is all the rage. Consumers and a handful of niche industries are smitten with these touch-screen devices, and users may be asking for tablets in your enterprise. Get ready for the inevitable with this guide, which features the latest tablet news and tips as well as reviews.
TABLET TRENDS AND NEWS
Where tablets make sense in the enterprise
Everyone's talking about tablets, and while these touch-screen devices aren't an alternative to full desktops, in certain cases, they can be handy.
Microsoft girds for iPad war with ARM, tablet plans
IT managers in Windows shops can expect Windows 8 to support low-power ARM chips for tablets and other devices.
Can Windows and Android catch up to the iPad in business?
The iPad is popping up in the hands of executive across various industries, and while Windows, Android and BlackBerry-based tablets may have business advantages and better security, that doesn't mean they'll be more successful -- for now. (From TabletPCReview.com)
iPads ruled 2010's most-wanted gadgets list
Although a handful of tablets were released late last year, the Apple iPad was the most popular by a landslide. Will it hold on to its lead in 2011?
TABLET REVIEWS
Not sure which tablet makes the most sense for your business? Check out these tablet reviews from our sister site, TabletPCReview.com.
Apple iPad 2
While the iPad upgrades qualify as something more than a fresh coat of paint, the functional differences between the first generation iPad and iPad 2 are minimal.
Apple iPad
Pair the iPad with a high-powered desktop, and you'll have a setup that gives you what you need: power and portability. Related: Apple iPad 3G review
Samsung Galaxy Tab
The Galaxy Tab is an impressive device that offers several options the iPad doesn't, including one-handed operation.
Motorola Xoom
Although the Xoom, the first tablet to feature Google's tablet operating system, is a fine piece of hardware, it doesn't have the app support necessary to proclaim it a must-buy -- yet.
Fujitsu LifeBook T580
The high-quality T580 has its shortcomings, but it still provides great inking and a productive Windows 7 experience.
Getac V100
The Getac is ideal for those who can't afford to lose valuable data as a result of everyday workplace hazards -- like bomb blasts and monsoons.
HP Slate 500
It isn't a revolutionary device nor is it an iPad killer, but the HP Slate gets the job done at one of the lowest price points on the market.
Armor X10gx
While its rivals attempt to wow users with flashy user interfaces and cute apps, the X10gx is content to sit tight and literally take any abuse the user or environment can dish out.
HP EliteBook 2740p
The HP EliteBook 2740p tablet PC offers great performance with a strong and durable chassis, as well as an attractive design and well-engineered slice battery.
Dig Deeper on Apple iOS in the enterprise