Sergey Nivens - Fotolia
Manage
Learn to apply best practices and optimize your operations.
Set employee mobility and business goals before committing to EMM
Any mobility initiative needs some level of enterprise management, but it's important to set objectives for business outcomes and assess user needs first.
Before fully committing to EMM, IT can't forget about the security policies and user experience strategies that make the mobile enterprise go round.

Download this free guide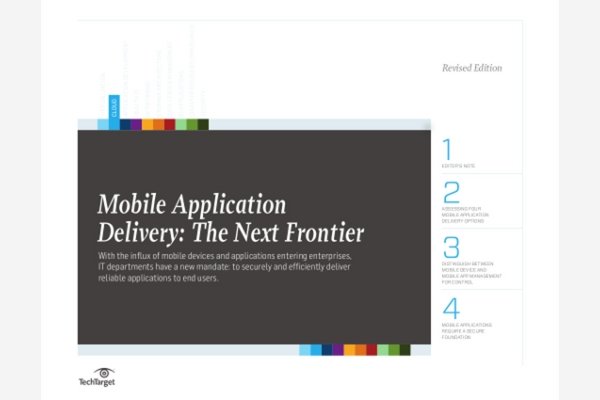 PDF: 17-Page Mobile Application Management Handbook
Experts provide best practices for mobile application delivery and management to help deal with the flood of mobile devices, new applications and data security demands.
Much of the attention around enterprise mobility focuses on management -- understandably so, given the presence of such major tech vendors as IBM, SAP, Oracle, Microsoft, Dell, VMware, Symantec, BlackBerry and Citrix in the market. Yet enterprise mobility management (EMM) is only one piece of a bigger puzzle for organizations looking to go mobile.
Organizations should empower employee mobility and come up with strategies that align with business goals before implementing EMM, not after. They must also decide how mobile devices will fit into the business structure, determine which devices and applications they need to get the job done and create policies to ensure data security and regulatory compliance.
"You can't put the cart before the horse," said Jack Gold, mobile analyst and principal at J. Gold Associates in Northborough, Mass. "The first question I ask a lot of businesses is, 'What are you trying to get out of mobile?' A lot of them can't tell me, aside from satisfying their users who are bugging them."
Making the business case for mobile
After setting the objectives of a mobile initiative, the next logical step is to outline policies for management, security and support. What can and can't employees do with mobile devices? What kind of devices and apps will IT allow and support? Will employees or the employer own the devices, or will it be some combination of both? It's important for organizations to take a holistic approach when addressing those questions so all stakeholders have a say, Gold said.
"A lot of companies do this in a vacuum without getting input from the line of businesses and the users on what it is you are trying to accomplish," he said.
It is only after the organization answers those questions that it can determine which EMM vendor best suites its needs, said Craig Mathias, founder of the Farpoint Group, a wireless advisory firm based in Ashland, Mass.
For that process, IT needs to assess which aspects of EMM it should implement -- options include mobile device management, mobile application management and mobile content management -- and what kind of return on investment (ROI) the organization will see.
"You have something you can actually go to management with, and say, 'See, I've done my homework,' " said Gold. " 'Here's what we need, here's about what it will cost, here's the ROI,' which management always wants to see."
When the time is right for EMM
Once those decisions are made, it's good sense to do a pilot deployment with a select group before rushing into a wide-scale EMM implementation.
"If you discover problems, you don't have 10,000 people dealing with those problems," Mathias said. "Fifty is much better."
Even after implementing EMM, there is more to the puzzle. Many in IT will want to take advantage of the software's analytics capabilities for reviewing how the mobile initiative is faring. Are users more productive? Is corporate data staying where IT can manage it? What applications are used the most or the least?
Companies should also keep an ear to the ground for what's coming next in mobile applications and management.
"That's the nature of rapidly-changing technology fields," Mathias said. "Things change so quickly that by the time you've decided to do something, it turns out something better has come along."
Law firm holds court with mobile advancements
Thompson and Knight LLP, a nationwide, multi-practice law firm headquartered in Dallas with about 800 employees, has a long history of embracing mobility, starting with BlackBerry devices and BlackBerry Enterprise Server close to 15 years ago.
If [mobility is] effectively understood and implemented, you can have real productivity. If not, your users will struggle with it.

Ray KeetonIT administrator, Thompson and Knight LLP
Over the past half-decade, as the consumerization of IT began to take hold, the firm faced a new challenge: enhancing productivity on a variety of devices while still maintaining security. Not only did more employees want to connect Apple iOS and Google Android devices to corporate networks, but the applications required for getting work done changed as well.
Providing security for users' applications and data was critical due to the sensitive nature of Thompson and Knight's legal materials. The major changes to the way people work, brought about by mobility, amplified the need for security even more, said Ray Keeton, an IT administrator at the firm.
Thompson and Knight now manages about 500 mobile devices, mostly employee-owned and predominately running the iOS, BlackBerry and Android operating systems. The firm has used MobileIron for EMM for nearly three years and plans to roll out its mobile content management feature to further empower mobile employees.
With MobileIron's Content Security Service, IT can use file-level encryption and apply its own data loss prevention controls wherever data is stored. Users can choose the types of apps they want to perform certain tasks, using an option that protects data at the content level.
Thompson and Knight's mobility strategy allows its users to securely handle confidential legal materials, but security doesn't define the firm's approach. What it's really about is providing true productivity, and EMM simply offers one more tool in the tool belt, Keeton said.
"If [mobility is] effectively understood and implemented, you can have real productivity," he said. "If not, your users will struggle with it."
Letting go of the fear factor
EMM vendors may say they have everything an enterprise needs, but ultimately, the extent to which an organization goes mobile depends on its investments and available resources, said Eric Klein, senior analyst with VDC Research Group in Natick, Mass. Savvy businesses with sufficient internal resources may have business analysts work with line-of-business operators to determine the best path to employee mobility. In other cases, organizations may look to third-party consultants or service providers for help.
Employee demand for more flexible work styles might be a driving force behind mobile adoption, but the key is to look beyond EMM. The overall picture of what mobility means to an organization may be the difference between winning and losing clients. Mobility can minimize the latency between when information is available and when it can be used, which can help a company beat its competition, Mathias said.
Those mobility benefits come with challenges around implementation and organizational buy-in. Keeton's advice for IT: Be ready to embrace change when it comes to mobile.
"All too often, IT shops become afraid because they hold on to that fear factor and they are afraid about doing something wrong," he said. "Do not be afraid."
Dig Deeper on Enterprise mobility strategy and policy