bexxandbrain - Fotolia
Evaluate
Weigh the pros and cons of technologies, products and projects you are considering.
Inside the new enterprise mobile technology stack
There's no shortage of mobile app dev platforms, management suites and backup products. Successful businesses need to make them work well together.
Business and IT leaders talk a lot about going mobile these days. What does that really mean?
Mobile is not a product that organizations can buy or a service they can subscribe to. It is the aggregation of multiple products and services -- along with new business processes and approaches to IT -- to create a more productive, flexible, on-the-go business. The new mobile technology stack includes everything from traditional technologies such as backup and data loss prevention to emerging application development platforms and management suites.

Download this free guide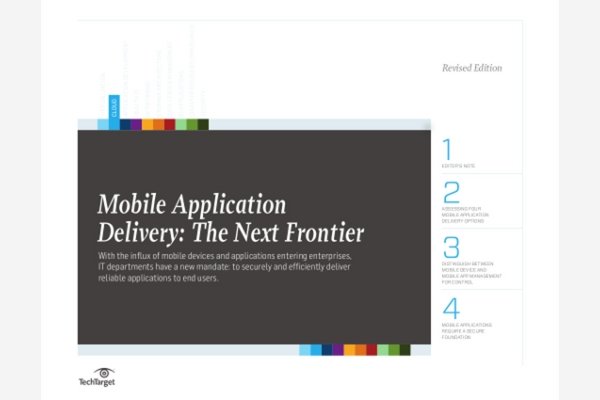 PDF: 17-Page Mobile Application Management Handbook
Experts provide best practices for mobile application delivery and management to help deal with the flood of mobile devices, new applications and data security demands.
This special report takes a look at the wide array of enterprise mobile technology available. Executives, IT professionals and developers will learn how to choose the right products and services and discover how such seemingly disparate technology can all work together to push business forward into the mobile era.
Mobile app development
One throat to choke versus best of breed is a debate as old as IT itself, and the enterprise mobility market is right in the middle of the action these days. Several vendors, through a combination of acquisitions and in-house product development, claim to offer the complete enterprise mobile technology stack. Large mobile application development platform (MADP) providers, for example, also offer software that lets IT manage the apps built on their platforms, plus cloud services that allow the apps to access back-end infrastructure. But many tools are still immature, and no one vendor has everything.
Read more about the evolving enterprise mobile app development market.
Enterprise mobility management
Every organization with mobile workers needs some way to manage their devices and applications. That doesn't necessarily mean management should be top priority. Organizations may rush into deploying enterprise mobility management (EMM), because the technology is such a hot topic, but the proper goals must first be in place. EMM's three main components -- mobile device management, mobile application management and mobile content management -- all address different issues, and if those issues don't align with important business initiatives, EMM may go to waste.
Read more about prioritizing employee mobility and business goals over EMM.
Mobile backup and data protection
Despite the proliferation of mobile devices, the concept of mobile backup hasn't taken off. That hasn't stopped vendors from jumping into the market. Mobile backup has a unique set of requirements and challenges that make it very different from traditional endpoint backup. Organizations must consider all of these factors -- such as corporate network access requirements and the role of the cloud -- while evaluating mobile backup products. It's also important to recognize that mobile backup isn't the same as enterprise file sync and sharing, a more user-focused approach to providing data access across multiple devices.
Read more about the role of data protection and backup products in the mobile technology stack.
Unified endpoint management
Laptops and desktops aren't typically part of the mobile technology conversation. That's starting to change, thanks to an emerging security approach called unified endpoint management (UEM). The goal of UEM is to let IT and security pros control and secure laptops, desktops and mobile devices in the same fashion, all through one console. It's an admirable goal, and there's a growing number of products that claim to achieve it. Roadblocks remain, however. UEM may help businesses go mobile one day, but for now, mobile device management and traditional PC management are just too different.
Read more about the evolution of mobile security management and its effects on UEM.
Dig Deeper on EMM tools | Enterprise mobility management technology