How MBaaS architecture is reshaping enterprise mobility
Companies are shifting toward MBaaS for back-end integration in mobile app development because of its lower costs, time-saving capabilities and ease of use.
The back-end infrastructure behind a mobile application is a pivotal piece of the puzzle.
Having a solid back end determines if the application will be successful for the user. There are two main ways to go about developing the back end for mobile applications. The traditional route is building the back end for a company in-house on a case-by-case basis. The newer option is mobile backend as a service, or MBaaS. For many IT developers and business leaders, MBaaS architecture is already turning enterprise heads.

Download this free guide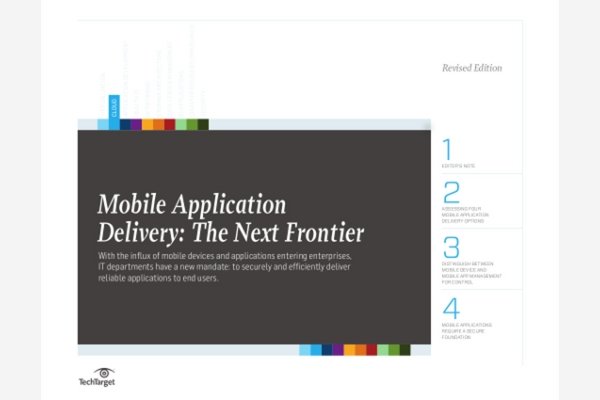 PDF: 17-Page Mobile Application Management Handbook
Experts provide best practices for mobile application delivery and management to help deal with the flood of mobile devices, new applications and data security demands.
What are MBaaS platforms?
Not all apps will be a good fit to use MBaaS.
MBaaS provides mobile applications the ability to utilize resources from an established database, which is most often a cloud-based infrastructure. Through the design of the application programming interfaces (API) and software developer's kits, the resources are unified. This allows for services such as push notifications, location services and other common back-end features to be accessible to mobile app users from a secured system.
The way MBaaS is structured most often around the cloud makes developers' lives easier. With MBaaS architecture, developers can organize resources and write code to connect the features together for back-end use. Developers can also reuse code for common mobile app features such as authentication. Instead of laboring over the server-side configuration, developers can focus on the front-end application and user experience. MBaaS also cuts the costs of mobile app development by limiting the amount of work that goes into developing the back-end services' integration.
Who are MBaaS vendors?
A few prominent MBaaS vendors include Google Firebase, Amazon Web Services (AWS) Mobile Services, Apple's CloudKit, Microsoft Azure Mobile Services and Kinvey. Each one brings a different perspective on back-end connectivity for companies to find the right fit.
Google Firebase is a great starting point for a company looking for basic features and resources from an MBaaS architecture, and includes many free services. AWS is centered around the cloud and best for advanced application developers. The Apple CloudKit is for iCloud back-end services, and is mainly used for data storage. Microsoft Azure has many similarities to AWS, but introduces a pricing model that lacks appeal. Kinvey supports the widest range of devices and provides extensive tutorials and help documents. It is becoming a favorite for diverse industries that need mobile applications to run quickly and reliably. Google also recently partnered with Kinvey to provide a new offering using the Google Cloud Platform.
What are the negatives of MBaaS architecture?
MBaaS is delivered as a full package, which requires developers to tailor the apps to the services provided. This means that not all apps will be a good fit to use MBaaS. Depending on the functionalities and coding of the application, the MBaaS environment might not be strong enough to support it. MBaaS architecture also takes away admins' capabilities to control how the data is captured, stored and maintained accessibility to.
Mobile cloud architecture plays a very important part in businesses worldwide as more people adopt mobile technology.
Companies must consider the costs of MBaaS as well. The sticker price may appeal to many businesses, but long-term fees play a factor. If the chosen MBaaS provider is not well established, there is the risk of them cutting their programs, leaving customers with nothing. There is also the concern of user base growth. An increase in end users means an increase in back-end services. Once with a chosen MBaaS architecture, it is difficult to reconfigure the sizing of the services, and ultimately companies may need to implement a new one to better fit their growth.
What are the positives of MBaaS?
Enterprise users have been pushing more to the cloud to gain the freedom of being remote. MBaaS architecture embraces the use of the cloud to unify data for back-end services, making mobile data easier to access for users and easier to manage for IT. As a package, MBaaS offers a lower starting cost in comparison to building the back end and its integrations in house.
MBaaS also saves valuable time for businesses. Organizations simply identify a business process that would benefit from increased efficiency, develop a mobile app to replace it, and connect it through the APIs to the back-end databases with MBaaS. Newer companies that don't have to worry about legacy applications can hit the ground running with an MBaaS architecture, as all applications can go through the cloud. Many legacy applications are transitioning to cloud use as well, so the future for MBaaS is bright.