Nmedia - Fotolia
Evaluate
Weigh the pros and cons of technologies, products and projects you are considering.
Four questions to answer before choosing an EMM tool
With mobility dominating the enterprise, many companies could benefit from implementing the right EMM tool. Get the answers to some frequently asked EMM questions.
Just like the fairy godmother in Cinderella had her rules for when the clock struck midnight, IT must give mobile employees guidance when it comes to using their devices for business.

Download this free guide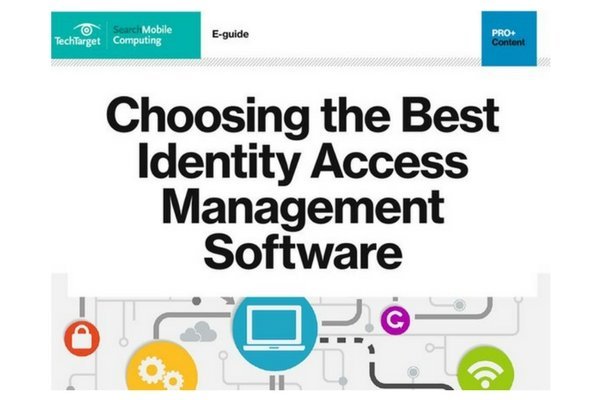 PDF: How to Choose the Best Identity Access Management Software
Since mobility is a vital element in almost every modern IT shop, today's comprehensive IAM platforms should feature capabilities enabled by a mobile environment. Save this PDF to help prioritize which capabilities your business needs in IAM software.
The ability to work remotely is a fairytale for most employees. Working from anywhere at any time opens the door to increased efficiency and freedom. With these options, though, comes the need for increased awareness and tighter security from IT. The most comprehensive way for IT to address security concerns is to set up enterprise mobility management (EMM).
An EMM tool can cover all the bases for monitoring employees, but these suites can be expensive, especially for smaller businesses. One alternative to expensive packages is using a free, open source EMM tool, which could mean happily ever after for IT.
What does an EMM tool typically include?
EMM offers a systematic approach to employee mobile device accountability. It encompasses management over not only mobile devices, but also wireless networks and other mobile computing services.
An EMM tool typically has four components: mobile device management (MDM), mobile application management, mobile content management and unified endpoint management. To develop a successful EMM strategy, IT must make sure that these elements are in sync with one another, and must maintain equal levels of security for each device user's access. If there is a weak link, the entire system is susceptible to threats.
Is there an overabundance of enterprise EMM tools?
When it comes to managing employees' mobile devices, apps and data, companies may have too many options.
Finally, EMM sets the tone for company work ethic, data protection and employee responsibility.
The latest EMM software amps up the protection of corporate data rather than just the device itself. The need for security on data transfers, Wi-Fi connections and app interactions is of growing concern. Although operating systems such as Google Android and Apple iOS now offer tighter device security options, EMM software enables IT to create security settings on a corporate level rather than solely relying on users to follow security best practices.
What EMM tools are available?
VMware, MobileIron, IBM and BlackBerry continue to be top-ranking EMM providers, but most major EMM vendors have fused together with the rush to mobile adoption in the workplace. VMware acquired AirWatch and IBM acquired Fiberlink MaaS360, to name a few. As the big names in software continue developing their own EMM capabilities, the EMM vendor market has shrunk.
This mobile-forward thinking has led to companies such as SAP, Microsoft and Citrix offering mobile management in their software packages, ranging from basic EMM coverage to enterprise suites involving advanced analytics and other business options. Though niche EMM vendors, such as Ivanti, NationSky and Cisco, and open source EMM tools provide flexibility to companies, it never hurts to use a trusted and verified source.
Should you consider open source EMM tools?
An open source EMM tool is a free, online mobile device management service with code that anyone can use or modify. This may be appealing to businesses that are looking to test an EMM platform that may not have the funds to use big-name software. It can also help IT test their management strategy to determine which devices work best for their employees' needs.
Make sure to do background research on each tool before using it.
For a more simplified device management setup, IT can try Apple Configurator 2, Google's Android Device Manager or Miradore Online. If a company is looking for a customizable option to best fit its needs, the Sample iOS MDM server, WSO2 Enterprise Mobility Manager or Android SDK sample admin applications can provide more services.
It's important to remember some sources are more open than others, so make sure to do background research on each tool before using it. The more open it is, the more susceptible the data on it is.
What is the forecast on EMM trends?
EMM adoption is on the up and up. VDC Research estimated that 37% of businesses with 1,000 employees or more have EMM deployed. IT professionals generally attribute EMM growth to the mounting concern over security.
EMM vendors are transitioning from on-premises suites to cloud-based options. Cloud can make EMM services less expensive on a monthly basis. There has also been a gain in the popularity of workspace management, which uses EMM software as its foundation, and which includes additional tools, such as enterprise file sync and share.
Options such as VMware Workspace ONE with AirWatch enable EMM to extend from mobile devices to desktop PCs, as well. This extension introduces unified endpoint management, which enables IT to control all the devices linked to one server for advanced control and security.
Dig Deeper on EMM tools | Enterprise mobility management technology