McCarony - Fotolia
Explore the options in the EFSS market
Organizations looking to boost productivity and maintain corporate data security should consider EFSS. Get to know the software and the features each vendor provides.
Sharing documents on a public cloud service, such as Google Drive, can be a security risk because IT has little control over corporate data stored there. This consumer-centered market has evolved into what the enterprise needs, however.
Enterprise file sync and share (EFSS) provides users with the same convenience of easy sharing and collaborating, while maintaining the high levels of security that IT desires. An organization looking to dive into the EFSS market has to learn exactly who the users are, when the users need access, where the users are accessing EFSS from and how the users will interact with it. Considering these factors will help IT professionals focus on an EFSS vendor that is well-suited for the organization and can accommodate its users as well as it accommodates IT.
What is EFSS?
The file-sharing market began as consumer-focused, with offerings such as Dropbox and Google Docs. The appeal to consumers was access to documents whenever they had the ability to connect to the cloud on which the documents were stored. Storage was where companies began to monetize the service, with more storage costing more money. The enterprise took note of this transition to unlimited access, and companies such as Box began to take notice. With more enterprise-grade offerings now available, workers can get access to their documents at any time, so long as they pass a measure of authentication.
The EFSS market has high competition from well-rounded, innovative vendors and is still changing.
EFSS services can integrate into organizations in several ways. The first is through a public cloud, which services such as Box and Dropbox Business use. Organizations typically choose a public cloud because it is easy and often the least expensive for upfront costs. However, that comes at the cost of putting security in the hands of the EFSS provider. The second is through a private cloud, which is more costly but lets IT personally handle data security. The third option is to create a hybrid between on-premises and cloud components, which is what Citrix ShareFile and Egnyte offer.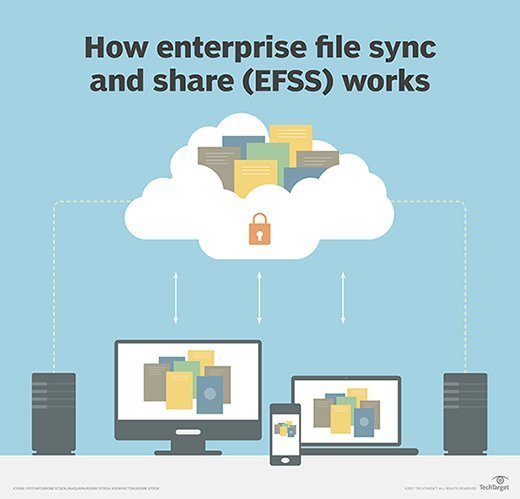 Why should businesses use EFSS?
As more workers integrate mobile devices into the workplace, businesses that don't adapt to the technology fall behind. The EFSS market blossomed in the enterprise alongside new collaboration tools and has since become integral to the modern workflow. Only 17.5% of businesses looking to invest in the EFSS market don't have some form of document sharing or collaboration tool in place already, according to a 2017 TechTarget survey.
Leading the top five reasons as to why businesses want EFSS, 52% cited an increased need for collaboration tools. Other organizations said they need better file-sharing security and simpler access to shared files. The fourth and fifth factors that companies are considering are mobile access to documents and centralized management. The flexibility that EFSS provides around cost, implementation and IT involvement has boosted the EFSS market across many industries such as construction, healthcare and journalism.
Who are the major EFSS market players?
The EFSS market seems to be made of clay because it has dramatically changed shape in the last five years. Many of the big players, such as Microsoft, Box, Google and Dropbox, have created personalized enterprise features that give them a competitive edge. Microsoft OneDrive protects Office 365 users from data loss, as well as guards users' intellectual property. Box Enterprise provides workflow automation and advanced mobile requirements, such as device trust. Google works well with legal hold features using its feature, Vault, for integrated e-discovery and includes designed document templates in Google Docs. Dropbox Business includes enterprise mobility management support and advanced training for its enterprise edition.
Other vendors, such as Egnyte, BlackBerry and Syncplicity, use unique offerings to appeal to specific needs within an organization. Egnyte uses the existing on-premises security management and its features, such as encryption, to help give IT control over data protection. BlackBerry Workspaces can also aid in security by embedding digital rights management protections directly into files. Syncplicity includes a feature called PrivacyRegions, which upholds residency regulations and region-specific protection for files and documents regardless of sharing.
Test your knowledge of EFSS capabilities
If your employees are using consumer cloud storage services, enterprise file sync and share may be the solution to your problem. Test your EFSS knowledge with this quiz.
The EFSS market has high competition from well-rounded, innovative vendors and is still changing. Finding the right vendor truly depends on the organization's priorities and existing infrastructure and applications for ease of integration and support.
Dig Deeper on Mobile data, back-end services and infrastructure