Build apps once with cross-platform mobile development tools
Cross-platform mobile development tools simplify the mobile application development process by allowing developers to build one app that works across a variety of platforms.
Mobile devices of all sorts are pouring into organizations across the globe, and the barrage shows no signs of stopping.
In businesses that rely heavily on custom software, developers may have to build applications for all of these devices and the diverse operating systems they run on. It is no easy task to learn all the different coding languages, and building the same app more than once to run on different OSes is time-consuming and tedious.

Download this free guide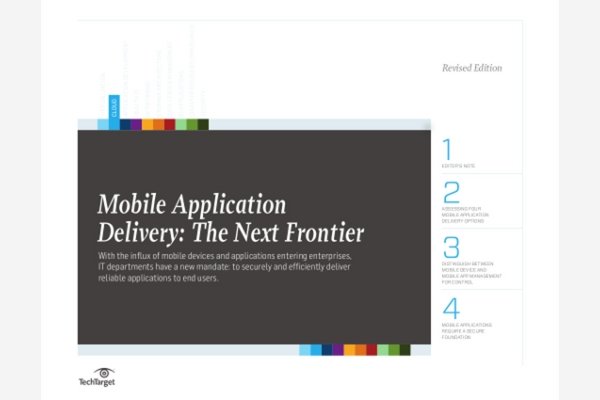 PDF: 17-Page Mobile Application Management Handbook
Experts provide best practices for mobile application delivery and management to help deal with the flood of mobile devices, new applications and data security demands.
It doesn't have to be that way. Cross-platform mobile development tools allow developers to create one app that works across multiple devices and OSes. The answers to these frequently asked questions about cross-platform mobile development will explain what features a good mobile app should include, how a mobile application development platform (MADP) works and more.
Where have all the mobile app developers gone?
There is a shortage of talented developers, and the good ones come at a steep price because there is so much value in good custom apps. Outsourcing to a third party is no bargain either. As more diverse device types enter the business world, it is especially critical to deliver mobile apps that work across a variety of platforms. Custom mobile apps, built to meet their company's specific needs, are often the best option for making the workforce more productive.
Enter cross-platform mobile development tools, which use programming languages such as JavaScript, #C and .NET to help developers create apps that work across a variety of devices and operating systems.
What should a mobile app look like?
Before anyone can develop mobile apps, they must understand what a mobile app should be. This starts with understanding the users they are building the app for, including what their expectations are, what their technical prowess is and what they need to accomplish with the app. Once developers understand all of that, they can build an app that meets their specific needs without any unnecessary frills.
It is no easy task to learn all the different coding languages.
It is also important that the user interface is simple and easy to understand. Do not try to reinvent the wheel. For example, tapping a link on a mobile device usually opens the link. So tapping a link in the app should open a link too. If developers think anything will confuse users, then they should provide explicit instructions on how that part of the app works.
No matter how intuitive an app's UI is, the content of the app is what will make the app useful. Developers must determine what data is stored on the device itself and what is stored elsewhere, how their users access the app, and how to handle authentication and authorization.
What should you look for in a cross-platform mobile development tool?
If a company needs to deliver apps fast, then it needs to find a cross-platform mobile development tool with templates that take away the need to lay the groundwork of the app. The basic foundation is already established. Any company strapped for cash may want to turn to open source cross-platform mobile development tools, such as Apache Cordova.
Cross-platform mobile development tools may make life simpler for developers, but they do not solve every problem. In fact, the tools can actually create some issues because they are always a step behind operating system updates and can run into performance problems with more complex apps.
What's the deal with MADPs?
MADPs make it easy for even inexperienced developers to build simple apps that work across multiple platforms. Most MADPs come with back-end integration as well as app development interfaces with modules and templates. The templates lay the groundwork so even nondevelopers can use them to create apps. MADPs also include drag-and-drop capabilities so the person building the app can just grab the code for a complex feature such as geolocation and drop it into the app.
An MADP eliminates the need to know how to write complex code and allows any advanced developers an organization does have to focus on more business-critical app development. The simplicity of MADPs makes creating apps for simple projects such as data entry fast and easy. MADPs are not great for graphics-intensive apps, though.