Share this item with your network:
New tools plug the mobile app development skills gap

oporkka - Fotolia
Apple iOS 9's iPad features will benefit business users
The latest iOS version will open up new multitasking and productivity features for tablet users. Apple is also revamping its Volume Purchase Program.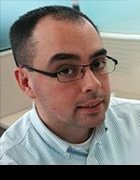 By
Slowly but surely, Apple is turning its tablet into a business productivity machine.
When iOS 9 comes out later next year, enterprise users will have a host of new iPad features, including multitasking and keyboard shortcuts, plus new apps at their disposal. The new operating system, which Apple unveiled at its Worldwide Developers Conference in June, also brings some important management and security improvements for IT.
iPad features play catch-up
Multitasking capabilities, which are readily available on Windows and Android tablets, have topped iPad users' wish lists for years. In iOS 9, the tablet will finally be able to display two running apps on the screen at the same time, through a feature called Split View. Another feature, Slide Over, lets a user in one app quickly glance at another app by swiping the side of the screen. Plus, there's picture-in-picture capability so users can watch videos while working in other apps. Slide Over and Picture-in-Picture will be available on the iPad Air, Air 2, mini 2 and mini 3; Split View will work only on the iPad Air 2.
Apple will also make it easier to work with productivity applications such as Microsoft Office. A new virtual trackpad gives users a less cumbersome way to select text, and the iOS 9 on-screen keyboard includes buttons to format, copy and paste text. Third-party apps will be able to add built-in keyboard shortcuts, making their most useful features more accessible.
The native Notes app for iPhone and iPad is getting an update as well. It's currently limited to plain text, but in iOS 9 it will support checklists, photos, on-screen drawings and formatted text -- all welcome additions for business users.
You down with VPP?
In iOS 9, IT alone has the power to install, update and uninstall apps bought through the Apple VPP.
From IT's perspective, iOS 9 starts to address one of the biggest problems with deploying apps. Apple's Volume Purchase Program (VPP) Managed Distribution now allows administrators to assign apps to specific devices. Previously, apps had to be associated to an Apple ID, which gave users a level of ownership and control over apps that admins may not have wanted them to have. With no Apple ID requirement in iOS 9, IT alone has the power to install, update and uninstall apps bought through the Apple VPP.
There are a few caveats, however. Under the user-assigned model, a company could buy one copy of an app, and the user could install it on all devices associated to his or her Apple ID. The new device-centric approach means the company will now have to buy an app for each device it will run on. And not all apps will be available to assign to devices, because developers must opt in to the Apple VPP program.
If Apple's recent release cycles hold true to form, iOS 9 should be generally available in September.
This article originally appeared in the July/August issue of the Modern Mobility e-zine.
Dig Deeper on EMM tools | Enterprise mobility management technology