Get started
Bring yourself up to speed with our introductory content.
Pros and cons of a low-code platform for mobile
Introduction
Low-code development platforms can make it easier for organizations to develop mobile apps, but they also introduce new concerns.
Low-code and no-code platforms typically offer an easy-to-use graphical user interface from which users can drag and drop components to create an app. Low-code development may be less expensive than traditional mobile app development because it doesn't require a specialized team and results in a faster turnaround time.
Low-code development is inherently controversial; it suggests that developing mobile apps is simple and that developers aren't always necessary. Experienced developers can use low-code platforms to ease the process, but the development method has also introduced a new breed of developer: the citizen developer, an end user that doesn't necessarily have programming skills. Organizations can save time and money with citizen developers, but they risk the assurance of quality apps when inexperienced non-developers take the wheel.
Whether low-code development will be a threat to seasoned IT pros or a temporary fad is still unclear -- but, either way, it is generating some buzz among organizations. What does low-code development mean for both IT and end users? How does a low-code platform operate? How should organizations use them? These are just a few of the questions that low-code development could spur.
In this guide, we'll answer all of the important questions about low-code development for mobile apps. We'll delve into the pros and cons of a low-code platform and provide some tips on how to get started.
1

The pros of low code

-
Reap the benefits of low code
As mobile apps become more prevalent in today's workforce, organizations are adopting low-code platforms as an alternative way to develop apps. Lower costs and faster development time are two of the biggest advantages of a low-code platform. Also, companies that lack specialized developers -- which is a growing problem -- can use low-code platforms as a way to create apps without hiring more staff. Discover all of the reasons why an organization might consider low-code platforms.
2

Cons of low code

-
Consider challenges of low-code development
If experienced developers are no longer doing the developing, organizations should expect some hiccups. A low-code platform can introduce a variety of risks because it enables inexperienced users to make important development decisions. Organizations should be careful not to sacrifice an app's security or user experience when they use low-code platforms. Low-code platforms can limit creative freedom and more advanced capabilities, for example. Understand the risks and challenges that are involved with low-code development -- and whether it's a fad that will eventually fade away.

Download this free guide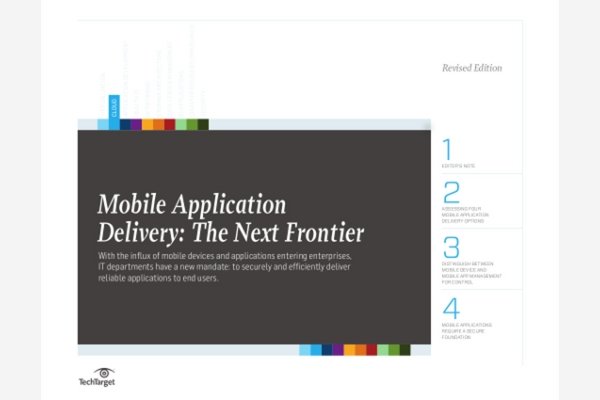 PDF: 17-Page Mobile Application Management Handbook
Experts provide best practices for mobile application delivery and management to help deal with the flood of mobile devices, new applications and data security demands.
3

Dive into low-code dev

-
Get started with a low-code platform
An organization's decision to try a low-code platform is only the initial step. It's important to evaluate the low-code market, which includes both cloud-based and third-party platforms. Then, decide which product is the best fit based on its capabilities and pricing. Once an organization deploys a low-code platform, IT should ensure that the team can use the technology and adapt to the changes it may bring.
Tip
Third-party low-code platforms are dominating the market, but major cloud providers are entering the game. To choose between the two, it's important to understand the risks of each. Continue Reading
Feature
The low-code platform market is becoming more saturated. Before IT gets overwhelmed, it's important to look at the features that each vendor offers. Continue Reading
Opinion
The adoption of any new technology -- or change in general -- can create unexpected chaos in any organization. Low-code platforms enable a DevOps approach, so organizations should expect pushback from their employees. Here's how to come up with a plan and ensure a smooth transition. Continue Reading
4

Terms to know

-
Low-code development terminology
Before an organization makes the decision to try low-code development, it's important to understand the full context.