Manage
Learn to apply best practices and optimize your operations.
Enterprise BYOD management: An IT guide
Introduction
IT departments everywhere have to deal with the bring-your-own-device trend, but the jury is still out on whether BYOD is a blessing or a curse.
On one hand, enterprise BYOD can bring with it some persuasive benefits, such as increases in employee productivity and engagement. But, on the other hand, enterprise BYOD management is tough. And there's a host of gotchas that range from big deals -- security vulnerabilities and network bandwidth strain -- to little headaches waiting to happen. To add insult to injury, BYOD might not even save your company any money in some cases.
Before you make your judgment on whether enterprise BYOD is a good thing or not, check out the compelling reasons why some people love it, the potential downfalls and ways to combat them.
1

It's all about productivity

-
Enterprise BYOD benefits
Motivations to adopt BYOD go deeper than just "everyone is doing it." Some of the most convincing reasons that companies choose to allow BYOD -- or full-on embrace it -- are that BYOD can save money and it helps companies evolve with the landscape of IT. And BYOD improves employee satisfaction.
But the reason to adopt enterprise BYOD that keeps rising to the top is that it makes employees more productive. By its nature, BYOD encourages workers to use devices that they like, so naturally they're inclined to use them more often. Plus, the devices that workers have are totally mobile, so whether an employee is taking notes in a meeting, reviewing documents on the train ride home or getting prepped for the next day's agenda while watching the nightly news, he's putting in more hours and getting more done.
2

Watch out for gotchas

-
BYOD challenges
There are some compelling reasons to take up BYOD, but enterprise BYOD management can be a nightmare. BYOD makes managing bandwidth and content harder. Even though employees are more familiar with the devices, they often still need help from the help desk staff to gain access to enterprise networks and when devices break or malfunction. And it makes securing all the different devices and operating systems almost impossible. Other issues that come with BYOD and are headaches in their own right: printing, licensing, legal and more.
Above all else, however, is the fact that enterprise BYOD might not even save companies money in the long run. Depending on how cost-sharing is handled, organizations may still end up footing some part of the bill, whether it's for devices, data plans, telecom expense management systems or man hours to keep track of it all.

Download this free guide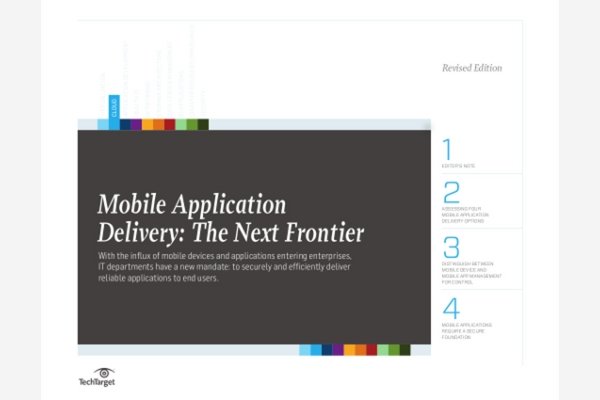 PDF: 17-Page Mobile Application Management Handbook
Experts provide best practices for mobile application delivery and management to help deal with the flood of mobile devices, new applications and data security demands.
3

What's next?

-
Combatting enterprise BYOD management woes
It may look like there are a lot of places you can get caught in BYOD's crosshairs, but there are solutions to most of the challenges that BYOD brings. In environments that already have virtual desktop infrastructure (VDI), there are built-in ways to address BYOD, such as application and desktop streaming that keep information in the data center to help with mobile device security. Finding a fair cost-sharing plan can put concerns about BYOD's financial effects to rest. Last but not least, writing up a BYOD policy can really help companies get back some control over enterprise BYOD programs.
4

Show off what you learned

-
BYOD pop quiz
Now that you know all the benefits and advantages of BYOD, take our quiz and get even more resources about the bring-your-own-device movement.
Take This Quiz