PRO+

Premium Content/E-Books
Thank you for joining!
Access your
Pro+

Content below.
April 2016
Intro to enterprise mobile app development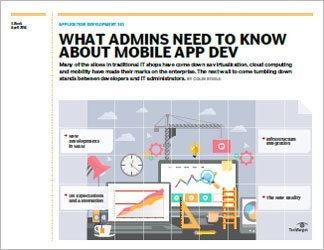 Applications drive business productivity in the mobile era, but they're a challenge to build, deploy and manage. And that's not just a problem for developers anymore. Because mobile apps are so important these days, everyone -- developers, IT administrators, business leaders and even end users -- needs to be involved. This e-book will lay the groundwork for embracing enterprise mobile apps. In Chapter 1, IT administrators will discover that they need to learn about APIs, software development kits and other app dev technologies so they can properly secure and manage their organizations' mobile apps and data. Chapter 2 provides an overview of the emerging technologies that can streamline the development and deployment process. These include mobile application development platforms, mobile backend as a service and low- or no-code development tools. And in Chapter 3, business leaders will learn how to maximize the return on their mobile app investments.
CHAPTERS AVAILABLE FOR FREE ACCESS
Developers build apps and IT manages them. That's that, right? Not in the mobile world. IT administrators must be involved in mobile app development so they can properly manage and secure apps when they make it to production. Even in the mobile, DevOps world, admins need some knowledge of APIs and software development kits so they can understand how enterprise mobility management (EMM) works. Shops that want to use mobile application management must make sure their tools can actually get into the applications and manage them.

Being able to speak development also helps administrators communicate with developers more effectively. This ensures developers build mobile applications that users truly need with hooks so IT can manage them. This team-based approach to building, delivering, maintaining, updating and troubleshooting mobile applications is here to stay, so admins and developers should prepare to get chummy.

Download

Building mobile apps is hard, but modern mobile app development platforms, mobile backend as a service (MBaaS) offerings and other products can make it easier. Companies must first decide what kind of applications they will build and which operating systems those applications will run on. From there, it should be easy to find an application development product that meets the needs of businesses and developers.

There's no shortage of tools available for simplifying application development. The right integrated development environment (IDE) or mobile application development framework (MADF) can be instrumental in improving efficiency and reducing developers' and administrators' efforts. And the right mobile application development platforms (MADP), MBaaS or refactoring product can help free up devs and admins so they can focus their attention on projects that take priority.

Download

When developers build enterprise mobile apps, they shouldn't be tempted to use the quickest or cheapest method to get the app to users. Instead, companies and developers should consider eight key parts of successful mobile apps: users, purpose, devices, integration, experience, data, security and quality assurance. To that end, developers must know their users' jobs, devices, workflows, wants and needs to make sure the time and money they put into building an enterprise mobile application is worth it.

Users want apps that are intuitive and will help them get their jobs done, so companies can't deliver sub-par applications. And the best mobile apps don't recreate existing processes for new form factors. They make existing workflows more efficient and create new ways to improve productivity. There's a lot to know about successful mobile app development, but this chapter has you covered.

Download