Definition
real-time location system (RTLS)
What is a real-time location system?
A real-time location system (RTLS) is one of a number of technologies that detects the current geolocation of a target, which may be anything from a vehicle to an item in a manufacturing plant to a person. RTLS-capable products are used in an ever-increasing number of sectors including supply chain management (SCM), health care, the military, retail, recreation, and postal and courier services.

Download this free guide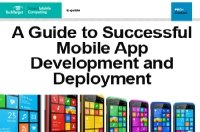 A Guide to Successful Mobile App Development and Deployment
This expert guide provides 3 key considerations when building mobile apps, an overview of the top 4 options for deploying enterprise mobile apps to users more efficiently, and a features and functionalities snapshot of 12 prominent MADPs on the market.
RTLS is typically embedded in a product, such as a mobile phone or a navigational system. Most such systems consist of wireless nodes -- typically tags or badges -- that emit signals and readers that receive those signals. Current real-time location systems are based on wireless technologies, such as Wi-Fi, Bluetooth, ultrawideband, RFID, and GPS.
RTLS applications include:
Fleet tracking: Fleet-tracking RTLS systems make it possible for an enterprise to track vehicle location and speed, optimize routes, schedule jobs, aid navigation and analyze driver efficiency.
Navigation: The most basic navigation services provide directions for how to get from Point A to Point B. Incorporating GPS, mapping and mobile cellular technology will enable more complex navigation services.
Inventory and asset tracking: RFID technologies are widely used for asset and inventory tracking. RFID tags communicate wirelessly with RFID readers throughout the enterprise.
Personnel tracking: Different technologies are used for on-site personnel and workers in the field. Systems that track field workers are typically GPS-enabled mobile phones. On-site personnel tracking systems often use RFID technology, such as RFID-enabled badges.
Network security: Wi-Fi Protected Access (WPA) can limit the physical area from which a user can connect to restrict access based on the user's location.
See also: location-based service (LBS)
Learn More About IT:
> Wikipedia includes more information about RTLS and related technologies.
> The RTLS blog includes industry-specific news and research related to real-time location systems.
> Shamus McGillicuddy writes about 'Wi-Fi RTLS for WLAN management, location-based security, asset tracking.'
> Linda Tucci explains how 'GPS devices, geolocation data create privacy, security risks.'
Continue Reading About real-time location system (RTLS)
Dig Deeper on Mobile enterprise application development