A modem modulates outgoing digital signals from a computer or other digital device to analog signals for a conventional copper twisted pair telephone line and demodulates the incoming analog signal and converts it to a digital signal for the digital device.
In recent years, the 2400 bits per second modem that could carry e-mail has become obsolete. 14.4 Kbps and 28.8 Kbps modems were temporary landing places on the way to the much higher bandwidth devices and carriers of tomorrow. From early 1998, most new personal computers came with 56 Kbps modems. By comparison, using a digital Integrated Services Digital Network adapter instead of a conventional modem, the same telephone wire can now carry up to 128 Kbps. With Digital Subscriber Line (DSL) systems, now being deployed in a number of communities, bandwidth on twisted-pair can be in the megabit range.
Content Continues Below

Download this free guide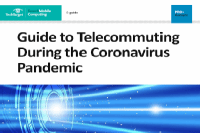 Download Your Complete Guide to Telecommuting
Receive insights to help you quickly deploy the technology needed to support telecommuting, navigate the challenges that could arise with tool deployments, ensure your remote workers have the infrastructure they need to keep productivity up, and more.
This was last updated in
November 2006
Continue Reading About modem