The iPhone is a smartphone made by Apple that combines a computer, iPod, digital camera and cellular phone into one device with a touchscreen interface. The iPhone runs the iOS operating system (OS), and as of 2017, there were 2.2 million apps available for it through the Apple App Store, according to Statista.
Former Apple CEO Steve Jobs introduced the iPhone to the public on January 9, 2007, at the Macworld 2007 conference in San Francisco. It went on sale June 29 of that year.
Apple sold 13 million iPhones in the device's first five quarters on the market. In 2010, the number of iPhones sold since its debut surpassed 70 million. In 2011, Apple announced it had sold 100 million iPhones. That same year, Apple eclipsed Nokia as the mobile phone manufacturer with the most annual revenue.
iPhone models
Apple regularly releases new iPhone models, introducing new features and design changes.
As of 2017, the newest version was the iPhone X (pronounced iPhone 10), which eliminated the traditional Home button in favor of a fully touchscreen interface.
iPhone
The first-generation iPhone was extremely thin (only 11.6 mm thick) but wider and longer than many comparable devices. The display area was a 3.5 inch-wide screen with a multitouch interface and unusually high resolution (160 pixels per inch). Unlike most other smartphones at the time, iPhone did not use a hardware keyboard or a stylus. Instead, a user relied on multiple taps and drags to navigate through iPhone OS 1.0, a mobile version of Apple's OS X for Mac computers. Like the iPod, the iPhone synchronized data with a user's personal computer via a USB port, using Apple iTunes as client software.
First-generation iPhone networking features included: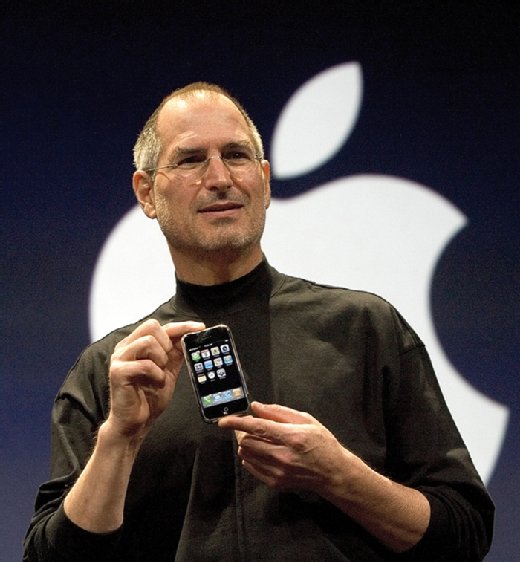 The device shipped with either a 4 or 8 GB hard drive, a 2 megapixel rear-facing camera and an Intel CPU.
The first-generation iPhone also came preloaded with a suite of Apple software, including iTunes, the Safari web browser and iPhoto. IMAP (Internet Message Access Protocol) and POP3 (Post Office Protocol 3) email services integrated with the device.
Apple released the iPhone under an exclusive two-year partnership with AT&T Wireless, but it took less than three months for hackers working in concert worldwide to unlock the device for use on any GSM network.
iPhone 3G, 3GS
Apple released the second-generation iPhone and iPhone OS 2.0 on July 11, 2008. The new device was called the iPhone 3G, a nod to its new ability to connect to third-generation (3G) cellular networks powered by technologies such as UMTS (Universal Mobile Telecommunications Service) and HSDPA (High-Speed Downlink Packet Access). It was available in 8 GB and 16 GB models.
The iPhone OS 2.0 update included a number of features designed for business, including support for Microsoft Exchange email. Improved mobile security features included secure access to corporate networks over Cisco's IPSec virtual private network (VPN), plus remote wipe and other management capabilities.
Apple also released a software development kit (SDK) for custom applications, a configuration utility for centralized management and, most importantly, its App Store -- a portal through which iPhone users could purchase and download additional applications to run on the device.
The iPhone 3G exchanged the flat aluminum housing of the first-generation iPhone for a sleek, convex black or white plastic case. The switch to plastic enabled better transmission for the many radio receivers inside the device.
The iPhone 3G also featured assisted global positioning system (A-GPS), which combined triangulation using cellular towers with a GPS receiver. It did not support Flash, Java or MMS (Multimedia Messaging Service). Its built-in Bluetooth supported wireless earpieces but not stereo audio, laptop tethering or FTP (File Transfer Protocol).
Less than a year after the debut of the iPhone 3G, on June 19, 2009, Apple released the iPhone 3GS and iPhone OS 3.0. Available in 16 GB and 32 GB models, the iPhone 3GS featured several hardware improvements, including a video camera, built-in compass and faster download speeds through 7.2 Mbps HSDPA support.
The new version of the OS brought support for MMS, copy-and-paste functionality and the Find My Phone app. In addition, an expanded SDK enabled developers to build in-app purchases, push notifications and navigation capabilities into their third-party apps.
iPhone 4 and 4S
Apple released the iPhone 4 on June 21, 2010. With this model, Apple also changed the name of the OS from iPhone OS to iOS. The name change was made in the aftermath of the April 3, 2010, release of the iPad, which ran the same OS.
Hardware innovations in the iPhone 4 included Apple's Retina Display, which boasted a higher pixel density than previous iPhone screens and a front-facing camera. For the first time, Apple also produced versions with CDMA (Code Division Multiple Access) connectivity, which allowed the device to connect to a wider variety of cellular carriers' networks.
IOS 4 introduced FaceTime, an app that enabled users to make video calls to each other over Wi-Fi. It also brought limited multitasking capabilities to the iPhone, letting users make phone calls or listen to music in one app, while having a different app open on the screen.
On Oct. 11, 2011, Apple released the iPhone 4S, which featured the debut of Siri, a voice-powered digital assistant app. The device ran on Apple's new A5 processors and shipped with iOS 5, which featured the debut of Apple's cloud service, iCloud, and its proprietary text and multimedia messaging technology, iMessage.
iPhone 5, 5C and 5S
The Apple iPhone 5, which was released on Sept. 21, 2012, featured a taller screen than its predecessors, measuring 4 inches diagonally with a 16:9 widescreen aspect ratio and 1136 x 640 resolution. It ran on Apple's A6 processor and included a specially designed nano-SIM card, plus a new connector that was not compatible with plugs and accessories for the iPad, iPod or previous iPhones. The iPhone 5 was also the first iPhone to support LTE (Long-Term Evolution) networks and the 5 GHz wireless band. It was available in 16 GB, 32 GB and 64 GB models.
The iPhone 5 shipped with iOS 6, whose new features included a native Maps application and Passbook, an app that stores digital credit cards, boarding passes and more.
The iPhone 5S, released on Sept. 20, 2013, shipped with iOS 7 and was powered by a 64-bit dual-core A7 processor. Apple added another new chip called the M7 coprocessor, which handled motion data from the phone's gyroscope, compass and accelerometer.
The iPhone 5 and 5S had the same aluminum frame, chamfered edges, weight and dimensions, weighing just 3.9 ounces and measuring 4.9 x 2.3 x 0.3 inches.
The iPhone 5S had an updated camera lens with F2.2 aperture. Other new camera features included slow-motion video and live video zoom capabilities.
Perhaps the biggest change in iPhone 5S was Touch ID, which turned the phone's Home button into a biometric fingerprint scanner used for authenticating access to the device and iTunes.
The iPhone 5C, released on the same day as the 5S, came in five different colors: white, pink, yellow, blue and green. It was the same size as the iPhone 5S at 4.9 x 2.3 x 0.3 inches, and it weighed about 4.6 ounces. The iPhone 5C did not run the A7 processor that the iPhone 5S had, however; it ran the A6 processor from the iPhone 5. It also did not share the iPhone 5S' aluminum frame; instead, the iPhone 5C was made of hard-coated polycarbonate and a steel-reinforced interior.
iPhone 6 and 6 Plus; 6S and 6S Plus
Apple released the iPhone 6 and 6 Plus on Sept. 19, 2014. It marked the first time that one iPhone model was available in two different sizes. The iPhone 6 featured a 4.7-inch display with a 1334 x 750 resolution, and the iPhone 6 Plus had a 5.5-inch display with a 1920 x 1080 resolution. Both devices ran Apple's A8 processor and M8 motion coprocessor, and they were the first to come with Apple Pay, Apple's mobile payments service.
The iPhone 6 and 6 Plus shipped with iOS 8, which featured a revamped user interface (UI) and the new iCloud Drive, Apple's file synchronization service.
On Sept. 25, 2015, Apple released the iPhone 6S and 6S Plus with iOS 9. The new devices ran on Apple's A9 chip and M9 coprocessor. They also included 3D Touch, which enabled users to perform different functions by tapping the screen with various levels of pressure.
iPhone SE
Apple released the iPhone SE, a smaller version of the iPhone 6S, on March 31, 2016.
The iPhone SE featured a 4-inch display but ran on the same A9 and M9 chips as the iPhone 6S and 6S Plus. It was available in 16 GB and 64 GB models and came in four colors: space gray, silver, gold and rose gold.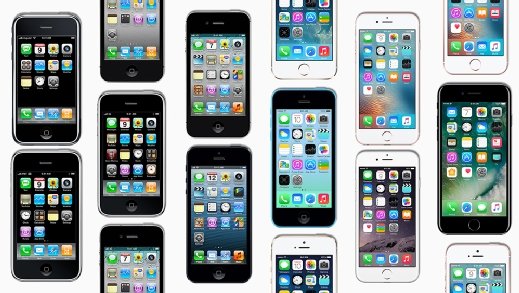 iPhone 7 and 7 Plus
The iPhone 7 and 7 Plus, released on Sept. 16, 2016, boasted Apple's first water- and dust-resistant casing. The devices, which came in 32 GB, 128 GB and 256 GB versions, also featured two 12-megapixel cameras and Apple's new four-core A10 Fusion processor.
In a major design change, Apple eliminated the headphone jack in the iPhone 7 and 7 Plus, forcing users to either rely on wireless headphones or an adapter for the iPhone's Lightning port.
The iPhone 7 and 7 Plus shipped with iOS 10, whose new features included Siri integration with third-party apps and expanded 3D Touch capabilities.
iPhone 8 and 8 Plus
Apple gave the iPhone 8 and 8 Plus a new aluminum-and-glass design, a six-core A11 Bionic processor and wireless charging capabilities. The devices, released on Sept. 22, 2017, also had new cameras built especially for augmented reality (AR) use cases. Both models came in two sizes: 64 GB and 256 GB.
The iPhone 8 and 8 Plus shipped with iOS 11, which included ARKit, an SDK for AR apps.
iPhone X
Apple also released the iPhone X at the same time as the iPhone 8 and 8 Plus. The iPhone X eliminated the physical Home button that was present on every preceding iPhone model, giving the device a touchscreen-only interface.
The iPhone X featured an all-glass design and 5.8-inch display, making it the largest iPhone in history. The device also marked the debut of Face ID, a new way of authenticating user access through facial recognition technology.
This was last updated in
April 2018
Continue Reading About iPhone
Dig Deeper on Apple iOS in the enterprise