Definition
cell breathing
Cell breathing is the constant change of the range of the geographical area covered by a cellular telephone transmitter based on the amount of traffic currently using that transmitter. When a cell becomes heavily loaded, it shrinks. Subscriber traffic is then redirected to a neighboring cell that is more lightly loaded, which is called load balancing. Cell breathing is a common phenomenon of 2G and 3G wireless systems including code-division multiple access (CDMA). CDMA2000 and wideband code-division multiple access (WCDMA) are designed to manage cell breathing.

Download this free guide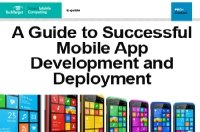 A Guide to Successful Mobile App Development and Deployment
This expert guide provides 3 key considerations when building mobile apps, an overview of the top 4 options for deploying enterprise mobile apps to users more efficiently, and a features and functionalities snapshot of 12 prominent MADPs on the market.
Dig Deeper on Mobile data, back-end services and infrastructure