Definition
Wireless Markup Language (WML)
WML (Wireless Markup Language), formerly called HDML (Handheld Devices Markup Languages), is a language that allows the text portions of Web pages to be presented on cellular telephones and personal digital assistants (PDAs) via wireless access. WML is part of the Wireless Application Protocol (WAP) that is being proposed by several vendors to standards bodies. The Wireless Application Protocol works on top of standard data link protocols, such as Global System for Mobile communication, code-division multiple access, and Time Division Multiple Access, and provides a complete set of network communication programs comparable to and supportive of the Internet set of protocols.
WML is an open language offered royalty-free. Specifications are available at Phone.com's Web site. According to Phone.com, any programmer with working knowledge of HTML, common gateway interface, and Structured Query Language should be able to write a presentation layer using WML. A filter program can be written or may be available from a vendor that will translate HTML pages into WML pages.
Content Continues Below

Download this free guide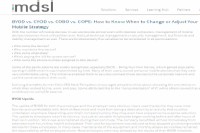 BYOD vs. CYOD vs. COBO vs. COPE
As the volume of mobile devices worldwide continues to grow explosively, mobile management strategies are becoming a top priority for enterprises. Uncover the key differences between mobile management techniques including BYOD, CYOD, COBO, and COPE – and learn which one can yield the most effective results for your organization.
This was last updated in
November 2010
Continue Reading About Wireless Markup Language (WML)
Dig Deeper on Mobile enterprise application development