Definition
Personal Response System (PRS)
In education, the Personal Response System (PRS) is an instructional technology tool composed of a proprietary software application that is installed on the facilitator's computer, a wireless receiver, and hand-held infrared transmitters that have been assigned to students to record their responses to multiple choice or yes/no questions. The student transmitter resembles a television remote control. When the facilitator (such as a teacher or lecturer) asks a multiple-choice or yes/no question, the student presses a button on the handheld device that corresponds to the intended answer. All student answers are recorded and analyzed, and can be displayed on the facilitator's computer screen as an easy-to-read histogram. The system can also be programmed to display the identity of the respondent who is first to hit the button corresponding to the correct answer after a question is asked.

Download this free guide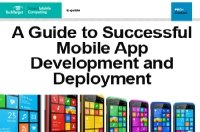 A Guide to Successful Mobile App Development and Deployment
This expert guide provides 3 key considerations when building mobile apps, an overview of the top 4 options for deploying enterprise mobile apps to users more efficiently, and a features and functionalities snapshot of 12 prominent MADPs on the market.
A PRS can operate in two different ways, anonymous mode and known mode. In anonymous mode, the identities of the individuals are not revealed when answers to a question are tallied. In known mode, the facilitator can determine the response made by any individual respondent. PRS technology, which has been used in the past by the entertainment industry to conduct audience polls, is commonly found in higher education, where lecture halls are often large and course-work is extremely challenging.
Continue Reading About Personal Response System (PRS)
Dig Deeper on Enterprise mobility strategy and policy